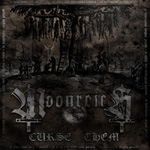 Mortis Humanae Productions – 2012 – France
MOONREICH are from France and no newbies anymore. They honour the sympathetic listeners already since 2008 with their sounds. Their latest opus is called "Curse Them" and is released via Mortis Humanae Productions.
The French celebrate here Black Metal. Pitch-black and of endless mourning fulfilled songs which let audible hate and coldness. After a short intro it goes immediately flat out! Black sound frameworks go into a morbid symbiosis with melodic riffs. Thereby develop however anything but fabric conditioner songs! On the contrary! The listener is hijacked in an icy world without light and colours. The very emotional growls of vocalist and guitarist Weddir reinforce misanthrophy and intractability. Supported by a powerful drumming and forceful bass lines the all in all four songs all move in the mid tempo area. The gents play Black Metal on a high level without thereby taking "Curse Them" its nativeness. MOONREICH know what they want and they implement this without complications. Very compact songs which demand some time from the listener in order to have the right effect. Who is into Black Metal can grab here unhesitatingly!!!