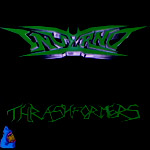 Demo – 2009 – Italy
"Italian Thrash Attack!" is what they wrote on the album. I couldn't count how many thrash promo cd's came from Italy, I think there's an Italian thrash attack indeed 🙂
Inverno is a young band, formed in 2008. Their first product, "Trashformers" is published in September 2009, it is new.
For a demo, Thrashformers has a good recording, actually it's more than enough for thrash metal. To categorize them, they do 80s thrash/heavy metal. Personally, they don't meet my expectations as a thrash metal band, I need more speed in songs. Band is moderate in musicality, but they are successful for now.
It's not bad for a new band and a first product, but I expect a more speedy, harder and more destructive new album.
6/10