Norway based extreme metal band Helheim have announced details regarding the band's upcoming EP "Åsgårds Fall".
EP is planned for release in late October and is set to include five tracks: four new recordings and a remake of the song "Jernskogen."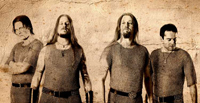 Tracklist:
01. Dualitet og Ulver
02. Jernskogen
03. Helheim Part
04. Asgards Fall 1
05. Asgards Fall 2
Band's next full length, "Heidindomr ok Motgang," will release in early 2011.