Featured
Interviews
News
Eric Payne Interview of Thrash/Death Metal Band Intoxicated
Eric Payne is the guitarist and singer of the awesome thrash/death metal band Intoxicated, and here is an interview I recently did with him.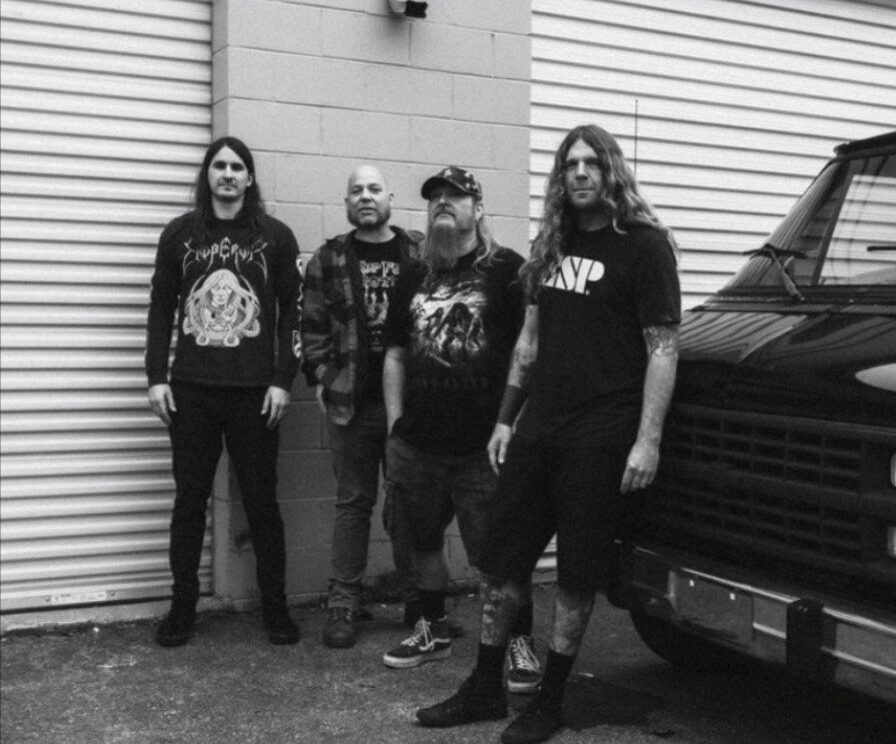 INTOXICATED INTERVIEW WITH ERIK PAYNE
Where were you born and where did you grow up? What sort of kid were you growing up with?
Erik: I grew up in Orlando Florida, I really loved it and still do. I was a hard-working kid, I had my own legit lawn business at 9 or 10. This enabled me to buy my own stuff and learn the value of hard work and money. I loved the independence and it taught me to be self-reliant.
What sort of teenager would you say you were growing up? Did you have a lot of friends or were you more of a loner?
Erik: As a teenager things got a bit fucked up, I had a good amount of friends but my interests had changed and so did my friends. I'd say for better and worse. I got arrested a few times for fairly large amounts of weed and spent quite a bit of time being state raised. The Florida system was fucked and really hard to get out of, most of my teenage years were spent locked up.
When did music begin to enter your life? What were some of the first styles of music you heard and liked?
Erik: I have an older brother that has always had great taste in music, I looked up to him for multiple reasons. He was one of the first to build vert backyard skate ramps, and with that seen came a ton of really pissed music. Anything from punk, to heavy metal at the time we listened to and there were great all-age shows as well.
When did the ugly world of heavy metal or rock n roll enter your life? Was it a style you took to right away or did it take a few listens and you were hooked?
Erik: Like I said I was young and really attracted to what my brother and his friends were into musically. While I enjoyed punk and the raw energy that came from it, I was way more attracted to heavier rock/metal. We wore it like a badge, and a few friends shared this granny bike with a basket on it. It could hold a case of beer and a few records, we were always trying to bring something new to the table. These are some of my favourite childhood memories.
What were some of the early metal bands that you heard and got into? Did you have many friends at the time that got into the same styles and you sat around listening to it after school?
Erik: I remember hearing Cro-Mags, Slayer, Dayglo Abortions, Angry Samoans, all around the same. Living with a skate ramp in your backyard provided all the pissed influence a kid could ask for.
Erik Payne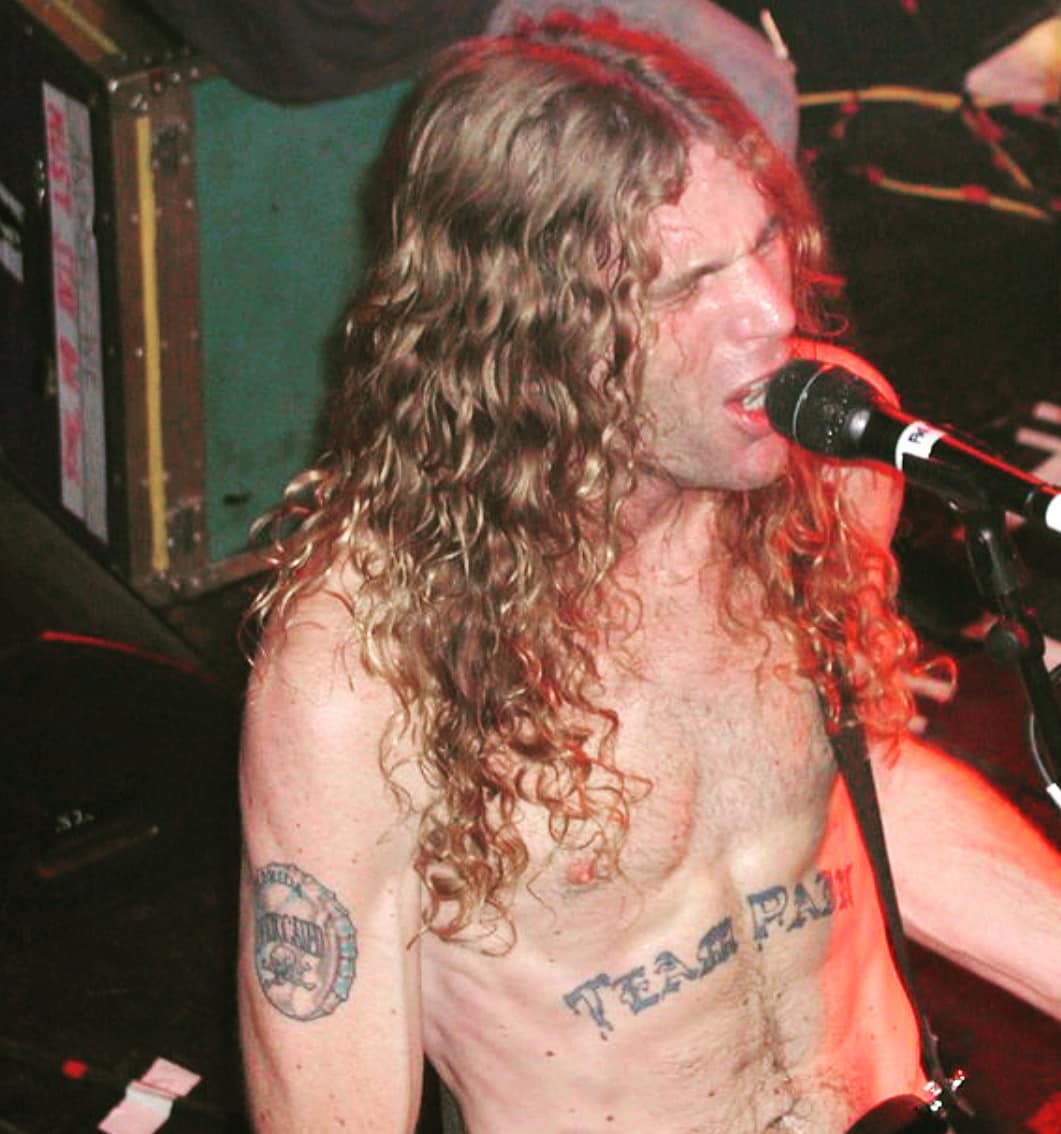 Now you play the guitar and sing in Intoxicated. So how did the interest in deciding to play the guitar take place? Self-taught or did you take lessons? How good of a guitar player do you think you are and who are some of your favourite guitar players?
Erik: My uncle gave me a guitar when I was 11 and I learned a few cords and loved it, but like I said I spent most of my youth state raised. I'd say I started really late as far as playing seriously. I am definitely, self-taught, but have always been really lucky to have friends who shred. Guitar didn't come naturally to me, I've always and still do really have to work at it and practice. I've always played with dudes better than me but vowed never to be the last in the band to learn something. That mindset has served me well. My favourite players are mostly all right from my home town. Ken Andrews of Obituary, Bobby Koelble of Death. Definitely Chuck Schuldiner's Death, and I've always been heavily influenced by the vocals of Chuck and John Tardy. I genuinely feel lucky to come up to Florida.
Now I wanna get this straight for all the readers out there reading this. 3 of the members were also in a band called Pain Principle, which I actually reviewed back in the day for Metal Core Fanzine, as that band was around back then. Now, how many releases did you sing/play guitar for them or were you doing both for both bands at the time?
Erik: John Sutton our new guitar player and long-time friend was the founder of Pain Principle. Gregg our bass player spent a short time in PP and recorded bass on one album. I took his place as the bass player for the one bus tour they did with Skinlab. That was our only history playing in the band but we played a ton of shows together and are all still really good friends! Ken Andrews, now I'm Obituary was in that band and so was Brian Benson who was the touring bass player for Death's Symbolic tour.
Now did you get a chance at all to visit Ace's Records, a very famous record store down in Florida for many years? Were there any cool underground metal stores around where the band was based or when you would go on road trips?
Erik: Hell yeah we all went there it was for sure a necessary staple of Florida. We'd load up in my buddy "Bolten Bill's Gran Torino and just go! Underaged with a few cases of beer, nothing better! There was another spot in Orlando called Infinite Mushroom that had a ton of good metal. East West Music, Wax Tree, Peaches, and the Flea market we're a few of the gem spots.
Now how did the coming of Intoxicated come together?
Erik: I started the band in 93, it took a good year to get the right guys to do something of substance. When the original lineup was finally in place, we were on fire immediately. All we did was jam, and for a few of us, I truly believe it saved us. We were all either state raised or with a fucked up home life. We were a mess. Heavy music brought us together and gave us a purpose. We did four back-to-back EPs and started getting on a lot of national shows. We had bands in our area that were so influential to us and the bar was set high. We recorded our third EP with Death frontman Chuck Schuldiner, and he was convinced Roadrunner was going to put us on the roster. Needless to say, that didn't happen. Back then we weren't really sure what to do. We sent our demos to everyone but I've heard stories that most of them were thrown in the trash without the package ever being opened. Our mindset was to just keep playing and getting better.
How long was the band together before you released your 1996 demo? How was the feedback from it overall? What are your thoughts on this demo these days?
Erik: The band started in 93 and did 4 back to back EPs. .08 in 94, Scars in 95, Drain in 96 recorded with Death's Chuck Schuldiner at his house, and Metal Neck in 97. I still love going back and listening to these EPs, there super raw and it takes me back to a special time in my life. During these times we got on a ton of collage radio and bands like Death and Obituary were gracious enough to take us out to play shows.
You are also a singer in the band. How would you rate yourself as a singer and who are some of your favourite singers?
Erik: To be honest I just do my best and try to make it sound brutal, but with clarity and somewhat interesting. I love vocalists like John Tardy, Chuck, and Ben from Goatwhore just to name a few.
Now it took 3 years, but you hooked up with Seeing Red Records for another 6 song release with them. How was it working with them and why the 3-year gap in releases at this point? Was it the same members in the band from 1997 till this new one? Is it easy overall to write songs for you as a band?
Erik: We released Walled on Seeing Red Records in August 2020 and never stopped writing. Our new record set to be released June 24th 2022 was turned in over 10 months ago. I'm sure everyone's been dealing with the wait on vinyl and we're no exception. Working with Thomas at Seeing Red has been nothing but great! These dudes a breath of fresh air, he works hard and is super honest, I'm more than grateful to be working with him. As far as the lineup goes I'm the only original member but Gregg Roberts "Bass" has been with me since 98 Mike Radford "drums" since 2018 and long-time friend John Sutton for about a year and a half. Writing with these guys is a pure joy, we all love metal but have fairly different backgrounds. Anything from black metal to thrash, we embrace the differences and I think you can hear that in the new tunes.
Now were you out and about playing live as much as you could cause around this time people were saying metal was dead and not many bands were holding the metal flag high. How was it for you guys as far as playing live? Had you managed to play out of Florida at this point?
Erik: For sure, we've been playing a lot. In the last year, we've supported bands like Toxic Holocaust, Soulfly, Obituary, DRI, Massacre, Nasty Savage, etc. We love playing live and there's a ton planned once the records are released.
Now after 1997, your next release was until 2020! Did the band break up or did you take a break that turned out to be a 13-year break? Fill me in, please.
Erik: Truth be told, we were on the longest hiatus known to man. I started the band in 93, and we did 4 back-to-back EPs between 94 and 97. Our third EP, we recorded with Death's Chuck Schuldiner at his house. Man, if those walls could talk… There's actually some guitar and vocal work Chuck did on several of our EPs that the masses haven't heard.
Around 99 my writing partner, who sang and played the guitar for Intoxicated, left the band and moved out of state. These were confusing times, but we didn't stop. I started singing and our good friend, Obituary's Ken Andrews, filled in on guitar. DT, also Obituary, took over on drums.
They were both super honest with me and could, understandably, only commit to filling in. DT played for several years with us, but he had joined a new project already with a name we'd not heard of yet. We just knew he'd eventually be leaving to tour with Andrew W.K. as his new drummer.
A few months later DT asked both myself and our bass player Gregg if we wanted to go tour the world with him and Andrew as part of his live band. Within 48 hours and one phone conversation with Andrew, Gregg and I left our apartment in Orlando and moved in with DT in Tampa, in his one-bedroom flat. I've got such great memories of that time. I actually got Ken Andrews to quit his job of 12 years and come with us as a guitar tech.
The first few years we toured non-stop and we've stayed pretty busy with him ever since. Gregg and I have been part of Andrew's touring band for over 22 years, but we always knew we wanted to do something more with Intoxicated. About 4 years ago we reformed with a new lineup and haven't stopped. This has always been a fire that couldn't die inside me, It took what it took to get here and I'm actually grateful it's now. I've always worked hard but was a raging maniac and not in the right mindset to genuinely give Intoxicated the attention it deserved.
How has the response been for the new release I think it is some incredible speed metal all the way. Incredible riffing and vocals. How has the response been so far? How does it feel to be back with a new full-length after being away for so long?
Erik: Thanks so much, we're really proud of the new record. The response has been overwhelmingly good and we're grateful for it. We started back 4 years ago and we're on fire!
So now what are your plans for 2022 and going forward?
Erik: We've got tour dates and festivals lined up, we'll release those dates once we're allowed. We've already released 1 video for this record for Legacy's Demise, and we have another one already finished. We are all super excited to bring these new tunes to the masses.
What releases are still for sale? Please plug any merchandise for having for sale.
Erik: Walled EP on vinyl, CD, and tape
Watch You Burn is also up for pre-order now on vinyl and CD.
As far as merch we have several shirt designs patches, stickers, pins, etc…
Please plug any social media or websites you have.
Erik: Instagram – @intoxicated_fl
Facebook – intoxicatedFL
Bandcamp -intoxicatedflorida
Label Instagram – @seeing_red_records
Eric, horns up for doing this chat, any last words, the floor is yours.
Erik: Thank you for having me! We're swinging for the fences with this new record and we really hope people connect with it. We don't take this opportunity for granted and are really looking forward to touring. See you out there!!
INTOXICATED - Watch You Burn (OFFICIAL MUSIC VIDEO)