News
Deception and Demonic Slaughter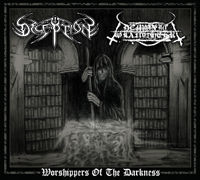 Hellthrasher Productions have just announced another release for this summer – MCD split of two polish extreme metal acts Deception and Demonic Slaughter entitled "Worshippers of the Darkness". The album will contain around 25 minutes of music packed in a limited edition digipak.
According to a press release, Deception's side features 3 brand new tracks saturated with a sinister old school Black Metal, while Demonic Slaughter's stuff combines raw Black Metal with some Death Metal elements and a guest apperance of Gonthi from Soul Snatcher, Moon or Abusiveness.
The album is due out in August.