Reviews
COSMIC DESPAIR "Celebration of the Wake"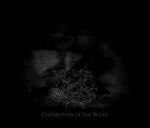 Marche Funebre Productions – 2012 – International
A cloudy day in my city… I decided to check my promo packs and find this kind stuff. Yes I guess today is the day for listening to Cosmic Despair. This collaborate is from Poland and Norway and they released a split before. This is their debut album, released via Marche Funebre Productions.
I'm used to hear long songs from such kind of these bands. Songs lengths are between 2-8 minutes. Cosmic Despair plays funeral doom metal, down tempo and heavy songs, growling brutal vocals with funeral atmosphere keyboards. The main problem is keyboard compositions in funeral doom bands, but I like them in this album, quite compatible. Especialy I like heart-tearing guitar solos. Successful!
A perfect album to listen in dark winter days. Gloomy, sad and dark. I can recommend this band and album to funeral doom metal fans.
8.5/10