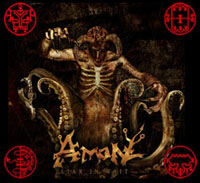 AMON, Florida-based death metal band featuring former DEICIDE members Eric Hoffmann (guitar) and Brian Hoffman (guitar), will film a new music video for the song "Among Us" on October 22 in Clearwater, Florida with director Chris Nemzek (former CROSSBREED guitarist).
AMON has set an October 31 release date for its new album, "Liar In Wait".
Tha band is currently mixing "Liar In Wait" at RedRoom Recorders in Tampa with producer Mark Prator.