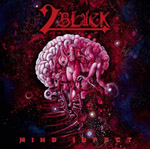 WormHoleDeath Records – 2013 – Switzerland
2BLACK are already since 2010 musically active. The Swiss put with "Mind Infect" their latest opus on the scene.
What does hear my ears here? Old School Thrash Metal. The all in all six songs go raw and straight from the first note forwards. Traditional riffs come into play a symbiosis with quick double blast drumming and strong guitars. The snotty, screaming vocals as well as background choirs give "Mind Infect" a primordial, genuine complexion. Thereby 2BLACK need no technical folderol in order to get across energetic and fresh. More slowly passages here and there inserted give the listener sufficient time to take breath in order to continue then at full throttle. The used screaming, sustained riffs emphasize aggressiveness and power of "Mind Infect". Technical clean recorded 2BLACK offer here everything an old Thrasher heart desires. "Mind Infect" should not be missing in each proper Metal collection!!!