Interviews
Witchtrap Interview
Witchtrap has just released a fantastic new album called "Evil Strikes Back" and here is an interview with drummer Witchhammer
 Where were you born and where did you grow up?
WH: Hey Chris, I was born in Medellín-Colombia, and I grew up in the same city and country on Sept 24th, 1972.
 What sort of kid were you growing up? 
WH: I was a nerd kid and not a problem child at all, I used to study a lot, being at home gamer boy with my Atari 2600, reading books, riding a cross bike, playing basketball and soccer on the streets and that's it.
Were you into music early on in your life or did that come later on?
WH: If we are talking about Metal music, no, actually before I get into Metal scene in early 1987, I used to listen to some Salsa music, but once I discovered Metal, I decided to never listen to Salsa anymore neither another kind of music different than Metal and Rock'n'Roll in general.
 Now what were some of the 1st bands that you heard when you were young and how did you discover rock n roll and metal (doesn't have to be underground metal)? 
WH: Well, since I was teenager, I started to discover heavy metal on-air radio stations, and they played some Scorpions, Black Sabbath, AC/DC, Deep Purple, Led Zeppelin, and a few more, among other glam stuff such as Cinderella, Motley Crüe, Twisted Sister, Poison, even Bon Jovi, etc. But in 1987 my first contact to Metal was Metallica (Kill'em All firstly then was Ride the Lightning), Slayer (Hells Awaits), Exciter (Violence & Force), Motörhead (Overkill), Venom (Welcome to Hell) and a Colombian band called (Parabellum)
 Now how did you discover underground metal? What were some of the first bands you listened to and did you get into them right away or did it take a few listens to get into them? 
WH: I discovered Metal because of homework from my high school about Rock and Heavy Metal history,  then I had to listen to some stuff about, and some classmate that was on the team of homework he lent me a home tape recording of some band (Metallica-"Kill'em All" album, plus some Motörhead songs to fill the tape), then after hearing that tape I stayed in shock and actually surprised, this shit was absolutely badass stuff, much better indeed that the style music I used to listen in those days (Salsa), all this happened in late February 1987, even I had listened some Glam Rock music on the radio, but actually I had never heard Underground Metal before, then since that day I'm hooked on Metal.
Now when did you start to take an interest in playing the drums? What are some of your favorite drummers? 
WH: Well, I didn't remember when I actually show interest on it, but as far as I remember me and my brother Mario a.k.a. B.A. Ripper both played the guitar a lot on acoustic guitars, but in some time I realized he played much better than me, and when we together couple friends of us decided to start a band I chose to play the drums on seats with a pair of sticks and it was really easy to me understand how to play it, after having seen couple videos of the "Combat Ultimate Revenge".
I have many favourite drummers, to be honest, tough question but I can name some of a few: Rob "Wacko" Hunter (Raven), Dan Beehler (Exciter), Abaddon (Venom), Robb Reiner (Anvil), Gil Moore (Triumph), Tommy Aldridge, Phil "Philthy Animal" Taylor (Motörhead).
When did the idea come about to start to form a band, which ended up being Witchtrap? 
WH: I think the idea to start a band was because in 1991 I went together by first time with my brother "Ripper" to see a Masacre (band)'s show in Medellin, after that show we thought we could start a band, since then we started to play the guitar together and playing some riffs of bands such as Kreator, Hellhammer, Celtic Frost and Sodom, then all the things were coming slowly but safe, someday we and other two friends of us were starting a band called Dark Millennium playing some old school Death Metal as Masacre did it in those days, and some months or a year alter we start our own idea to play old school Thrash Metal, as anybody was doing in those days in Colombia I think, so Witchtrap was born then.
 Now when you started to gather band members together was it hard or easy and did you go through many early members before coming together to a steady line-up? 
WH: Well about Witchtrap it was really easy indeed, the band was formed initially by my brother and me, then a friend of my brother Sebastian a.k.a. "Slayerblade" was joined to the band as a bass player, but he lost an arm after a Terrorism accident (Fuck You FARC), and around 4 years later Alex a.k.a. "Darkmoon" take the place as a bass player since 1999 until Sept 2002, then in January 2003 Edison "Enforcer" joins to the band until today. We never did auditions or were looking for a bass player, we only had enough patience and when we see the right guy, we talked to them.
Now did you have an exact vision of what you wanted the band to be when you started out with your first practices and stuff? 
WH: In some way, we had a clear idea what we wanted to play, but not what will happen with our music, or which recognition we will get, we just wanted to play Metal, and try to be as organized as we can, in order to make the band be self-sustaining. So, things were arriving slowly, and we wanted to be at least as Massacre (Col) had gotten some recognition into the underground Metal scene in 1991.
 Did you write originals right away or did you fool around with some covers early on before moving on to original tunes? 
WH: As a band I mean Witchtrap, we started with original stuff, obviously when we played in Dark Millennium, of course, we did some covers, but about Witchtrap we started with our own stuff, then we did couple covers song of the bands we love.
 Now the band has a ton of releases out and I could turn this into a 100 question interview ha ha, but to make it easier, I'll ask one question about each early release and then move on. 
WH: Go ahead maniac; I will do them all if you want it. Not a problem at all to me.
Thoughts on your 1st demo, "The First Necromancy" these days? What was it like for you going into the studio for the 1st time? What was the feedback like for this release? 
WH: Well talking about the 1st demo, it's something that makes me feel goosebumps, in few words it was done with a small recorder with an incorporated mic, the recording was done directly at our rehearsal room, and playing all instruments at the same time, I mean, voice, guitar and drums, btw in that time we haven't a bass player (1996). I remember the drum kit was handcrafted at home with trash stuff, I crafted and transformed in a drum kit. But it worth as far as it sounded kinda clear, all instruments can be heard, and we only had to press an artwork design for it.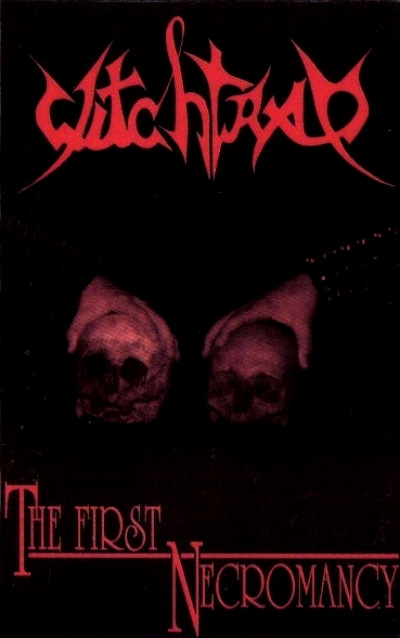 Now in 1998, demo # 2 came out, "Turn in Your Graves". Thoughts or comments on this, please. Do you feel it was a marked improvement over demo # 1?
WH: This demo actually never see the light until 2005 when it was included in a compilation through Obliteration Records (Japan), it was recorded almost 90% same as we did the 1st demo, but this time we recorded the voice in a separated track, this demo was recorded in 1997, but our idea was to put it out in October 1998. But at that time, we got a proposal to do the debut Ep Witching Metal on vinyl, so we didn't do the demo pressing and focused only on the vinyl.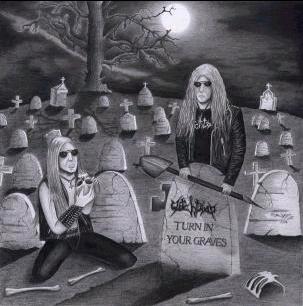 Now in 2000, you released your first Ep called "Witching Metal on Malignant Productions. How did you hook up with them? What are your thoughts on this release these days and is it still for sale? 
WH: This Ep was due to be in the right place and at the right time, we were invited by an Underground Metal festival in Cali-Colombia in 1999 because there was a band that couldn't play that day, so we accept to be there playing and after our show as opening band, a guy offers us the idea to do the vinyl, so then we put our conditions or requirements and they agree, so things were easy then.
About recording sessions, it was our very first experience at professional studio recording sessions, it was kinda strange, but we could do it the recording, mixing and mastering in only 4 days during the holy week of 2000 (Thursday till Sunday), and we recorded it on 6 track tape recorder. It was so special time and a lot of learnings indeed.
Yeah, we are planning to do a re-issue of it in all formats and we have some few copies left like 25 copies may be of the pressing we did through our own label Dirty Sound Records we have done two issues and Hells Headbangers did another on CD and vinyl, but all is sold out too.
 How did you come up with the band name and logo? Were any other band names considered? 
WH: The band's name came the last and we had this name once it appeared on the table, we were focused on composing and writing stuff first, we took the name from a horror movie band, and the logo I did it, even I did two logos, but we chose the symmetric logo and some years later in 2012 we use the other logo I did in that time.  I remember I chose 3 logos to inspire me and design it: The Budgie's, the Possessed's and the Venom's and some few ideas from the symmetric from Metallica's too.
Now in 2002, you released your first full length called "Sorceress Bitch" on Hell Attacks Productions. How did you hook up with them and were you nervous as a band at all seeing as this was your first full length release? I see you did a Violent Force cover? Why did you pick that particular track and how was the response to this release overall? 
WH: Yeah, Hell Attacks showed a lot of interest among other international underground labels such as Iron Pegasus, but we realized the Hell Attacks offer was the best option to us, besides the owner is a good friend of us and we knew of his loyalty and support to our band. Actually, we were not nervous, we only wanted to record it as better as possible, we knew we don't have a big budget but we knew if we got to record the album at the same studio where we recorded the Witching Metal Ep, this new album would be the right one, this time was recorded in the same time frame as the first, I mean the same studio and during the holy week but 2002, but this was recorded at 16 track recorder, so we had more tracks to do something really cool and good to our expectations, and it was worth each dime we spent on it.
About the response was more than we were expecting, all people were talking good stuff about our music at least into the underground scene locally and internationally.
Obliteration Records put a compilation out in 2005 with 21 songs. Was this all previously released material or was there some new stuff on it? Is this still for sale? Why did you pick Bathory's "Born for Burning" to cover on this? 
WH: All the stuff it's included on this compilation it's stuff we recorded at our rehearsal room for both demos, even the song "Metal Mania" that was included in a tape compilation called "Black Moon Comp" before our 1st demo and the cover song we did of Bathory, btw we recorded in the first demo rehearsal two covers, that one from Bathory and other from Destruction "Curse the Gods" but unfortunately this song got erased by accident before we press the demo. This Compilation is sold out long ago, but if you search deep in the web maybe you can find it, sometimes it's very expensive.
 In 2006 you worked with "Iron Bonehead Productions" for a split 7" as part of their "Thrash Metal Blitzkrieg" series. How was it working with them and thoughts on this release these days? 
WH: It was something amazing, being together with 3 great bands into the underground, I remember they sent us an email about it, and we were so interested in being part of this 4 way split, they agree with a recorded song from us, and it helped us a lot to get more exposure into European underground scene, that's was so killer in all ways to us.
Now you're from Columbia, which has a big death and black metal scene. Has there always been a healthy thrash metal scene throughout the years of the band? 
WH: Not really, the Thrash Metal scene grown with some bands that take the idea we took of playing old school Thrash Metal, I think this scene started to be big since 2006 or so, but nowadays the Colombian Metal scene has a big spectre of all subgenres about Metal.
I remember our band got big support in Colombia after we recorded the 2nd album "No Anesthesia" before this album people knew about us, but not at the scale we have gotten nowadays.
CF: Has there been any talk of ever adding a 4th member or did you always want to go as a trio?
WH: No, we think Witchtrap works perfect as a power trio, it's our feeling, besides we think three members it's enough to play Metal in its pure essence.
In the same year as your split 7" (2006) you released full-length # 2 called "No Anesthesia" on Dirty Sound Records, which must be your own label as the only other release on that label was a one-off release by you called "Checkmate". Did you ever wanna work with other labels or did you feel it was easier to release your music yourselves? 
WH: We always have loved to work with other labels, but this time we can get all the earnings of our productions besides to start to spread our music and trading with labels from Europe, Asia and America by ourselves using social nets such as Myspace and airmail in those years.
As I told you before, we wanted to become in a self-sustaining band, so once we produced our albums, we could use these earnings from the CD sales to buy good gear and instruments, besides fixing our rehearsal room and fixing our home studio, maybe the people don't know but in early days till 2006, we had to pay or rent instruments to record or lend the instruments especially drums and cymbals to play live and record, fortunately, the deal we got with Hells Headbangers Records made possible to do that, and nowadays we live from the music. We're not rich people, of course not, but we can pay our taxes and goods and dedicated ourselves to Metal as we imagine in early days as those big bands did into the underground.
Now, what are your thoughts on full length release # 2. Was it getting easier going into the studio by now or in some ways a bit harder cause you had expectations to live up to by now with your music? How was this release received by the public? I ask this because I saw a couple of reviews that said you took a step backwards with this release. Is it still for sale? 
WH: No Anesthesia was an album that gives us a better status into the underground scene, and our most classic songs are included on it (Heavy Drinker, Riot of the Beast, Disturbing the Dead, B.L.M.D. Metal Army March) , I think this album was forwards indeed, this album was our first experience for us recording at our home studio, it was cool, but sometimes a pain in the ass, due to the time we spent trying to obtain good quality sound, at least a few better than the Sorceress Bitch, but we actually didn't know enough about mixing and mastering to make it happens, but the results and the response from Metal scene were beyond the expected we had then.
Yeah, it's still available here in Colombia, we have some really few copies left on CD and vinyl yet but it's soon to be sold out. I really love this album absolutely.
In 2007, 2008, and 2009 you released a EP and 2 split releases. How do you feel about these releases these days? Are they still for sale? 
WH: All these releases were great of being part, although we were focused on playing live a lot in that time, at the same time we were spending a lot to time in beside project band called "Nightmare" were all members of Witchtrap were involved in that time, now only Enforcer it's on that band, but we had with Witchtrap some stuff to record in 2010, I mean our 3rd album, but it was delayed until 2012. About those releases, all of them are sold out.
Now we get to 2012 and a 3rd full length comes out called "Vengeance Is My Name". How easy was it for songs to come together seeing as the band had, even up to this point been around for quite a while now. Over the years did you try different studios or did you stick with the same one knowing exactly what you wanted? Is this still for sale and your personal thoughts on it? 
WH: "Vengeance Is My Name" was an album that took some enough to be out, but since when we recorded "No Anesthesia" in 2006 the songs for this 3rd album were written all.  About the studios, with Witchtrap we have only recorded in two studios actually, one is Organic Sound Studios, where we recorded "Witching Metal" Ep, "Sorceress Bitch" full-length and "Nightmares of the Dead" Ep. And the other studio is our own home studio Dirty Sound Studio, where we have recorded: "No Anesthesia" (even the drum session were recorded at J.J Studios all the rest instruments and tracks were recorded at DSS), "Vengeance Is My Name" full- length, and all the rest recordings. Now we are totally satisfied with the results year after year and the new one album was our best product for us. So, we got a complete session studying a lot about recording, mixing and mastering with "Vengeance Is My Name", we took around 2 years on it to have the final master, but we were satisfied with the results. In personal thoughts I think this album is our best far away, the songs composition and writing, are absolutely fantastic, I usually think about it and tell myself, wow man you did it fucking awesome and brilliant, jejejeje.
Yeah, we have pressed a new small pressing on CD through Dirty Sound Records our own label for sale here in Colombia, due that many fans are asking us for it usually, but it was sold out long time ago even here and by Hells Headbangers Records in USA and worldwide.
Now for those reading this and for some dumb ha ha reason they have not heard the band, what would you say you sound like? I read in the reviews of you just rehashing Kreator, Destruction, and Sodom. 
WH: Hey folks, WITCHTRAP is power trio band that plays as when Metal was Metal, I mean, and old school Thrash Metal with no compromises, with tons of heavy Metal influences, no retro sound cliché or writing, with a lot of catchy riffing, fun attitude, this is heavy music for heavy hearts, hungry for headbanging and air guitars and moshing and smashing.
I've seen how many reviewers said that we have some Kreator's singer or Bathory's style, but actually they are totally wrong in some way, we are most influence by bands such as Motörhead, Tank, The Rods, Triumph, Riot, Raven, Anvil, Exciter, Black Sabbath and Venom, that's why Witchtrap sounds similar than those Thrash legends because they were influenced by those Heavy Metal and Hard Rock bands just like we are nowadays.
 In 2013 a 6 song EP was released with 3 cover tunes from the bands: Savage Aggression, Dirges, Sobibor. Who are these bands and is this release still for sale and why the 3 cover tunes? After all this time was it easy to still come up with tunes to write? 
WH: We wanted to celebrate our 20 years of being as a band, so we chose to record 3 songs of our time when we were named "Dark Millennium" and besides we chose 3 songs of sisters bands in Colombia, we see in those bands like we were in the early days and another thing we wanted it's to show to our scene the greatest bands we have among other, moreover there are many bands do covers from very known bands in the main stream but don't do local bands covers. So, our Colombian metal scene has fucking badass bands, so this celebration of 20 years was something outstanding of our band, but it was so killer to record those songs as well. No one band in Colombia had never done a cover of local nowadays bands, we found this something innovative, so we make it happened, and that's it.
Now we creep closer to your new release with 2014 split 7" with the devil death metal masters Nunslaughter on Hells Headbangers Records. How did you hook up with this great label for this release? 
WH: Actually after we have shared the stage to them as opening band in Cali-Colombia, btw we had a blast at backstage, something unbelievable to my memories for sure. They told us after the show, they were recording something here in a studio session in Bogota-Colombia, and they wanted to do a split with us with this stuff they were recording, so we said an absolutely yes. We only had to record a couple of songs and that was all, and the entire project ran by the hand of Satan very easy through the support of Hells Headbangers Records, in few words, everything was the Nunslaughter idea.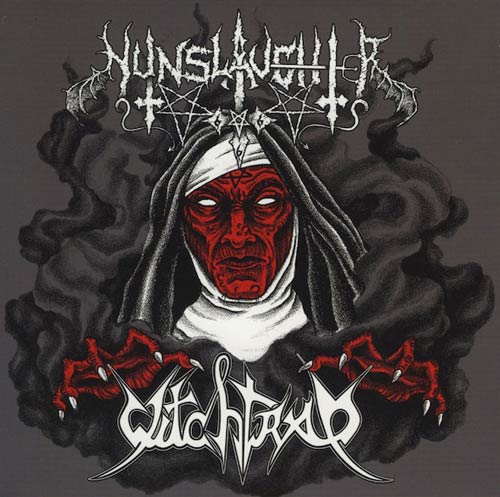 In late 2015 we have full length # 4 called "Trap the Witch". How hard was it coming up with songs for this release? Did you get to play live much to support this release? What are your thoughts on this and is it still for sale? 
WH: Actually we use to have enough songs on the table to start to record a new release, so almost all the songs were written some time ago before we went to the studio, this album was fucking great received by metal scene and all the comments and reviews were positive as hell, even many critics and fans saw this album as we were coming back to the early days of "Sorceress Bitch".
Well we use to play enough here in Colombia no matter what if there is a new album or not to support actually, and we have played some few times in Ecuador, Chile and Peru, in addition in the last 7 years we have been touring in The States 3 times and all of them have been fucking great times for sure, so we hope once all this situation about pandemic ends we go back on the road to share good times and our music to all our fans and the new metalheads that has not discovered to our band.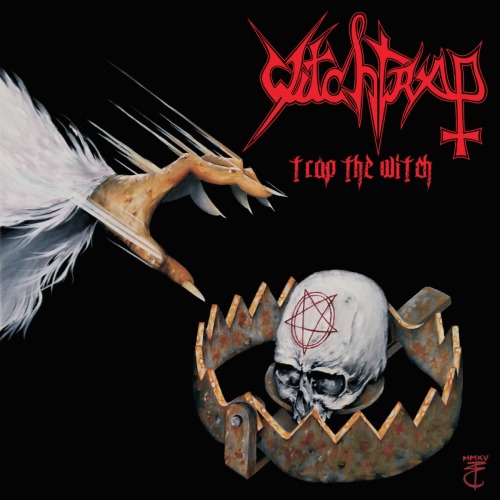 Now have you ever had a chance to play outside of Colombia during the existence of the band? What has the scene been like over the years? Is there still any record shops that still carry underground metal? 
WH: Yes, as I told you we have played outside of Colombia, not enough as we would like to do, but we have done and we are so thankful of that, we have played in countries such as Ecuador, Peru, Chile, Mexico, USA, Norway, and over the seas at 70.000 Tons of Metal Cruise.
Yeah, the scene in Colombia has Metal stores that support underground stuff, and the scene is growing up by hundreds, year by year is something amazing to see those young girls and boys coming to the local shows and buying stuff, Colombia it's kinda a new stop for any international bands to promote their music, even we have been since '80s but the big media and mainstream saw our country as big metal scene indeed, from my point of view.
 What are some of the other cool bands from your country that are around these days and are there many places to play (before all this virus shit obviously)? 
WH: Colombia has hundreds of fucking great bands, but some of they are here:
Savage Aggression, Revenge, Sobibor, Bonfire, Sexual perverts, Dark Manthra, Deathkult, Satanic, Bloodshed, No Raza, Vitam et Mortem, Enter Hell, Gexeroth, Erzebet, Infernal, Nightmare, Sörceress, Dirges, Guerra Total, Terror, Abbaddon, Octagon, Dantalian, War Thrash, Esquizofrenia, Bloodlust, Defamatory, etc… I could name hundreds that I really like and enjoy it as hell.
Now why did it take 5 years for a new release to come out? Was there any thought of the band breaking up or you guys just wanted to take a break from each other? When did you guys gather up to start work on this latest release? 
WH: Nah, we only take some few time between album releases, I mean, when a band produce an album, year by year, we think the people lose the connection to that band, you know, there are thousands of bands into the underground around the world, imagine if each band will produce an album each year, that would be fucking hard to follow each band and all their stuff, but when you create some anxiety to your followers and fans, the new album could get more attention from them (fans), then they could invest enough time to listen to the whole album note by note, and enjoy it as much as you want and create in their minds more remembering of it.
We never stop, and our relationship it's really good indeed since the beginning.
I don't remember pretty good when we jointly recorded it, but actually we, I mean my brother and me we wrote and compose each every note for the songs of each new release, once when we got the recordings session of drums and guitar, we send to Enforcer (bass player) all the songs, then he studies and learns the bass lines, then he comes to the studio to record it.
Out of all your full-length releases, what would you say was the hardest to write and put out and the easiest to write and put out and why? 
WH: Umm tough question, but I think the hardest was "Vengeance Is My Name", due we spent almost two years in the production of mixing and mastering.  The easier was the newest album "Evil Strikes Again"; we did it in around three months or so, I don't know why but the songs and mixing were fast and easy without any stress at all.
Now I got my copy to review via Hells Headbangers here in the US. Is that what you have been doing, working out-licensing deals with various labels? What have you heard about the US and have any of you been here at all? 
WH: Hey man that's fantastic, can't wait for the review you always do great reviews. (only if the band deserves it-cf)
Well, our deal it's easy to manage, we press with our label DSR a pressing for Colombia territory, and HHR does the pressing for worldwide territory, except Colombia. But when a label from other parts of the world is interested in licensing some stuff we redirect them to HHR and then we see what happens or deal about, we respect our contracts with HHR to the core and we show total loyalty to HHR that has been a label that has shown real interest and respect to our music since the early days, we have a good deal and it works fine for us, but you never know what could happen in near future, but we are so comfortable with them, we'll see what happens.
About USA Metal scene it's fucking killer, it's underground but so warm and the support It's something that we find in all ways beyond of our imagination, you buy stuff to support bands underground, and if a band gives you a good show, you support the band to the top, that's really awesome, at least for a band underground as we are.
Yeah, we have been in the states 3 times touring, the last time in 2017 we played 29 dates playing daily, from coast to coast, you have an amazing country, you should take care of it, it's an unbelievable place with tons of good people and amazing culture.
 Now in 2020 you released your latest release called "Evil Strikes Again". How long did it take songwriting wise for these songs to come together? Who writes the lyrics and what are some of the stuff you write about? 
WH: "Evil Strikes Again" was an easy album to compose and write for me and my bro, all composition and writing in Witchtrap are done by Ripper and me, I think we take 2 or 3 months to have the songs ready, as I told you before, we always have some songs on the table ready to start to practice at rehearsal than to record. All our stuff lyrics are based on black and dark poetry, apocalypse, demonology, occultism and Style Metal life, it's kinda cliché we know that but is what we love to talk about with some metaphors and rime, that's it.
 Has this whole virus/covid thing really pissed the band off? Do you plan on trying to play out live when it finally ends? 
WH: In some way, it pissed off the band, cause we were planning and booking a tour in the States, Mexico and Europe (finally). But we hope once all is ended, we will reschedule all the bookings to make it happens finally. We are so expecting to tour Europe and maybe Asia by the very first time.
In the other hand this pandemic helped us to sell hundreds of copies of our music, even our DSR pressing of the new album "Evil Strikes Again" is almost to be sold out, and other stuff got pretty good sales, on an amazing scale that we haven't seen before here in Colombia.
 Now how do you go about getting the word about this release? How has the feedback been? It reminds me of the debut release "Power and Pain" by Whiplash and you had me hooked in early. 
WH: Oh man I'm glad you've got hooked on it early, I think we are not in that level of "Whiplash", but we know that our fans and new metalheads that discover the album and the band by the first time they like it and that worth all the work we did in the songwriting and production.
Well, since March 9th when we posted it on digital stores and our CD pressing through DSR, all our fans reacted fucking awesome and share the link from YouTube faster than the speed of light, it was surprising to us, we have never seen something like that before in our music career until today all reviews have been positive, and it was considered by some critics as one of the top albums for 2020 so far.
Who does the covers for your releases? 
WH: we always are looking for a new illustrator or drawer to work on the artworks, but the concept ideas we always provide them to the artist then we make some changes if it's necessary and that's how we work on the cover of all the artworks. So always is a new artist. But almost all of them except two artworks were done by friends of ours.
How long do you see the band lasting? 
WH: Until one of us dies (my brother or I), I think Witchtrap needs each one of us to be alive.
Please plug any social media or websites the band has. 
WH:
E-mail:
Facebook:
Myspace:
Reverb Nation:
YouTube Channel:
Twitter:
Instagram:
Band camp:
Cursed Metal:
Spotify:
Horns up for doing this interview. Any last words, the floor is yours?  
WH: First of all I want to thank you for giving us this space to talk about our band a few to all your readers and followers out there. We early appreciate it from the bottom of our hearts.
To all our followers, fans and Witchtrapmaniacs, stay positive and keep the fucking metal flame alive, live by your heart and don't let you down or divide by politics or religions, Metal is the only way to stay stronger and united in the "Metal Army March". And to all the new metalheads that have never heard about us, just give us a chance to listen to our band, forget all the prisoners and take a few minutes to enjoy Metal on its pure essence with no compromises and hope you enjoy it our music as hell. See ya soon on tour once this pandemic ends and we can go back to normal life.
Your Metal Brother
WITCHHAMMER (Hugo Uribe)
Stay Evil, Stay Ugly, Stay Metal!!!
United We stand in the:
METAL ARMY MARCH
&
DEATH TO FALSE METAL.