Reviews
Whoredom Rife – Winds Of Wrath Album Review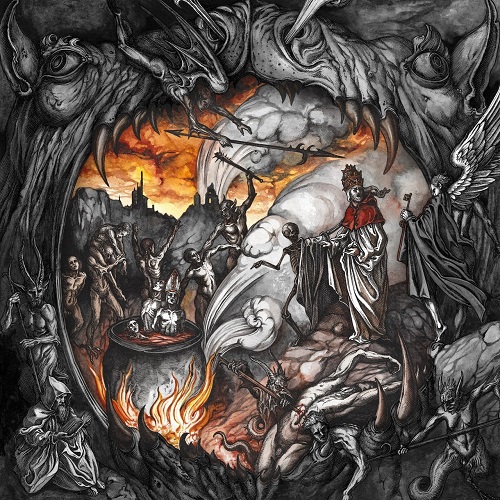 Terratur Possessions – Norway – 2021
"Winds of Wrath", the third album of Whoredom Rife, one of the shining Black Metal bands of recent years, was released on the Terratur Possessions. Frankly, I can say that the band embraces us with a composition and sound structure that aims to keep the black metal movement alive.
Why have black metal bands stopped representing this genre fully in recent years? This is questionable and we can talk about it at length. The interweaving of genres in general, and bands that valued technical capacity, recording brilliance, and popularity reached larger audiences by engaging their genres with other styles. See Black/Death Metal, Post-Black Metal…
Coming to Whoredom Rife, most of you may have heard of the band first from their split album with Taake. Both bands are almost similar in style, old-school, straight, aggressive, dark, cold and gloomy! Actually, W.R titled their albums using Norwegian, but they preferred an English album name for their last album. A total of 44 minutes of Black Metal feast with us, there are 6 songs in the whole album.
I especially missed hearing the wheezing and dirty scream vocal. K.R has managed to use it quite well. The sound of the album reminds me of the raw black metal bands I listened to between 2000 and 2010… I really liked the bass performance and navigation. The band also managed to strengthen the atmosphere with sample keyboard tones from time to time. The song durations in the album are generally long. The shortest song is 6 minutes 17 seconds. This is a feature that I personally dislike because after a while it gets repetitive and can be annoying. This album, which was mixed and mastered at Stavmix Studios, manages to capture the audience with a very satisfying sound.
V. Einride comments that we are not old for the album, we are just late. Both members of the band argue that they have been in this scene for 30 years and should not be underestimated. V. Einride previously played in concerts in the bands From the Vastland, Gorgoroth, Vemod and was in the staff of Keeps of Kalessin, while K.R took part in Bloodthorn. As for the album cover, Jose Alegria Sabogal's interior cover designs were made by Contamination Design.
Towards the end of the album, a more gloomy and melancholic atmosphere surrounds us. I likened some of the riffs in the song "Hav av Sykdoms Blod" to Swedish Armagedda's The Final War Approaching album. I've gone too far, my advice to those who read this far is to buy the album and listen to it until the end, if they can't buy it, I recommend that they listen to it at least once from the official Bandcamp or youtube posts.
Note: The album cover is one of the best works I've seen recently..
9/10