Featured
Interviews
Terrörhammer Interview With Pentagramator The Helltyrant
Terrorhammer have a fantastic new album on Osmose Records and that was all the reason I needed to get hold of Pentagramator the Helltyrant for this interview: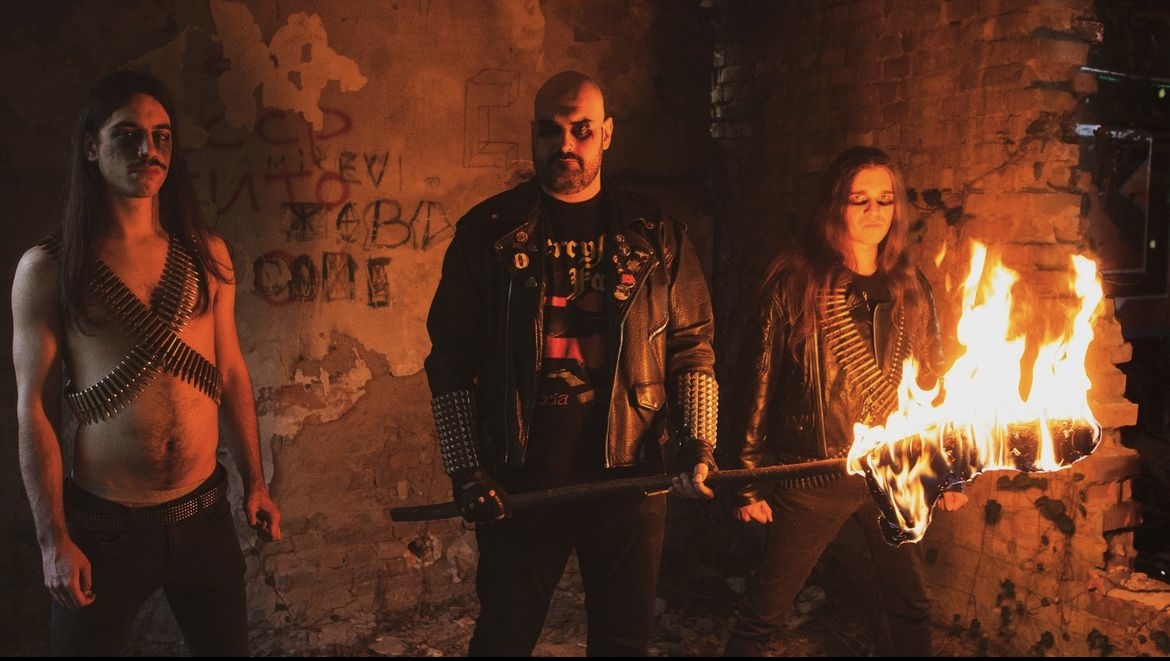 Now how did you get into heavy metal and then the underground metal? What were some of the early bands that you heard and were you into it the 1st time you heard these bands?
PTH: Salute! I was twelve years old in the mid-90's and already into some Yugoslavian rock'n'roll and the established grunge scene at the time. A classmate of mine thought I might be interested in "Number of the Beast" and lent me the album tape which I never returned to him back and everything changed from then on. My first encounter with underground metal was hearing Bathory for the first time during the NATO bombing of Yugoslavia and I was completely stunned by the approach, still not fully aware of how much that experience would affect my life, this time without the possibility of going back.
What led to you wanting to play the guitar and were you self-taught or did you take lessons? Who are some of your favourite guitar players?
PTH: Before the guitar, I was already interested in music and attended a primary music school for the clarinet, which I later graduated from. The choice to switch to the guitar came naturally out of a fascination with the music I began listening to at the time and a strong desire to reproduce the sounds and the approach of the bands that appealed to me so much. I never officially took playing lessons but often hung out with guitarists from the local scene who taught me a lot of stuff until I realized I knew enough to continue on my own. My choice of favourite guitarists is not necessarily close to what are considered to be guitar heroes in the common r'n'r sense, but rather quality authors who stood out more for good compositions than virtuoso playing. In this sense, I can say that the following names bear significant importance to me, in no particular order: Chuck Schuldiner, Adrian Smith, Tony Iommi, David Gilmour, Brendan Perry, Quorthon, Daniel Ash, Kurt Cobain, Eddie "Fast" Clarke, Euronymous, Nikola Vranjković, Kai Hansen, the Edge, Trey Azagthoth, Max Cavalera, Billy Duffy, Dragi Jelić, Jeff Hanneman, Petr "Blackosh" Hošek, Greg Mackintosh, Dimebag Darrell, Marko Laiho, Yuri Kasparyan, Snorre W. Ruch, Livius "Kudža" Pavlov, James Hetfield, Jerry Cantrell, Nocturno Culto.
So how did the coming of Terrorhammer come together and early on did you all know what sort of style you wanted the band to be?
PTH: It took us some time initially to form the style we represent today. The band was originally developed under a different name and back at that time, we made a couple of demo recordings close to the style of contemporary black/thrash. As time went on we became closer to the 80's proto-black metal sensibility and slowly started to turn in that direction. We breathed some elements of our understanding and got what we call today "necro speed metal".
Now you sing in some of your other bands, but not on the band's first two releases. Was it basically natural to take up doing the vocals for your 3rd release, a 2 song single?
PTH: I must say that from the beginning I never considered myself to be the vocalist of Terrorhammer since my ambitions were more in the field of being a guitarist and a composer. After the original vocalist left the band, the first choice was to try solutions that already existed within the band itself and since I already had experience with vocals in other ventures, we tested the option and decided to continue that way.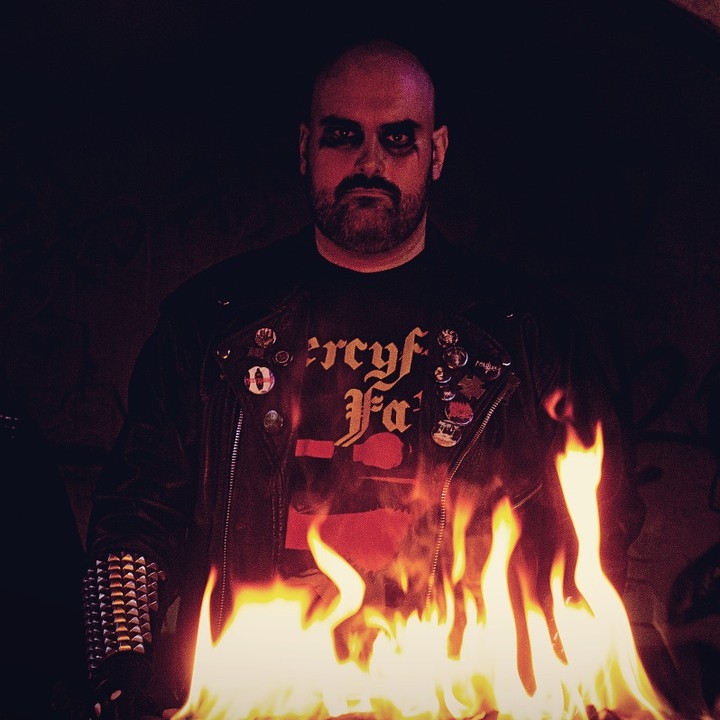 In 2015, you hooked up with Deathrune Records, who released your debut full-length called "Under the Unholy Command". Did the label find you or did you find them? Were most or all the songs ready to go when you signed a deal with them?
PTH: Our original link with Deathrune Records dates back to a time when I was a member of a Hellenic black metal band Kawir whose album "Isotheos" went out on Deathrune with me playing the guitars, and wooden instruments and doing some vocals on it. We signed the deal for "Under the Unholy Command" with most of the demos finished and since Deathrune liked the direction we were going we quickly proceeded to complete the full album.
Now before I go any further, who came up with the name and logo for the band?
PTH: It is the legacy of the first vocalist.
Looking back, what are your thoughts on this release? You did everything I saw on it, with only B.B.K. Necro Doctor playing bass. Who played the drums?
PTH: The lineup that completed our first album consisted of B.B.K. on bass and me on guitars/vocals then joined by the legendary Honza "Butcher" Kapák of Master's Hammer and Avenger fame participating as a studio drummer. Looking back, we still see it as a strong release with very few points that could be improved, mostly some minor moments in the sound that we can more easily correct today. Actually, lately, we've been thinking about re-releasing the album with a revisited mix/mastering which could offer a more powerful perspective than the original release did.
How was the response to the release when it came out? Who did the cover for it?
PTH: The response was solid and in line with our ambitions in the underground scene of the time. The cover art was done by Marko Danilović "Tihi" (Quasarborn) who also recorded some stuff with Terrorhammer prior to the album sessions.
I am listening to your debut release as I type this out and I love the bass sound, your guitar sound and your vocals. What do you use to get your guitar sound, and which skills?
PTH: I remember us experimenting with a sound combining various retro and contemporary technology. That's how we've connected several bass heads and preamps and for the guitars, we fused the legendary Ibanez Tube Screamer with Peavey 6505 head and cabs. The rest of the magic probably comes from the performance.
I would say your debut is Motorhead meeting German thrash metal. Is that a fair remark?
PTH: I wouldn't necessarily agree with that, but any mention of Motorhead and the classical Teutonic hordes is a thing worth appreciating.
Now with being in some other bands, is it hard at all for you not to let the sound of Terrorhammer creep into those bands or to have the sound of the other bands creep into Terrorhammer?
PTH: So far I've never had problems like that and from here I can't see them coming. I assume that's probably because one of my primary ambitions with music is to express different parts of my sensibility, and I find each of my bands to be a separate medium for a level of it. That's how I manage so far since I can recognize well in which direction inspiration leads me at certain moments.
Do you have to be in a certain mood to write music and/or lyrics? Do you ever just want to be left alone with a guitar to come up with riffs and a pad to come up with lyrics?
PTH: Sure, there is a certain mood necessary for ideas to manifest. Less often, but not excluded, it can happen during rehearsal moments when the atmosphere is right and mutual energies click together which is not something uncommon for Terrorhammer. There is this other side when creativity requires solitude and dedication to oneself, but if we talk about Terrorhammer in that context, we are not talking about dark and melancholic moments. Something closer to the ambience you can feel while listening to our music.
Overall how was it working with Deathrune Records?
PTH: I assume that it was successful on both sides, but after a certain moment, I think both sides exhausted their cooperation capacities, so it was a natural step to move on with the new partners.
So what did you guys do from 2015 till 2018, when your next release came out, which was an EP?
PTH: Around 2015 I moved to Saint Petersburg, Russia for a couple of years. It is then, after talking with B.B.K. we agreed on forming a new lineup that would eventually complete the EP we've worked on at the time.
So now let's talk about this EP. How did you come up with the name "In the Name of Hell"? I love the cover. Who came up with that design?
PTH: Most of the material on "In the Name of Hell" was influenced and composed during my stay in St. Petersburg with exception of the song "The Powers of Darkness" which was originally written by B.B.K. and later arranged together through distance contacts. The cover art was done by a friend and a great artist from Russia, Alexander "Morkh" Shadrin of Nether Temple Design and he made the whole story framed into a meaningful whole.
How did you come to work with Dying Victims Productions for this? How quickly did the songs come together for this release?
PTH: We knew Florian Grill back from the times of the "Vintage Black Mass" EP since he already worked with Heavy Forces Records, our first label. As soon as the new EP was ready we provided him with the tracks and quickly came to an agreement for releasing the material.
Now there is a cover tune on this, a song called Black Terror by the band Korrozia Metalla I think. Am I right? Who are they and what made you pick them?
PTH: Korrozia Metalla was a cult Eastern European and back at the time, a Soviet band emerging from the late 80's perestroika moments. In time I became a big fan of their "Орден Сатаны" debut, so given the impact of the environment I was exposed to during my time there, the choice to cover it was imposed itself. On the other hand, needless to say, I do have not much sympathy for the remnants of the band bearing the same name today, nor do I share any views on what Korrozia Metalla claims to represent these days.
In 2020 you released a single called World Wars III & IV (In Memory of Lord Petrus Steele), better known as Pete Steele from Carnivore. What made you pick the particular Carnivore tune to cover? Carnivore fucking rules my man.
PTH: I think you already gave the answer yourself and the choice to cover "World Wars III & IV" came out of pure admiration for Carnivore and the legacy of Peter Steele. The 10th anniversary of his passing once again presented itself as a great opportunity to pay him tribute and luckily the guys at Take This Torch and Hellbangers Records were eager to help us commemorate this date with a special cassette single!
Also in 2020, was a 1 song single, a cover of the band Desaster and their song Devil's Sword. I imagine it is fun going in and doing these cover tunes, isn't it?
PTH: A cover of Desaster's "Devil's Sword" was recorded in 2014 as a part of the official tribute "We Worship Desaster – A Tribute to Desaster" released in 2015 by Grom Records from Serbia. We made the song available on our Bandcamp somewhere in 2020 and it never was an official single, but the nerds from Encyclopaedia Metallum seem to be pretty stubborn lately.
Of course, it's always a pleasure and fun to play other people's songs that bear some meaning for you and to do it in a way that shows how you personally experience those, practically performing them as if they were pieces that you wrote.
A couple of other singles followed before your new release on Osmose called "Gateways to Hades". How did you hook up with this great label? Why the title Gateways to Hades?
PTH: Well we had a "Vulcan Tyrant / Speedwhore / Whipstriker / Terrörhammer" CD and 7″ split in the second part of the year when the Carnivore single was out. Right after, we were ready to enter the studio again, which would make us finalize the work on the second full-length album. "Gateways to Hades" title came as a discrete homage to a particular iconic speed metal album from the 80's era.
Frankly speaking and without self-imposed modesty, Terrorhammer has been from the very start primarily committed to making quality music, at least by our own personal standards, and I think any band that seriously insists this course will sooner or later receive well-deserved attention from the public or the major label such Osmose Productions is.
How quickly did songs come together for this? Were there any thoughts on doing a cover tune for this?
PTH: The initial sketches for the second album appeared already in the final stages of the production for "Under the Unholy Command", but the events that followed on the personal and global level inevitably slowed down the process taking us almost seven years after the debut to finish our second album. Eventually, we got a release that we can fully stand behind in all its aspects, starting from the composition to the performance, all the way to the production, so there is absolutely nothing we regret.
9 tunes in 35 minutes to drain, pound, and smash your skull in. Within 1 minute I was loving it. It packs a wallop. How has the reaction been? I am sure Osmose is happy ha ha.
PTH: The overall response was great once again and we had the opportunity to witness it for ourselves when we set on a three-week European tour with the Colombian brothers from Witchtrap at the end of 2022. It doesn't take much effort and thought to get into what the Inferno of Terrorhammer is all about and both Hervé and Thomas from Osmose loved the album.
So do you hope to play many live shows this year? What is a live show like?
PTH: As I mentioned, we already went on a European tour for "Gateways to Hades" last year and for this one, we are about to announce a brief tour in Central Asia which will happen in March/April 2023. Besides, there would be some more things, yet to be announced.
Now how serious is the band, seeing as you're in other bands besides this one?
PTH: Serious as Hell itself!
For someone who has not heard the band, what would you say you sound like?
PTH: One could say that "necro speed metal" sounds like the mean and filthy variant of 80's speed metal delivered by the hearts of black metal outlaws and that would be one of the fair perspectives. For others, I invite you to witness the blasphemy of the holy spirit live!
Are all your releases still available in some way shape or form?
PTH: Besides the "Vintage Black Mass" EP which is probably out of print by now, all our releases are still available in various forms (CDs, tapes, vinyl) among the catalogues of our previous and present labels, so interested parties are free to contact Osmose, Dying Victims or even Deathrune in order to obtain some copies of our music.
Please plug any merchandise you have and any social media sites as well.
PTH: The official merchandise directly from the band is available through the Bandcamp profile and you can also follow us on Facebook, VK and Instagram.
https://terrorhammer.bandcamp.com/
https://www.instagram.com/terrorhammerofficial/
https://www.facebook.com/Terrorhammer
Horns up for doing this interview, any last words to wrap it up?
PTH: Thank you for the inspiring talk and the support for TERRORHAMMER!
SUPPORT THE UNDERGROUND THE FUCK THE WORLD!
666!!!