Reviews
THE UPHEAVAL "Vomits of Hate"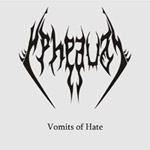 Self-released – 2011 – Turkey
The Upheaval is a new band from Turkey, they formed in 2011 and released their first promo EP at the same year. Now they are looking for a label to release their first full-length album.
This EP contains 4 songs, as far as I know these songs re-recorded for new album, I haven't listened them yet. Production and record sounds good and clean.
The band is playing black/thrash metal, but it sounds more black metal by looking atmosphere and lyrical concept. Notwithstanding I have to say this some parts are absolutely just thrash metal. A harsh scream vocal used. Their music reminds Gorgoroth to me sometimes.
I can recommend this band to black metal fans who like to listen some old-school cold music. (Click here to download it)
8/10