Reviews
SYN ZE ŞASE TRI "Stapin Peste Stapini"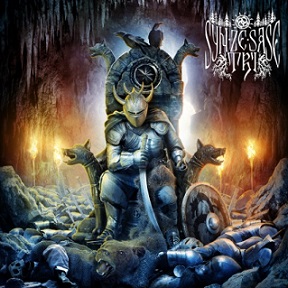 Code666 Records- 2014- Romania
This album is the third part of the trilogy from this Romanian band which plays a mixture of Symphonic Black Metal and Folk Metal. I haven't heard the first two albums from them so I can't say how much they evolved since their last album and how different it is
comparing to it. At first, I wasn't so sure what to make out of the album when I received the promo from their label, but when I started to listen to their music, I got interested. Their music is a mixture of bands like Finntroll, Equilibrium, Nokturnal Mortum and
some Symphonic Black Metal bands like Carach Angren and a bit of Dimmu Borgir or better even to mention Old Mans Child. The closest description would be that Syn Ze Sase Tri sound like a mixture of Nokturnal Mortum (the folk elements and some of their
old Symphonic BM elements from "Goat Horns" and "To the Gates…") and Old Mans Child from their middle phase if you want to get a better picture about their sound. The production of this album is very well done, very clean which is good for their symphonic elements to come out. The vocals might be a bit too harsh at some points. Unfortunately, I can't say anything about the lyrics since they are all done in Romanian. Their label just
stated in their info sheet about the album that it is "strongly inspired by the bloody myth of the Ancient Dracian Legends of their motherland Transilvania".
8/10