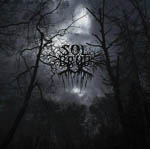 Euphonious Records / VME -2012 – Denmark
This year the Danes SOLBRUD released their debut cd.
I hear rock-solid Atmospheric Black Metal. Weighting tons riffs which seem to carry the whole worlds' burden drag through the all in all four songs. Slowly growing sound frameworks which bring along darkness and apocalyptic mood. Fear, hopelessness and depression broaden at the listener. Downright musical dense walls develop in the mid tempo area which are seemingly impenetrably. Dark worlds without hope for cure which captivate the listener and engulf him in the abyss. Sometime dream worlds develop which however are abrupt destroyed the next moment. Reinforced by machine gun-like drumming salvoes now and then. A very intense cd which demands from the listener a lot. The intense vocals is spare used so that the music receives room for action. The relatively long songs (From 7 to 11 minutes) put the final touches to the production. Thereby develop at no time verbose or even boring passages. The lyrics are presented in Danish what I personally appreciate. Check out SOLBRUD at their various internet websites. I can only recommend SOLBRUD!!!