Reviews
JESUS AIN'T IN POLAND "Freiheit Macht Frei"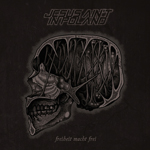 Grindpromotion – 2012 – Italy
Great, It has been long time to listen this kind band from Italy. Readers know that I follow Italian scene closely. Jesus Ain't in Poland is an interesting band name that I don't understand anything about it 😀 Also album name is in German, but song names are in English. The band formed in 2004 and released their first album in 2008, this is their second album. I like covers simple and minimalist design.
The band plays modern grindcore and you can hear some hardcore and death metal influences. Production is well and record is very clear. This is what I want from a Grindcore band. Songs are fast and energic, as it must be.
An album must be listened by Grindcore fans. Check it!
8/10