Reviews
SARTEGOS – As Fontes do Negrume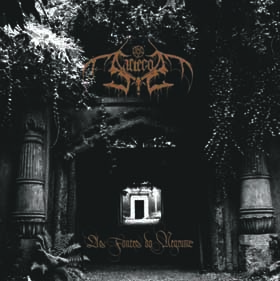 Bloody Productions – 2013- Spain
Spanish band,Sartegos's new MCD called "As Fontes do Negrume" has been received recently.The band plays a style of raw black metal.The same titled Lp of this album is also released by I, Voidhanger Records.
In all picture,all song titles are translated to English about the themes of dark,mystery and mystical elements,and if you ask me why you said ''translate'',easily I answer that lyrics and all titles are spanish.Actually I could title bands' style as black-death but I must say that band uses raw parts in their songwriting which sounds like old Bethlehem.Especially,in their song titled ''Meianoite no Jardim de deus"(Midnight in God's Garden) ,the band uses riffs and vocal parts Bethlehem a like much more.
As a whole of the band's record,it is an avarage album and their records are very massive and good but personally I don't like vocalist's style and vocal parts,it has not effected album in a good way.I think that Sartegos has an undergound attitude against major web,they have no official site and also have no social networks on net.I wish the band luck for future.
7/10