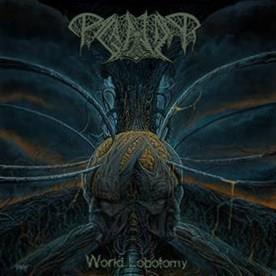 Cyclone Empire-2013-Sweden
This is 9th album of Paganizer named World Lobotomy and it was released in last May by Cyclone Empire.Followers and fans know this old swedish war machine very well so I do not talk about the band's past.
This album welcomes us with it's cult and classic swedish death metal feast.Paganizer breed a molding sound of nowadays popular old school sound of death metal and classic way of swedish death metal and it is a well known trademark for Paganizer over years,they keep it alive and bloody brutal as always.
This album has a kick ass and killer background,riffs and a brend of technical riffs in it's way with the calm and raw brutal vocal skills and also those elements kicks some specifity of itself with classical Paganizer sound.
Maybe World Lobotomy will not be seen as a cult or classic album in future but for now it is a pretty good album at all and it easily can give a huge fire to listeners.Artwork was done by Juan Jose Castellano and mix and mastering was done by Ronnie Björnström.In all senses,it is a kick ass album.
8/10