Greetings, I just heard your EP for the first time and I was amazed by it. What can you tell us about it?
It is entitled 'Dramatis Personæ' and is a 5 track EP which was recorded with throughout January 2015. We decided to track drums with Ryan Huthnance of Emmisary Studios who we had previously worked with on our first full length album, 'L'appel du vide'. The rest of Dramatis Personæ was recorded, mixed and mastered by Dylan Mitrovich. It is also our second worldwide release through AuralMusic/Code666. 'Dramatis Personæ' translates literally as 'Persons of the drama', and is a phrase used to refer collectively to the main characters in a dramatic work. This release focuses on the heavier and darker elements of Rise of Avernus both musically and lyrically.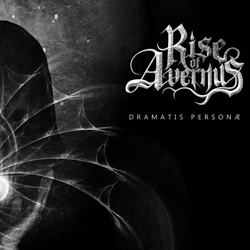 I guess that you are still much unknown outside your homeland Australia so could you tell us a bit more about your band?
Rise of Avernus are a 4 piece band hailing from Sydney, Australia. We have Ben vanVollenhoven on guitars, vocals and orchestrations, Daniel Warrington on fretless bass and vocals, Andrew Craig on drums and percussion and Mares Refalaeda on keys and vocals. We play a diverse style of music revolving around Progressive, Orchestral, Death and Doom Metal.
Before this EP you brought out another EP and a full-length. What can you tell us about them?
The first self titled EP began as a studio project between Ben and another ex-member, released independently in May 2012, This focused on a softer, more atmospheric style of music. Our first full length release, 'L'appel du vide', was released worldwide through AuralMusic/Code666 in January 2014. This was very experimental for us, ranging from delicate passages and sombre ballads to big, agressive riffs and blast beats.
Grutle from Enslaved was a guest on your new EP. How did it come to this collaboration with him?
After nationally supporting Enslaved on their first Australian tour in November 2013, we remained in contact with them. While we were writing the EP, our drummer Andrew got in contact with him and asked if he would be interested, he was more than happy to contribute his vocals to the song 'Acta Est Fabula' which we feel gave it a certain something only Grutle can give.
You also play a lot of concert in your homeland with foreign bands. With whom did you play so far and what concert/tour stayed in your minds as the most positive one?
We have had the pleasure to play with bands such as Apocolyptica, Enslaved, SepticFlesh, Rotting Christ, Fleshgod Apocolypse, The Amenta, Mnemic, Hypno5e, just a name a few… I hesitate to name a particular show or tour as my or our collective favourite as any show we play, we enjoy and channel our collective energies 100%. They've all been pretty incredible in their own way.
Where do you get your inspiration for your music and lyrics from?
Anything can inspire us to create… it may be a single feeling and/or experience, The lyrics mostly reflect triumphs, the emancipation and separation from a indoctrinated way of thinking, finding personal truths within the chaos in both our internal and external worlds.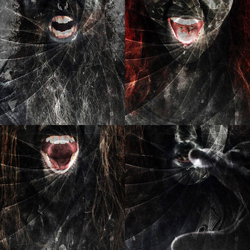 What bands inspire you?
We all have very individual tastes when it comes to music… Between the four of us, it can get quite eclectic. Any musician who truly believes in what they are doing, regardless of style or genre, I personally find to be inspiring.
What can you tell us about your local scene?
The local scene can be a great experience for those who either play in bands, or go to see and support them. While the crowd numbers can vary, (as sometimes there may be more than one high profile show in the same city on the same night) the good thing is, there is a definitely something for everybody in the local Australian scene.
Will you play maybe soon somewhere outside Australia?
We certainly hope to take Rise of Avernus overseas this year for our first international run of shows
Any last words?
Yes… enjoy the EP =)