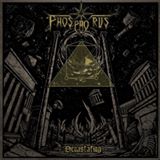 Hsp Productions – 2016 – Canada
The Canadian band PHOSPHORUS is already over a decade on the road as a band. In September 2016 they released their latest opus "Devastation" in in-house production.
A wave of dark energy in the form of notes rains down on the listener. Thereby the guys doesn't stick on one musical genre. The darkness of Black Metal paired with Death Metal riffs let become "Devastation" to a very own entity. Together with the screaming vocals develop intense songs which reflect hopelessness and which contain power and rage within itselves. .Guitar solis now and then ease the opus a bit without thereby sounding too soft. You can pick out here in each tone the professional musicians. It originates a multifarious, depressing atmosphere which is extremely emotional. Recorded professional and very focused I can only recommend PHOSPHORUS!!!!
9,6/10