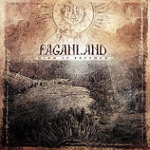 Svarga Music – 2013 – Ukraine
The Ukrainians PAGANLAND are intermittently since 1997 active as a band. They put with "Wind Of Freedom" their first full-length player via Svarga Music on the scene.
The calm instrumental intro which sounds little short of spheric gives the listener a short time of rest and relaxation yet. The following song "Shadow Of The Past" makes clear where the musical journey will lead us here. PAGANLAND offers Folk Metal at its best. Blended with Metal elements which go into the Black Metal diection this wild mixture results in the bands' sound. Severe guitar riffs sink in a symbiosis with classical instruments like for example the flute. Diversified vocals which vary between growls and clean vocals give additional hardness and sustainability. Keyboard insertions here and there relax the songs a bit without thereby sounding too soft. With "Wind Of Freedom" worship the band country and its people. The songs are all written in Ukrainian language which additionally exposes the affinity. The all in all eight songs are all located in the mid tempo area. Here is conscious renounced of experiments and highspeed which benefits the production. Very committed and technical impeccable recorded you hear here that no beginners were at work. I can only recommend PAGANLAND to each Folk Metal fan!!!