Interviews
NunSlaughter Interview
Don of the Dead returned from the dead and recorded an E.P. and now a killer full-lenght! He answered our questions and he has more for you from hell!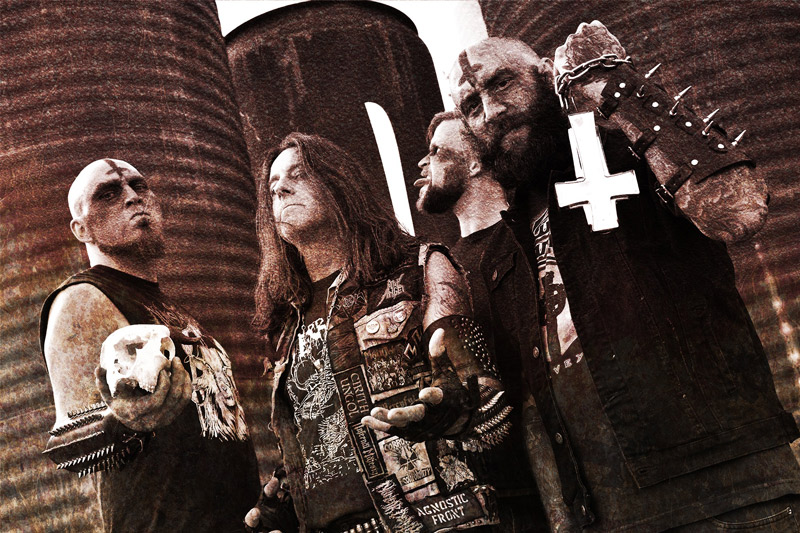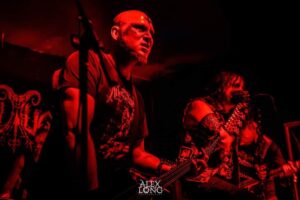 1- How is Nunslaughter slaying around these days? We are very excited because Nunslaughter is pretty much active after lockdowns.
NunSlaughter is doing very well. Lots of great feedback from our new album and live we are crushing all in our path.
2- Which states can you play shows in the USA nowadays, are all venues open?
Almost all of the USA is opened up for the summer but a few cities are starting to lockdown due to Covid.
3- How did you cope with the pandemic? And what did you think about it? Any conspiracy theory? 
I worked through the major shutdowns in the USA. It did stop or put on hold several small tours that we had planned.
I don't really have an opinion on Covid. Shit happens and until people get humanity figured out we will continue to have shit served to us. I do not have any interest in what happens after I die so I figure we can hold on at least until I make my exit.
4- After the release of Black Death Phantom EP and then finally long-awaited Full-length album Red Is the Color of Ripping Death is reigning now. How are the reactions from fans? And are you satisfied with this album?
 This album is a beast. The songs and the sound are exactly where they should be and the reaction from fans and reviewers has been phenomenal. Very highly acclaimed and nothing but great reactions.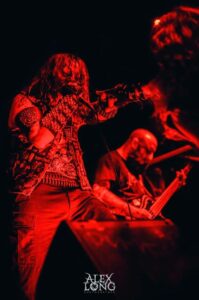 5- When is the Vinyl release date for Red Is the Color of Ripping Death? How can fans reach it?
Hells Headbangers was told December. People can just go to www.nunslaughter.com to order the LP/CD/Digital.
6- Nunslaughter changed its lineup many times. What can you say for the current line-up? Please introduce them to us.
The most senior member, other than myself, is Tormentor. Solid guitarist and fantastic sound engineer. We have him to thank for the production on this album as well as many of the great riffs. Wrath, or drums, is next and he is a monster behind the kit. Lots of new elements have been brought to the band as well as being able to perform the old songs with pride. Detonate is the newest member and an absolute maniac on stage. All of us bring strong elements to the band and when it is combined we are a force to be reckoned with.
7- To me, Nunslaughter is 'punky' old school death metal, do you agree or what is the true description for Nunslaughter sound?
Yes, of course, that is what early death metal was and we have not tried to deviate from that sound or feeling. Tormentor and I are fans of the '70s-'80s punk movement and translate those elements into NunSlaughter.
8-  You released a split with Hatevomit from our country. What can you say for that release?
I wish I had more knowledge of this release. I did not know of Hatevomit until we did a split with them and I must say it is a perfect fit for both bands. We are proud to share a split with such a talented band. We hope to share the stage in the future.
9-  I really enjoy it when you do a 02:45 minute video clip for a 01:45 minute song. Is there any upcoming official video clip? Can we see a masterpiece like 'God'?
Hell yes, we have finished 2 official videos at this point. Both are viewable on youtube or at hells headbangers. BELOW THE CLOVEN HOOF and BROKEN AND ALONE are the songs and we hope to have a third finished soon.
10- When we look up lyrics, we're seeing antichrist, satanic, occult, witches, zombies and all right death. Which is the most important topic on this list for you?
Death and Satan are most important in Death Metal,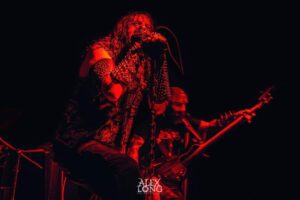 11- Are there any tour dates and shows out of the US?
Unfortunately no tours but we have a handful of shows on the weekends here in the US. Looking to do a Euro tour next year but with Covid who knows if that will happen.
12- Please recommend new bands to fans. What does Don of the Dead listen to these days?
Fluids, Moulder, Coffin Rot are a few that I have been listening to. But don't listen to me go out and delve into the internet. There are many good bands out there.
13- Last words for all of us who are always thirsty for NunSlaughter?
Metal is Death Death is Metal NunSlaughter Death Metal!