Reviews
NORDVERG "Багровый рассвет"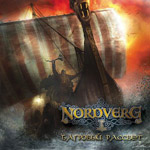 Stygian Crypt Productions – 2011 – Russia
Here I'm listening a Russian band again. Nordverg formed as Dragon's Tears in 2004, changed name to Nordverg in 2011 and released an album called "Багровый рассвет".
The band performed folk/viking metal with a strong sound. As usual they used some ethnic instruments, viola and bagpipe. All lyrics are Russian. Brutal/Scream vocals are sounds like spell and clean vocals like chorus are great. Non-metal short songs are cool too.
There is not much words to say for their music, standard folk metal riffs used. But I can feel strong bass guitar tones inside my body, cool! Productions is welldone. I've listened lots of mediocre folk metal bands, Norverg is different and qualified band, be sure of this.
Folk/viking metal fans, you should take a look to this album.
8.5/10