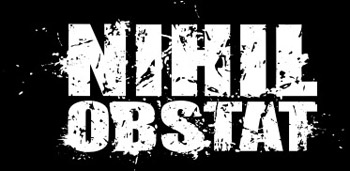 Hello. What's up in Colombia? (Musical, Social)
David Santos (Guitars): Hail Friends! Nice to be here sharing these words with you all. What can we tell you? Musically speaking, here in Colombia we are now having the advent of many brutal bands and international acts that have never showed up before over here and some of those band are coming for the second and third time since they have realized that this is a great place for gigs and a great country in general. And socially speaking, we have a new government and we hope them to make many advances in many social issues given that the last one made some but left many things to do, so here we are very aware of what's to come in the next few years.
"Disintegration" is out since May. How are the reactions to the album in general?
Well, "Disintegration" is going very well. Locally speaking, it has been well received and something that we are very curious about is that many people have acknowledged the weight of more than ten years as a band. I mean for example, some people have said to us that they do not share the style of music that we perform but the give us full credit for putting a new record out of such intensity both musical and production wise.
Metalheads in general go into berserk with "Disintegration". It´s been really nice to have a video clip to promote this album and a wide array web based means to use.
"Inherited Primitive Behaviors" was released in 2004; there is a break of about 6 years. What did the band do in that period?
Nice question since few have taken notice of that. The songs written for "Disintegration" were ready to be recorded in mid 2007 but due to financial issues, we decided to record only three for preproduction purposes and then put those on the web so that someone interested could finance the whole production and that happened in 2009 with Goremageddon Productions (Russia). The other thing is that our previous drummer left the band in december of 2007 so we had to get a new drummer and take the time to get the songs to boiling point once again with him. In the other hand, we did try to do as many gigs as we could to promote the upcoming record and test the drummer for the studio.
Your first album was released by Goregiastic Records (USA) and "Disintegration" is by Goremageddon Productions (Russia). Are you making agreements with production companies just for an album, or was there a problem that changed your choice? How is your relation with Stygian's Crypt?
Nice question once again. The agreement made for "Inherited Primitive Behaviors" covered just that album, what could come up after that would be included in a brand new agreement free to be made with anyone, name it X or Y. The purpose of making a preproduction demo besides checking our sound and studio capabilities was to get it to someone interested in producing the whole album and Goremageddon Productions was the label that showed up so we made the agreement and got into the studio right away.
Our relation with Andrew from Stygian's Crypt is absolutely nice, he's a great guy, very collaborative and open to dialog. Not the slightest problem. Hope we can count on them for our upcoming projects and only gratitude from us towards them.
There's a biomechanical artwork in the album cover. What's the idea? It's about the lyrics, is it?
This artwork was made in Russia. We talked with Goremageddon to add some input about the lyrics and the concepts we developed for "Disintegration" it and they started to work on the graphics and we instantly loved what they showed to us because it depicted many things we could just not tell with words or sounds and it became itself a part of the album, like another song.
Since some of us are involved in the industry of graphic design we were totally able to do the graphic design ourselves but we wanted to give us a chance to look at what they could come up with and we were really satisfied with the results.
The concept of "Disintegration" is that there's always a process of creation and destruction going on at many levels, name it social, political, evolutionary, war, historic, mankind, money and everything in between.
Some of the words are written in darker colors, some are lighter in the cover. Is there a special reason or was it for the necessity of design?
Kind of both. In some parts the lighter color marks parts where backing vocals kick in and in some other parts is just to emphasize or to give closure to a verse. Sometimes highlighted words can be read as a subtext, like a puzzle inside a puzzle.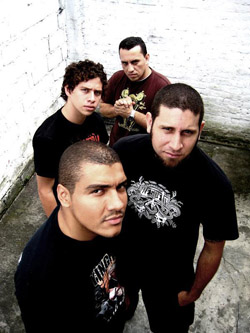 You have shared the stage with bands that are at top level on the underground. Which was the most special concert for you?
Suffocation!!! They are very cool people to talk with, but specially Frank Mullen who was talking with us for about an hour and shared many stories and personal stuff with us, a real honor indeed. Since they're a big influence for our music and have been fans long before we started the band, it was like the sickest dream that came true.
Krisiun also was a rush of blood to the head. Grave likewise.
By ignoring the Death Metal that you do, which Death Metal is making you tip more, 90's or post 2000's?
There's very good stuff on both sides. Personally I'm rediscovering stuff from the 90's that is blowing my mind. I'd say that in the 90's were planted seeds that will keep on sprouting for decades.
What are your other influences than the similar bands when you are giving the violence to Death Metal?
Bands like Cephalic Carnage, Wormed, Morbid Angel, Origin, Aborted, Napalm Death, Deeds of Flesh.
Other sources: Lovecraft, Sagan, Asimov, Huxley. Anime
Could we ever live if there was no Death Metal? 🙂 Then which style would you tend to?
We could yeah, but it would be no fun.
Salsa perhaps? Merengue? Cumbia? Vallenato? Think not. Industrial, Grindcore, Hardcore definitely.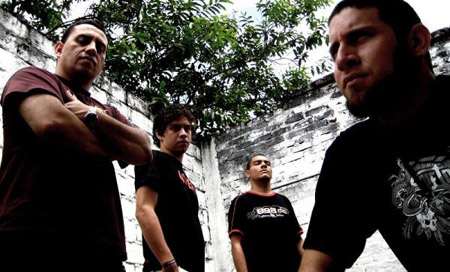 Is there a country of a festival that you specially want to play?
The answer to that is: the whole world. European festivals seem so huge. We've been told that Asia is a very sick place to play. North America has its own deal of brutal festivals. We've also heard that Chile is very suitable country for brutality.
But what I'd really like to see is a concert full of people whether it is a small or big venue. I see many people out there with their black t-shirts hanging around and playing the metalhead but I never seen them on a concert, they just evaporate; but when there's a free event then people show up in amounts like you have never seen before.
Those were all my questions. Is there anything that you want to add?
Fuck yeah!! Thanks, great interview. Go to the concerts. Download if you want (who doesn't) but go to the fucking concerts!!
www.myspace.com/nihilobstatmetal