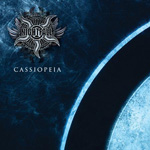 Metal Blade Records – 2013 – Greece
NIGHTFALL put their second full-length cd after their reunion six years ago on the dark market. The opus of the Greek is called "Cassiopeia".
"Cassioepia" is a mixture of Melodic Death Metal, Gothic and Dark Metal elements. The riffs are very compact and partially on the edge to bombast. Dark sound frameworks are infolded of partly very melodic and then again also very hard and dark melodies. Piano interludes and Gothic elements straighten out the all in all eleven songs without thereby superimposing thei dark basic thrust. Powerful bass lines and drumming insert well in the overall structure.Very energetic and at the same time diversified songs develop by the variability of the guitars. The listener is again and again pleasantly surprised by varying melodies and tempi. The production is very melodic, in some places very near to fussy which is not to say that "Cassiopeoa" is too exaggerated. The dark, emphatic growls of vocalist Efthimis Karadimas support and reinforce the sound of NIGHTFALL. A very diversified cd which also turns out well productional. Check out NIGHTFALL and constitute your own opinion!!!