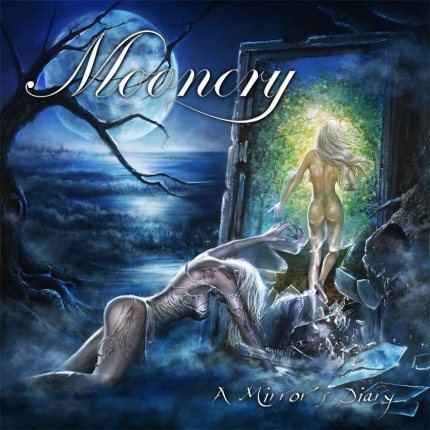 SAOL Records – 2014 – Germany
Recently I got notice of the band MOONCRY. From Germany and already since 2006 musically active as a band the men released late last year their cd "A Mirror's Diary" in in-house production.
You can't musically pigeon-hole the music of MOONCRY. Complex songs which are presented imaginative and fresh try to prevent boredom which must not necessarily be a disadvantage. Thereby you can hear here from Power Metal to Nu Metal influences to harder Metal sounds and Gothic tones pretty much everything. The all in all ten songs however have one thing in common: They are melodic and nevertheless hard enough not to rate as fabric conditioner music. Background choirs now and then appointed give it all yet a Gothic touch. The skilful integration of hard riffs and symphonic parts give hardness and aggressiveness on the one hand. On the other hand prevent melodies the drift off in too hard realms. The doubleblast drumming gives additionally the main points. Technically played it additionally caters for the necessary bite and self-assertion. Synthesizer sounds ease the production and give further new impulses. The multifarious vocals of vocalist Sali Hasan diversifies and shows once more the bands' professionalism. All told it results in the independent sound. You can pick out here with each note the technically adept musicians who exactly know what they want musically. Nevertheless facilitates "A Mirror's Diary" for dreaming and spacing out into other worlds. MOONCRY are here successful in delivering a strong piece of dark, symphonic Metal. Who is into modern, technical Metal productions can take hold here unhesitatingly!!!!
8,8/10