Interviews
Mongrels Cross Interview
Mongrels Cross play thrash/black metal and with a new release on Hells Headbangers I thought it was time to hook up with band member guitarist/singer Grand Mongrel
Where were you born and where did you grow up?
GM: Hi Chris and fellow maniacs. I was born on the Sunshine Coast in Queensland Australia. I grew up on a town right on the ocean.
What sort of kid were you growing up?
GM: I was into a lot of stuff growing up. Music, surfing and skating but I also was really into reading and playing video games. I had a bunch of mates that I skated with every day and then a nerd mate with who I'd play RPG's and magic the gathering with. I loved film from an early age and would take my grandmother to the best video stores I could find and she would unsuspectingly hire out hundreds of horror films for me.
When did you start to like metal music and what were some of the early bands you listened to and liked?
GM: Living in a coastal town in the '90s the Fat records and Epitaph pop-punk was huge and I was attracted to it at an early age due to its melody and speed. There was a little bit of metal too with bands like Metallica and Sepultura. Being a 12 year old it was all I had access to for a little while but one very formative day I was heading down for a surf and I heard insane blast beats coming from a house on my street. A new family had moved in and the drummer responsible for the racquet turned out to be the original drummer for blood duster. I showed my intrigue and we became mates. I was immediately fascinated by the cover art and themes and began devouring everything he showed me. He was really into grind and death metal but it was the occult centred metal he had that I really took to. My favourite early stuff was Morbid Angel, Dismember, Impaled Nazarene and the first Cradle of Filth.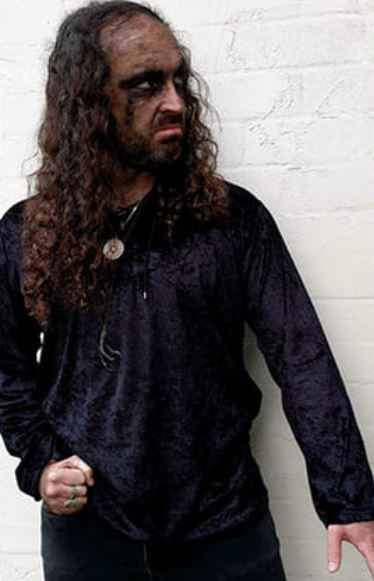 Now at what age did you pick up a guitar? Did you take any lessons or were you self-taught? Who are some of your favourite guitar players?
GM: My school had guitar lessons and I first started playing at about ten years old. They were very generic guitar lessons however and for the most part, I'm completely self-taught. One notable event was our school concert where our guitar class played Nothing Else Matters. I didn't really keep it up but after high school, I got right back into it.
Favourite guitar players…geez. There are many and I'll miss some here but let's go with
James Hetfield, Trey Azagoth, Quorthon, Stuart Anstis, Count Grishnacht, Satyr, KK Warslut, Baaruhl, Mike Sifringer, Hank Shermann, Jon Nodveit, Ares from Aeternus, Shaftiel and Equitant, Infernus, Vicotnik from Ved Buens Ende. That's a small sample and as I said there are many more I could put on this list.
Now when did you decide you wanted to form a band? Did you have a vision and a complete idea of what you wanted this band to be?
GM: Goet Euryn and I had a band called Netherkin from 2003-2005 which was straightforward second wave black metal stuff. After that, we had a small break and in 2008 decided it was time to get back into writing music and Mongrel's Cross was formed. At first, we were just jamming black thrash type stuff but as you can see we decided we wanted all our influences to be incorporated into Mongrel's, not just the black thrash side. So no there wasn't a clear vision at the start but there certainly is now and that won't change.
So now back in 2009, was there a good underground scene in Australia? How hard or easy was it to find members to form the band? How long did it take to find the line-up that recorded your self-titled 3 song demo?
GM: Fairly easy as Goet Euryn and I had been friends for many years beforehand but drummers were quite difficult to source. Brisbane had a good scene back then but it was still very small in terms of real die-hard legends.
Did you know when you formed the band that you were going to be the singer?
GM: Well it was more borne out of necessity and if someone else had have presented themselves as a better alternative I would've gone with that as I'm a guitar player, not a vocalist. I like doing it but it takes a lot of practice and what I'm drawn to is sitting down and writing riffs.
Now how was it going into the studio for the first time? Were you guys nervous or were you well-rehearsed and everything went smoothly for the most part?
GM: I'm always a little nervous when we go into the recording. The first time I recorded with Goet it was with Netherkin and probably the most on edge I've been as it was the first time I'd been mixed up and recorded. With Mongrel's the demo was only three tracks and pretty easy to knock over. These days I jam along to the tracks for months and feel fine but when that button gets pressed I get jittery. Goet Euryn is damn tight and Wretch is a machine and they possibly calm their nerves a little more than me. We've done it a lot now so it's becoming less and less of a stressful endeavour.
Now did you send that demo out to any record companies or was it mostly just to get your songs out on tape and get some feedback? What kind of feedback did you get with that demo?
GM: The demo was just self-released as we wanted to get our stuff out there. It had a good response within Australia and I think some people abroad were able to obtain it also.
How did you come up with the band name and were any other names considered?
GM: I'd been thinking about it for a while and thought Mongrel's was a good starting point but I couldn't get a second word that worked. We were sitting around listening to metal one night in Brisbane and a good friend of ours Richard, who released an excellent album for Christicide, said "Mongrel's Cross." I knew straight away that fit.
Now in 2011 you did a 7" on one of my favourite labels, Hell's Headbangers called "Whoresanna". How did you come to work with them and whose idea was it for the 7". How about the insane artwork for the cover and is the 7" still for sale? What are your thoughts on the 7" these days?
GM: The Whoresanna EP we decided to send to HHB and they were immediately on board. I had a concept in mind for the artwork and got in touch with Mark Riddick who captured my idea perfectly. I think it can still be found on Discogs etc. I still like the 7″ a lot but I much prefer what we are doing now.
The next year, in 2012, a split 7" followed on Abysmal Sounds. How did you come to work with them and what do you think of the other band on it? What are your thoughts on this release and is it still for sale?
GM: I have known Stu from Abysmal Sounds for quite a while so when we got in touch with Innsmouth to do a split he was keen to release it. In regards to Innsmouth they would be one of my favourite death metal bands from Australia. Very killer stuff.
Now also in 2012, you did the first of 3 full-lengths all with Hell's Headbangers at this time. The 1st was called "The Sins of Aquarius". Did you feel you were growing as a band and at the time putting out a full length was the right step for the band after a demo and several 7" releases? Goet played both guitar and bass on this release, any special reason for that?
GM: Yes it was time for a full length and I think you can start to see our future sound starting to come in on Sins. A bit more melody, a bit more riffing and structure. From Sins onwards, Goet has always done bass as he writes the bass parts and to be honest nobody else would do as good of a job as him.
What are your thoughts on this release these days? Did you spend much time in the studio with this release? Who came up with the idea for the cover and the band logo?
GM: As I mentioned in the last question we started to get a bit more sophisticated on Sins. Being our first full length I will always appreciate it but I still can realise some shortcomings such as the production and I think our riffing has come a long way since then too. I think Sins was done in two days studio time. The artwork process was interesting for Sins as I just sent Alexander Brown the lyrics and he came up with his own visual interpretation of them. We wanted a proper logo after the demo and it was done by this maniac from overseas we got in touch with.
Did you feel with this release that you were starting to find and feel you were coming into your own with a certain Mongrels Cross sound so to speak? What I am saying is that you are now having more of your own sound at this time?
GM: Yes that's right and I keep answering these questions before I get to your next one haha! I'll elaborate a little. More Scandinavian sounding stuff was coming in on Sins as well as more thrash and a hint of heavy metal. These elements were starting to form the basis of what you would call the Mongrel's Cross sound. We call it Arcane Heavy Metal as it is at its core heavy metal that deals with esoteric concepts.
Were you getting to play many live shows at this time? If so, who were you sharing the stage with at some of these shows? Are there any underground metal shops where people can buy underground metal or is everything just mail-order through record labels and distributors over there?
GM: We played some great shows with Innsmouth, Gospel of the Horns, Astriaal and Mayhem. Over the last 6 years, we decided to pull back and just write music and record, however.
I live a few hours from the city here so there are no metal shops for me. Major Aussie cities still have some metal shops that are worth visiting.
Speaking of that, I'm from the US, Hell's Headbanger's is based in the US, is getting your releases difficult overseas, where people have to pay import prices or is your releases licensed over there?
GM: Yeah we mainly just let HHB handle that and get a few copies off them for the band and mates. We do have our own Bandcamp but mainly sell our own shirt designs and the few extra copies of albums we have. Shipping prices are pretty wild so we try and keep the merch to cost pricing so we are getting it out there to proper maniacs.
Now the band took a long break, 6 years before a 2nd full length came out. Any special reason for that?
GM: Line-up changes were probably the main reason. We took a break and then Goet and I decided we'd continue on as just the two of us with Wretch as a session drummer. We probably could have recorded Psalter earlier but just took our time. Now we have the bands direction in place big gaps like that will decrease.
Now in 2018, your 2nd full length came out called "Psalter of the Royal Dragon Court" also on Hell's Headbangers Now was this the same line-up as your 2012 release? How easy was the writing of this music seeing how you had been away for 6 years?

No for Psalter we scaled back to just Goet and myself and it became much easier to get music written. I wrote the main guitar lines and sent the guitar pro's to Goet who worked his magick on them. He writes completely different second parts and transformed the songs.
Now I am sure you had noticed by 2018, the internet had taken over big time. You had Facebook, YouTube, Bandcamp, Instagram, etc and physical sales of the band's music were lower than low. Did you let that affect you at all?
GM: No not at all. We love writing music and to hear a fully completed album of high metal that we created is what drives us.
Do you feel your 2nd full length was just as good, if not better than your debut full length? Was Hell's Headbangers cool with having to wait 6 years for a new release?
GM: Yeah there was no problems with HHB. I think Psalter began the Arcane Heavy Metal path we are now on and it is a much more solid album than Sins.
Were you able to play many live shows behind this release? Do you ever do any cover tunes at all live?
GM: No live shows at all were played upon the Psalter release. Some of the tracks had been played at live shows several years before so some bangers got to witness them though.
Now seeing how Hell's Headbanger's is a US label, would you ever hope to get a chance to play some big underground fest in the US one day?
GM: That would be unreal Chris and maybe you can work on this for us haha! It would work out well having Proscriptor over there as getting him to Australia for gigs might be a challenge.
Now in late 2020, you released the excellent "Arcana, Scrying and Revelation" also on HHR. How did the songs for this come together? Have you been using the same studio or do you go to different ones and around how much time do you spend in it?
GM: Same process as Psalter but a different drum room for this one. Psalter drums were recorded in a storage facility but for Arcana a proper studio was used and we spent more time mixing and mastering Arcana. We ghost track the guitars for Wretch and then let him have time with the drums before getting him in the studio to go off.
Now I saw there are 2 members doing vocals and 2 members playing the drums, and 2 playing the guitars on this release. Any reason for this?
GM: That might be an incorrect listing online. The lineup is as follows
Grand Mongrel- Guitars
Goet Euryn- Guitars, Bass and Synth
Proscriptor McGovern- Vocals
Wretch-Drums
I feel this release is something any underground death metal fan should have in their collection. How would you describe the band's sound to someone who has never heard the band?
GM: It's Arcane Heavy Metal. No nonsense and utter worship of 80's heavy metal, thrash and Greek and Scandinavian black metal.
My editor wanted me to ask these, In what moods do you write riffs and songs?
GM: I get an adrenaline rush writing songs and feel the metal style we belong to is truly esoteric in the sound it evokes. It's a mood of magick and mystique.
What bands and things influenced you the most? How did they influence your life?
GM: Too many to name but it's all the greats of the 80's and 90's mainly. Metallica, Mercyful Fate, Destruction, Bathory, The first few COF's, Dissection, Aeternus, Dawn, Satyricon, Rotting Christ, Morbid Angel. Hundreds more mate.
I remember seeing Covenant at a cd shop in 1993 and it blew my mind. The leather-bound book and the candle. I knew there was something greatly different about metal music. I have been very drawn to the occult for my whole life and metal helped fuel these feelings.
What are the lyrical concepts of the band? What and how plague do you spread around the earth in minds?
GM: We write about myth, legend and magick. I wouldn't say we aim to plague minds but seek to entrance them in wonder and awe.
What is the message, if any, of the artwork for your new release?
GM: That is a concept we discussed with Kris in order to create a visual representation of the title Arcana, Scrying and Revelation. It loosely depicts the stories in the album as they are a wide array of lyrical themes throughout it.
Now, what social media sites do you have and do you hope to play live soon?
GM: Instagram and Facebook. We would be very open to playing overseas as I feel that's where our brand of metal would thrive. This may eventuate if the starts align!
Horns up for doing this interview and you guys simply crush, any last words to wrap this up?
GM: Keep an eye out. We have 8 brand new tracks that are complete and if you liked Arcana then this new stuff is going to fucking blow your minds Thanks Chris and Black and Death freaks worldwide.