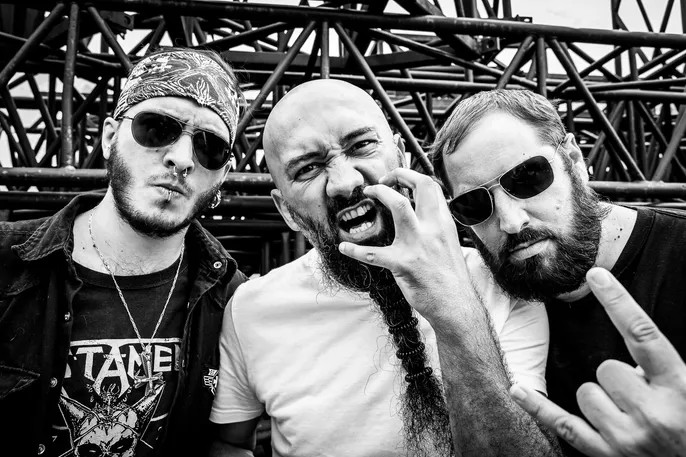 Where were you born and where did you grow up?
Eric: I was born in Saint-Pierre, a town on Reunion Island in the Indian Ocean. This is a little overseas county of France. I grew up there too. I did my graduate studies in France for 5 years then I came back home.
What sort of kid were you growing up? Did you listen to a lot of music at a young age?
Eric: Quite a good child I would say, perhaps. When I was young, music was not my passion. I was more of a skateboard fan with many wounds and scars, ha ha.
When did the metal bug hit you? What were some of the 1st bands that you heard? Do you still like these bands today?
Eric: Metal came in late during my college years. The first band I heard was Metallica for sure with its "And Justice For All" album. I was fifteen and the sounds blew me away – Yeah the bassless album you know! I was very impressed and intrigued. I must admit old stuff of Metallica still rules the metal world, among others of course. Slayeerrrrrr!
Now what about underground metal? Where were you the 1st time you heard it? What did you think of it?
Eric: At my epoch, certain bands like Carcass, Death Morbid Angel… were kind of underground metal you know. Things have changed nowadays for sure. These bands are one hundred more popular than decades ago. But for us on my little island, it was a struggle of all time to find, discover, and listen to bands from Europe or America. Re-recorded K7 was the rule at this time ha ha ha
Now what made you decide to pick up an instrument? Did you ever take lessons or were you self-taught? What are some of your favorite players?
Eric: Metallica definitely made me pick up a guitar and try to play what they were playing. I used to say that James was my teacher during my debut years. I must tell him that point one day I guess ha ha.. I remember playing covers of 2 or 3 of their albums one after the other for hours in my bedroom! I was self-taught thanks to guitar tabs. I love guitar tabs! After their black album, I was quite disappointed like a lot of metalheads. At this moment I turned myself to Kerry King and … ouch … Blew up again!
So now were you in any prior bands before Lomor? If so, how long did they last?
Eric: Yeah. I played in Black Babouk before Lomor. I was a singer and guitarist in Lomor. Black Babouk started in 2006. It was a mixture of metal sounds with some traditional sounds of my island and culture in some tracks. But it ended in 2016 when a member of the band passed away, unfortunately. This was a big trouble time for me.
So you went through this sad period, in which a band member died, which totally sucks. At that point did the band break up?
Eric: Yeah, it did. This was a hard decision and period…
I also just want to mention Metal Archives has you playing in a band called: The Hill Is Burning. Is that band still around at all or are you just in Lomor now?
Eric: Yeah that's right. I still play guitar too in The Hill Is Burning which is my second band. We are on our way to releasing a second album with my friends in The Hill. Surely at the end of the year…
So now how did the 3 of you guys in the band find each other? How long were the 3 of you together before you released that one song that came out in 2021? Did it take you long to click and know what the sound of the band was going to be?
Eric: Micha (bass) and I have known each other for a decade when I was playing in Black Babouk. Micha is a backliner on big stages here on Reunion Island. I met Gurvan (drums) in 2018. During this year, I had the idea of a tribute to Slayer with musicians and friends from Studiotic (an association that organizes concerts here). As I learned that Gurvan played the drums, I asked him to join the team. So we played! It was an awesome concert on January 9th, 2019 for the tribute. A big moment! The idea of another band of my own has been in my head since Black Babouk. So, I immediately thought of Gurvan to start something when I saw him play. And that's it: Lomor was born! We started to compose in July 2019 I think. In early 2020, Micha joined us. And we decided to release the single "Kanyar L'Enfer" to quickly offer something from our early work. The whole process took us a full year in fact. Considering our sound, it was quite clear to us that we wanted a "natural", "analog" sound inspired by those of the 80s or 90s. I personally am very attached to the idea of recording acoustic drums you know, not that cold and synthetic midi/samples stuff.
Now you had mentioned before it wasn't easy finding underground music where you are based. I would assume YouTube, Bandcamp, and other sites on the net are a blessing for you to get to hear and listen to underground music.
Eric: Yeah, definitely! Internet fills a big gap in the game, considering possibilities of discovering new sounds, and new bands. The Internet saved us, ha ha…
Now you also sing in the band. How would you rate yourself as a singer and who are some of your favorite singers?
Eric: Well I am a more rookie singer than a "professional" one you know. People tend to compare my voice with Mile Petrozza or sometimes Tom Araya. But I don't know I do the best I can…
Is there much of an underground scene where you are based? Have you gotten to see any metal shows in the area or have you had to travel to see some? What have been some of your favorite shows you have seen?
Eric: Reunion Island is small but the underground scene is alive and present! we have a semi-dozen bands like Behind Our Reflections, Feed The Ire, Warfield, and Nazca,… to name a few, which are very active. And we have the possibility to make shows on big and little stages here. But yeah for big metal shows with big names we have to travel ! Fortunately, we had the opportunity to see some of them here: Sepultura in 2003, Loudblast and Black Bomb A a couple of times, and Mass Hysteria for which we had opened their show last November during the Tattoo Convention 2022! Very proud of it…
Now when did you start to gather up material that would appear on your new release called "Perseverance of Sickness"?
Eric: "Perseverance" has been a big challenge for us. From the start, we decided to try to make a "real" production to catch the attention that we could. It took us two full years to accomplish it. We contacted Sébastien Camhi from ArtMusic Studio in France in early 2021 and he accepted the project. But his agenda led us to January 2022 for the recording sessions. So during 2021, we made a lot of demos of all the songs to be ready for D-day.
The sound Sebastien produced is awesome and very in step with our songs. We are very happy to have been able to work with him for this release! All the good feedback we receive from fans or professionals in the music industry here or elsewhere seems to show that we overcome the challenge, I suppose…
So after the mixing, mastering, and the CD and vinyl pressing during the rest of the year, we finally released it in December 2022 with a great release party in a big venue called "Le Kabardock" here. And that's it!
So is Lomor your main band? Will you join any other bands or have you been asked to join in any other bands over the past few years?
Eric: Yeah, Lomor is my main band and I will not join any other band even if I have already been asked to. This asks for a lot of energy and engagement you know.
Now your other bands don't play thrash metal, but Lomor does. How easy is it to differentiate between the band's music?
Eric: Well, thrash is my « mother tongue » metal if I could say. So it's not difficult for me to make a difference with other bands' sounds and styles. And the way Lomor sounds comes out quite easily during our rehearsals and compositing sessions
How does a song come together, like how did the songs come together for your new release? Is it more of a band effort or does each member contribute here and there, but say you do most of the music writing and lyrics?
Eric: Generally we start with a few guitar riffs. Then we work on structures and patterns for the drums. Bass lines come a little after. Then we can rearrange the overall when the lyrics enter the game. We record a lot of rehearsals to be able to listen to them some days after with new ears. I usually write the lyrics. The whole thing is more of a band-compositing effort. We make decisions with each other.
Who came up with the name and the logo for the band?
Eric: I found the name myself. It's about the time of trouble when Black Babouk's member disappeared: in Reunionese Creole language "Lo mors" means "The Dead". I just condensed it to "Lomor". The logo has been created by a good friend of my brother.
Now that the album is out, what do you hope to do as far as promoting it and playing live, etc?
Eric: Well, our main humble goal is to play live you know. We love stages! We are surely not the new « Slayer » or « Pantera » but we aimed just to play live to share our energy, our anger, our raw feelings with the crowd… that's all. But to be able to do that, we have to promote, talk about us, post on social media, to do interviews (by the way: thank you for that !). Besides this, we hope to release a second album in 2024. We are already working on it.
For those who don't know what the band sounds like, what would you say you sound like?
Eric: Well, people say we have some Kreator or Testament sounds alike. Maybe a little Slayer, even old Metallica. I quite agree. We make some old-school thrash stuff. Perhaps we have some punk influence on a few tracks…
Please plug any social media sites you have and any merchandise you have.
Eric: You can reach us on Facebook or Instagram. We have a channel YouTube too with the latest music videos. All links are available on our website www.lomor.re. And for those who appreciate our stuff, we can ship CDs or vinyls of the album. Our T-shirts are out of stock, for now, ha ha… Don't hesitate to reach us via private message to shop one of these, we would be very grateful to you!
Eric, horns up for doing this interview, any last words the floor is yours, and best of luck with the band going forward.
Eric: Thank you again for this very cool interview, Chris. Hope to see some of you during one of our shows on France, or maybe Europe at the end of the year!