Hello Brain, what's going on in Czech Republic "the heaven of Death Metal / Grindcore"? Any Updates about Jig Ai lately?
Brain: Hi man, Things are fine here. We have already started to play live shows after two years pause. We also have a new guy behind drums. He is called Kaspy and we are workning on a new album with him.
First, let's tell about the foundation times of the band for the people who don't know you. How did you start out? Can you tell about yor formation period and the first long-play album Jig-Ai which mentions the band's name?
That was back in 2005 when Buraak´s previous band CBDS fell apart and he asked me if I am interested to record some guitars for him. He already had few songs. So we started to practice first with Petrasek and than with Stefy behind drums. When material for full CD was ready, we recorded that and released 4 songs promo for labels. Than first CD went out under Bizarreleprous production in 2006.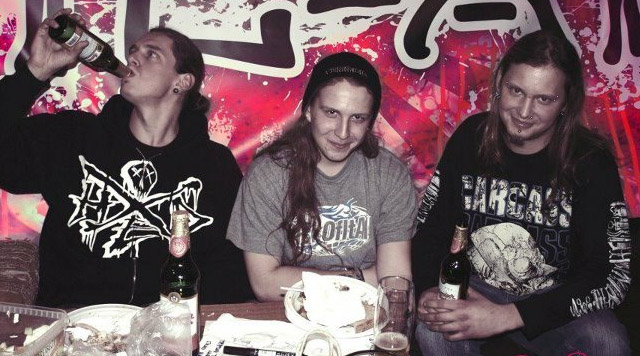 I first heard your band with the album "Katana Orgy".And by looking to the name Jig-Ai, I thought your band was from far east, maybe Japan. I was surprised when I learned that the band is from Czech Republic. Does your interest comes from the ero guros which are so successfull in gore, or is there a special reason?
First we had this entire CD ready and we still did not have a name for the band. I was reading book called History of suicide at that times and found out there about Jig-Ai. Which we dicided lately should be a good name for a band. For us priorities are music and live shows. We do not care so much if ero guros are successfull in gore or not. We want our fans to have a good time during our shows or while listening our music.
Jig-ai contains the meaning of traditional suicide rituals of Japanese women. Women abuse is at the top phase in your lyrics . Is there any reason for it, or are you effected by the ero guros that you watched?
It is just fun. You can not take that too serious.
There are so many musical differences between your first and last albums. For example; at the first album, the riffs are stabilly going Grindcore, but Katana Orgy has some variations with Death Metal riffs. What do you say about this? Is it a musical development that you got by the time, or did you try different things to add more variety?
Kind of a development probably. Hard to say. We are just doing music as we feel it. Nothing more nothing less. Personally I like mixing styles and bringing new influences to goregrind especially core ones. Buraak is more conservative in an old school way, so final balance is the sound of Jig-Ai.
In Jig-Ai, there is a Brujeria cover and in Katana Orgy there are 3 covers; one is from Brutal Truth, the rest two songs are from Carcass. For me, it's a very big pleasure to hear such cover songs from you as an audience of you. Will we see such works in your next albums?
For sure. For us it is a way how we can honour bands we really like and which influenced us. So yeah there will be at least one cover on next album.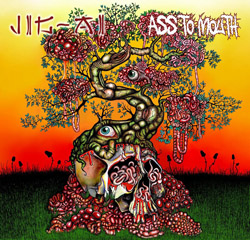 Is there any work for the new album since Katana Orgy? We've not seen any works or others from you? Will we be able to listen any new things from you?
Last year 2011 we finally released split vinyl with our Polish friends Ass To Mouth which we have planned for such a long time and we are working on a next full CD now.
By the way, you will perform with Nasum's re-union project in Obscene Extreme. What woud you like to say about this event?
For me Obscene Extreme is the best festival I have ever played in my life. It is absolutely great atmosphere with stagediving, loads of friends, perfect venue etc.. If you like extreme music this is the fest you must go.
And what are your plans for the rest of album works? In which live shows will we see you?
We already confirmed few shows around Europe and if everything goes well we plan Mexican tour in 2012/2013. Check our sites time to time and everything important about shows and band in general you can find there www.jig-ai.com, www.facebook.com/jigaigore
Both of your albums are released by the label of Bizarre Leprous Productions. Does your agreement continiue? Is the company obvious for the new album?
We do not have any agreement or contract with BLP. We do that on friend´s basics. Roman is our old friend who we had known before we started with Jig-Ai and if nothing changes next CD will be again under BLP. He is Czech gore man no.1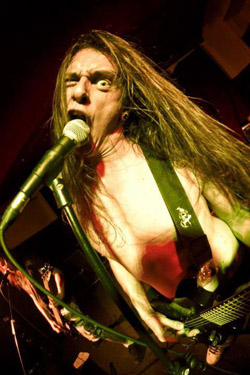 Casette period is almostly over with cd. Vinyl is very widespread in this scene. Are you planning any thing by that way? What do you generally think about it? Do you like listening disc?
It is just evolution. Nothing more. Times are changing same as things, so I personally do not care too much. When I was young I had just vinyls and cassettes, than later CDs came, than mp3, internet and all that other things… Who knows on which medium we will listen music in 20 years. I like vinyls because they have their own magic. We plan to do next album both CD and vinyl version.
12. It's a big pleassure for us to drink beer while listening Death Metal, Grindcore, Death Grind… We have heard about the fame of Czech beers. I especially wonder about which are producing and selling at the same time. Can you tell about it and make us long for?
The favourite beer of our band is Budvar lager from Ceske Budejovice. Thats the best in the world in our opinion, but there are plenty of other beers which are also really good and tasty and not just from Czech Republic. I also like Zlatopramen, Stella Artois… I think this is more about personal preferences and taste.
Finally, I think you'd like to tell something to your fans and the ones who don't know you.
Check our web sites to keep in touch with band news, or just find out what we are doing with band if you do not know us. Thanx a lot for supporting Jig-Ai during years and hope to see you at some show. Stay GORE maniacs.

Thanks for the interview. Hope to see you in a live show soon.
Thank you.