Reviews
KREATOR "Phantom Antichrist"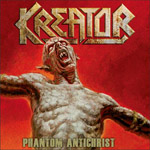 Nuclear Blast – 2012 – Germany
German's most influential Thrash metal band Kreator has released their single "Phantom Antichrist" as a promo for their thirteenth full-lenght album which is also called "Phantom Antichrist".
I thought that these guys will "calm down" on this release, but they are stronger than ever. Like on their previous releases, we can also hear agressive playing and demonic vocals. There are three tracks, "The Number of the Beast"(Iron Maiden cover) and one new Kreator song "Phantom Antichrist" in normal and five seconds shortened single edit. "The Number of the Beast" cover is nicely done, the instruments are heavier than in the Iron Maiden original, specially the drums. I don't like that this cover song won't be on full-lenght. When i listen to "Phantom Antichrist" song i am afraid that my speakers will explode due to Mille's powerfull yelling and strippable guitars.
They cropped the Kreator Demon from the first artwork for the upcoming full-lenght album and used him for this single artwork. Logo and name of the album are done in gold.
This is an amazing opening for their upcoming release, but we must wait just one month to hear other songs. I hope that the other songs will be like this single, clean Thrash gold.
9/10