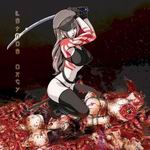 Today, when I woke up first thing I did was listening to this album. It's strange to listen it now even though I got it a month ago, that's another story. Believe me nothing can wake me up like they did. Because Jig-Ai is one of Czech Republic's blessing to us. These guys do a hell of a job and they have bright future ahead of them. People know that I appreciate good work of new bands. Other than that with their 2nd studio album, Jig-Ai's style and their main theme of Hentai art in their lyrics is successfully translated to their music.
Let's look at the album. The album is named "Katana Orgy" and as you can understand from the name it's very aggressive and sex-o-maniac. What we have is a grind core album with many death metal interactions and that makes this album multi-sided. Especially the dialogs from some Hentai in between tracks give an amazing taste to album. Especially with melodies and drums album is very enabling to listen. This album is also unique by the way it's sticking to its lyrics and also carrying out gore elements to its music and lets you feel these elements. Also from tip to toe this album has constant change and never slowing down continuity. All 20 songs in this album are bangin' and will rummage the pit. The songs that make breakthroughs and needs attention are, Wasabi Chicks, making an entrance as an intro, Bonsai Bukkake, changing riffs and creating an illusion of a transformation, Boxing the Belted Tits in which I see a great deal of Death, Samurai Gay Party which I can call an in-between song starting with an Hentai dialog and going on full throttle and also Bath in Razorblades which has strong grind core side and doesn't slow down album at all. Also they have a cover of a Brutal Truth (Stench of Prophet) and two Carcass (Genital Grinder, Regurgitation of Giblets) songs.
When it comes to what I didn't like about album is the album is has an overall good listening but sometimes it becomes plain and after a while that disturbs you. Other that you can hear that they haven't used enough samples or in better words they haven't fit samples right. And last song "We Are Going for Your Cunt, Bitch" is not in the album's concept and a final that is ruining the harmony of the album.
And as a final word, this album must be listened and followers of this style must not miss this one. I strongly recommend them as a band with a bright future especially when you think how new bands evolve in time.
7.5/10