Reviews
INTER ARBOREA "Ya.Otreshennost.Granitsi.Svyatoye"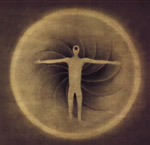 Wroth Emitter/Backfire Prod – 2010 – Russia
Inter Arborea is a gloomy and dark band from Russia This is the first full-lenght album of the band who has 2 demos and a single. This is a strange album cover, they used colours that make you feel the athmosphere.
Album consists one song, 38 minutes. Band made a blend of funeral doom metal and ambient. Album starts with clean guitar tone with ambient effect, then doom metal with the bass guitar, goes without drums for a long time, then becomes post-rock with distortion guitars. Song has lyrics, but I don't understand, because it's Russian. At the end, there's ambient and dark athmosphere.
Generally, album makes you feel the loneliness, has a distressed athmosphere, gives what the genre wants. I suggest to the ones who love ambient and underground, dark doom lovers.
7.5/10