Reviews
HECATE "The Order Of The Black Light"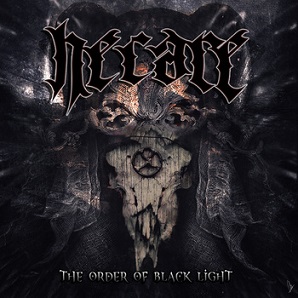 Indepent- 2014 – Egypt
The Egyptian band HECATE around mastermind Lord Mist (He played all instruments on the production) released in November 2014 their debut cd "The Order Of The Black Light" in in-house production.
The hell thunderstorm in the form of notes starts. You can hear pitch-black Black Metal straight arisen of the hells' throat. The listener is pulled into an undertow of darkness, hopelessness and despite of which he can't escape of. Symphonic passages come upon icecold riffs. This seemingly contradiction develops to a very emotional symbiosis. Being in two minds about pain, mourning and light the listener experienced an emotional roller coaster of the special kind. The strong-willed doubleblast drumming generated additionally aggressiveness and brutality. Emphasized by the emphatic growls which are ear-piercing. Synthesizer insertions yet reinforce the morbid atmosphere. "The Order Of The Black Light" got a very intense, emotional cd which you don't forget that fast! Listen HECATE preferably yourselves and form your own opinion!!!!
9,1/10