Reviews
GRIND INC. "Lynch And Dissect"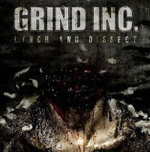 Bastardized Recordings – 2010 – Germany
German band Grind Inc.'s 4th album will be released in May, before that thanks to Bastardized Recordings I had the opportunity to be the one of the first listeners of the album.
Guitar and drum tones are known brutal death metal tones, the killer basses are impressive too. Vocal is closer to the old-school death metal vocals.
Band makes brutal death metal and partially Death/Grind mix. Although drums are fast, excavater, slower guitar riffs are used. I liked that the band reflected tortural, goric lyric themes to the musical athmosphere.
To sum up, the band is on the scene once again with an album which fits their name, I can suggest to the ones who likes the bands like Kataklysm.
8/10