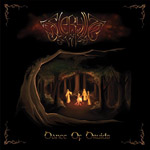 Stygian Crypt Productions – 2010 – Russia
I listened so much Russian folk metal bands lately. It's not my favorite genre but I'm trying to tell you as best I can. "Dance of Druids" is the debut album of the band, formed in 2003 and released a demo before.
They used different instruments from several countries again; viola, Galician bagpipe, little Scottish bagpipe, flute, tin whistle, harp, percussion named bodhran and old Turkish instrument named "temir komuz"…
They used female vocals, except that, they have got scream-brutal vocals. Album has got some rich musical stuff. Other instruments's harmony with guitars is really striking. Drums programmed succesfuly, don't feels like drum machine mostly.
Also there is Ensiferum and Eluveitie covers. It was great to enjoy "Temir Komuz" with this record. Build with different instruments from several countries, I can truly suggest that album to folk metal lovers.
9/10