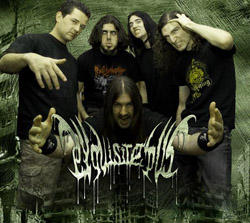 As we have observed, Exquisite Pus began as a one-man project. How was the process of being 'a band' after solo project status?
Miguel Reina : Well, It wasn't my aim to make a band, it just came naturally. I recorded that Delicious Carcass cd by myself and it started to be moved hand by hand throught the underground scene of Murcia. That is how Juan Antonio (growler) came interested on being part of the thing. At the beginning he was the bass player of the band, due to a laboral accident he had to stop playing the bass and start singin. It was nothing new for him as he also singed in a band called Demised. After that Pedro came to play the bass, then Achokarlos and finally Helios.
You did not released the 'Delicious Carcass' EP, however songs in Delicious Carcass were included in your split 'United in Repulsion'. What is the reason of not releasing the 'Delicious Carcass' as CD?
Miguel Reina: Well, it was really a demo as it was recored in my house strictly by me. I mean, I played and programmed everything. So I tried to move it in the internet but I just shared it… a label offered me to edit it in CD-R, but I just wasn't that much interested on moving it in that moment.
I really like 'Dead [Forgotten]', your debut album. How did your fans react?
The response has been really good, everyone was surprised with the genereal quality of the cd, design, sound, compositions… We are very happy with the comments of the people that we know that can really analise it and give true opinions of the album
I did not listen 'Delicious Carcass' yet, can you explain the musical differences between 'Delicious Carcass' and 'Dead [Forgotten]', if exists?
Yeah, it exist for sure. The main difference is that delicious was recorded without a solo guitarrist, so Dead is stuffed with brilliant and mad solos from our delighting solo guitar player ACHOKARLOS. There are many other differences as the great bass recorded by our bassplayer PEDRO , JUAN ANTONIO vocals, I dont sing anymore, real drums… well I really think that you should listen to delicious carcass, you will notice with the first song.
I listened your album from Xtreem Music's promos, I hope it won't be a problem. Your song 'Bleeding Kingdom' finishes at sixth minute but, at 14th minute it continues. We used to see these tricks in classical era artists, did you inspire from that era?
Well, it was really my idea. I like that a lot, when you are listening to a cd, it is finish but maybe at the moment you are so lazy that you prefer just to listen nothing than standing up. Or when you are sleeping listening to music with the earphones and then something comes… is like a present to our listeners, an extra solo piece from Achokarlos.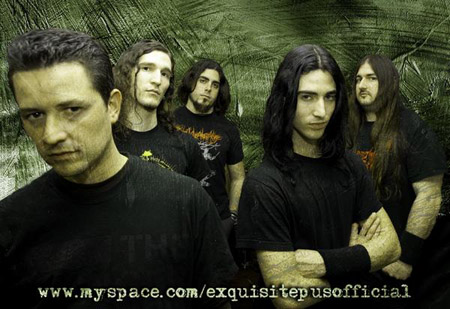 As we can see from your myspace posters album, there's only a Portugal gig, outside of Spain. Are there any plans of tour with a more known band?
Well, in April, we will play to dates with DESPISED ICON in Spain, for the moment that is the biggest gig we have. But we are always looking for  shows and we are open, if you want us to visit your country, just get us gigs 🙂
How were your live shows? Do you make any covers? If yes, which bands do you play?
We always cover Hammer Smashed Face from Cannibal Corpse. We all have been fans of that great band and we do it as a bow.
You have some memer related transactions between the band Demised, how are they? Do you still have any connections?
Yeah, we are very good friends of them, but we dont see them much. Anyway they have always been friends and they will be.
Who are the people in your photo album 'Exquisite Persons'?
jejejeje, well, mainly people that bought our stuff and friends from Murcia
Thanks to Xtreem Music, we can listen very good bands like you from Spain. Can you tell a little bit about the metal scene at there?
Well, the scene here is quite big, people say that it has never been such a high level in extreme metal as there is now, we have bands like WORMED (they are rehasaling to come back) AVULSED, CEREBRAL EFFUSION, HUMAN MINCER and many more. We just need more people to assist to the shows, appart from that everything goes great.
Thanks for your participation in interview, that's all I will ask. Any comments?
Well, just to thank you for your interest for our material and thanks for the support that zines like yours give to small bands like us. Keep it fucking brutal brother. Hailz from Spain
www.myspace.com/exquisitepusofficial