Articles
Chris's Underground Metal Reviews #3
Wow here it is in 2021 and I am still doing reviews for this great webzine and Metal Core zine (mine). I never thought in a million years when I started my print zine in 1986 that in 2021 I'd still be doing reviews and interviews. Heck I had no idea the underground would still be alive and well.
Wow here it is in 2021 and I am still doing reviews for this great webzine and Metal Core zine (mine). I never thought in a million years when I started my print zine in 1986 that in 2021 I'd still be doing reviews and interviews. Heck, I had no idea the underground would still be alive and well. For my liking, there is too many labels out there signing every Tom, Dick, and Harry band, but I am here to lend my little opinion between the good and the bad. Look, I don't expect a band to be 100% original these days. No way, not gonna happen. But for god's sakes, bring something to the dinner table when I'm starving and hungry and not just a French fry haha. As always I think Soner for giving me a chance to speak my voice on here and I hope you enjoy what I have to say and here is the first set of reviews for 2021
ASPHYXIATOR/Trapped Between Two Worlds (Vic Records)
According to the bio I got for this, this was released in 1997 and is one of the most sought after albums ever! Why that is, is a mystery to me. This is faceless Cannibal Corpse death metal with a terrible singer, who just growls in the mic with no feeling whatsoever. The drum sound is terrible, with it being buried in the mix. The songs are just mid-paced to speedy blasts of death metal that should be taken to someone's backyard, buried 6 feet, and stay there. This is a useless release and I can't see what the fuss is about when there is so much other better stuff out there
IGNITOR/The Golden Age of Black Magick (Metal on Metal)
Oh, this was just what the doctor ordered. A pure fist-pounding heavy metal classic with touches of power metal and the vocals of Jason McMaster is unreal on this. Riffs that are super catchy and heavy and any fans of early Judas Priest, Raven, etc will to backflips over this. Many bands I have read and claimed to play metal and this and that crap, but this band delivers the goods and deliver the goods and then some. The production is also top-notch on this. Long live metal and long live Ignitor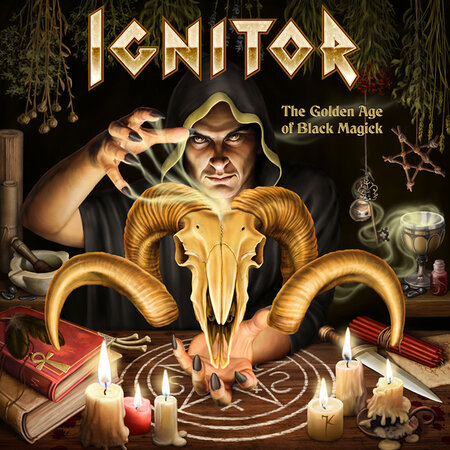 VOMIT DIVISION/Hell in a Bottle (Metal on Metal Records)
This is just such a crushing release. A pure release of down and dirty black thrash that will dull your senses. I don't give a rat's ass that this is a one-man band/project cause the bottom line he did a damn good job on this. A total Germany thrashing sounds (think Destruction) meeting early Bathory (vocals). The riffs are what sucked me in on this and had my neck moving and also playing air guitar. The guitar crunch is unreal on this too. I love the production and this is something any fan of old school German thrash will go postal over.
CHAINBREAKER/Relentless Nights (Metal on Metal Records) 
Oh, this is some nice speedy razor-sharp thrash that I sank my teeth into right away. I love the speedy riffs and melody the band get on this for sure. The band's bio mentions early Exodus and yeah they have that 'Bonded By Blood" sound to them a bit, but I'd also throw in Razor and early Slayer as well. The production on the money and I love the singer on this as well. This to me is better than a lot of that crappy retro thrash that came out a few years back as this band is way more enjoyable. If you miss the thrash sounds of the mid and later 80's (before most of the bands changed to a softer sound) then this band will bring back some memories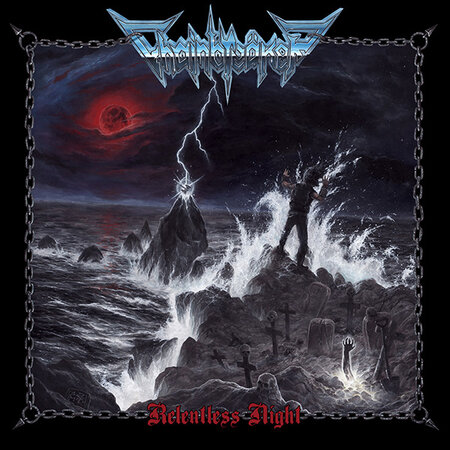 ROCKA ROLLAS/Metal Strikes Back (Stormspell Records)
A total kick-ass slab of pure heavy fist banging metal that will have that neck moving. Lots of wicked, catchy, and heavy riffs are a highlight along with some powerful vocals attached to this. This is a pure 80's heavy metal head banging delight I can tell you that. The singer has a fantastic voice and a great set of pipes and if your into straight-up heavy metal, then you'll love this
LAST PROPHECY/Shadows Of The Past (Stormspell Records)
This originally came out in 1995 and now Stormspell is re-issuing this as a double cd, with some bonus tracks to boot. This didn't do much for me as I felt the band lacked any power in their music and it felt kinda limp to me. The songs just plodded along with not much power as the above band. The band do play straight forward metal, but it just gets too melodic for me and the tunes just lacked any feeling with them and are just kinda there in my book.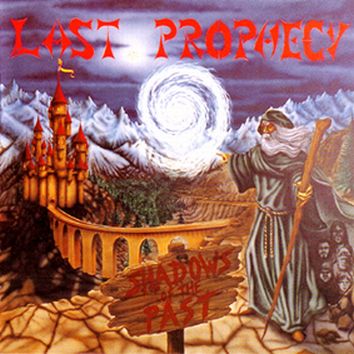 CRO MAGS/2020 (Mission Two Entertainment)
High on the heels of a new album this year, this band return with a new 6 song affair that kicks off right where the last one did and this is blistering hardcore all the way. Vicious riffs, a total power attack, punk attitude vocals, and just that hate that the band does so well. This band has not lost a beat from where they were in the 80s' and this is the real deal of hardcore. Not some Pantera shit or any of that groove metal crap. This would knock the hell out of any Korn like the band that's for sure. Hardcore and The Cromags are back. I'm one that's glad
SPEEDKILLER/Midnight Vampire (Edged Circle) 
Speedkiller are from Brazil and this is their debut release. Now I wouldn't go as far as to say this is godly classic in the vein of Sarcofago's INRI, like in the band's bio, but this is a pretty dam fine piece of death metal and it is played totally old school. Just crushing riffs that will leave you weak and oh the vocals are breathless and work big time on this and fit right in. Riffs that suck you in and don't let you go till the last note is played. Check out the sample track and you'll want more.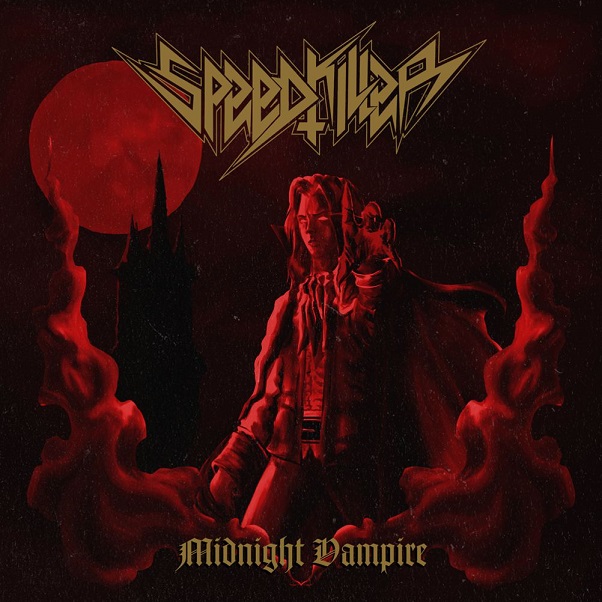 CHILDREN OF TECHNOLOGY/Written Destiny (Hells Headbangers)
No this isn't Carnivore, but this band deliver a great brand of slicing power thrash with some great riffing that will have that head moving I can promise you that. Sort of like Motorhead on speed metal at times too. The singer has a gruff like a voice that reminded me of Lemmy as well. This also has great production and that guitar sound is just killer. This band absolutely deliver the good of a total old school metal attack and prepare for it when you listen to it.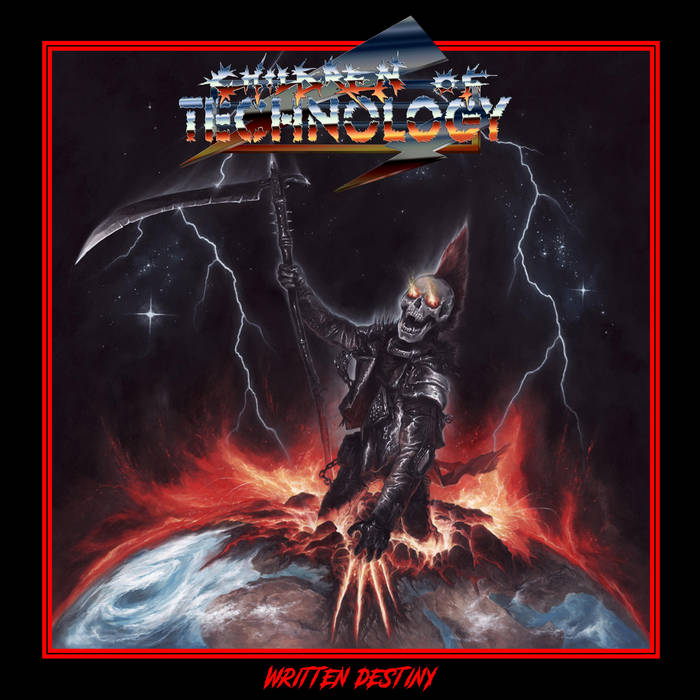 WRITHING/Eternalised in Rot 7″ (Blood Harvest)
2 tracker on this of some good and solid death metal. Sort of a mix of Immolation and Incantation on this. The music is fast and heavy and the band have a good and solid singer as well. Production is thick and the guitar sound crushes big time. The 2 tunes have just teased me as I want more dammit. This is prime time death metal.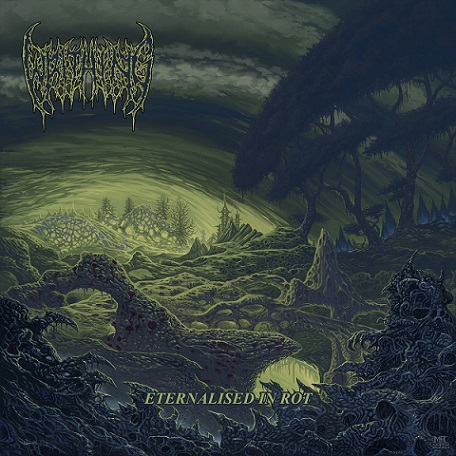 MONGREL'S CROSS/Arcana, Scrying and Revelation (Hells Headbangers)
I usually love the stuff on Hell's Headbangers, but not this release. It is a generic release of bad black metal with poor screaming vocals. That has no heart to it at all and just plods along with no direction. Not worth checking out, but check a sample track below and decide for yourself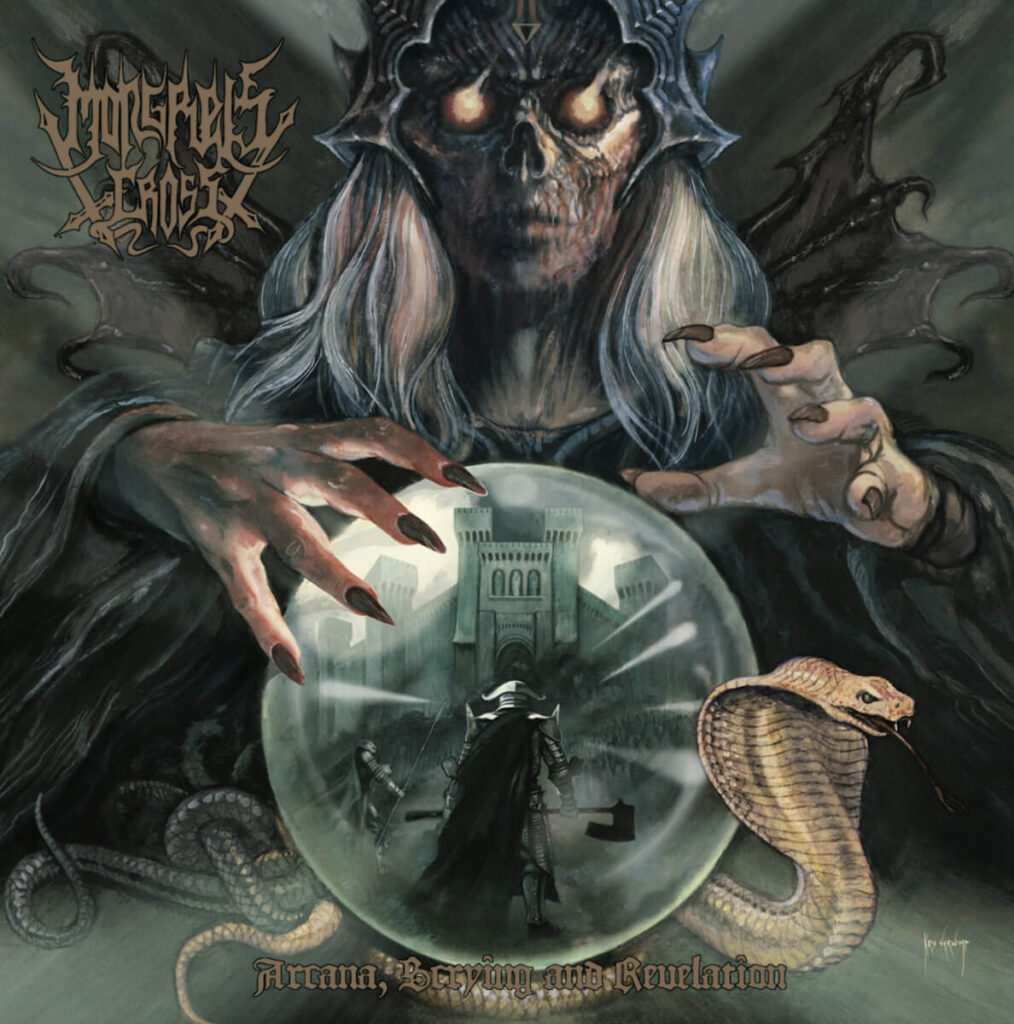 POUNDER/Breaking the World (Shadow Kingdom Records) 
A solid and very good power metal release from this band on their 2nd release. Punishing riffs and great vocals to boot will have the fists high in the air and your blood pumping. This to me reminds me of a big of old Exciter at times, but no way a rip off my friends. This also has memorable riffs and songs and that can't be faked by all you crappy wannabe bands out there. These guys write catchy ass songs that you will remember after they are over and you will want to revisit this disc over and over as I did. An absolute must for any metal fan out there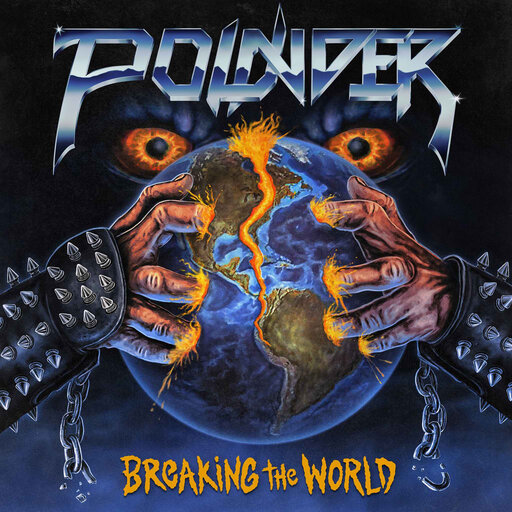 Evil/Possessed by Evil (Nuclear War Now! Productions)
This was a crushing mix of mid 80's style thrash complete with high screams and black metal vocals are thrown in the mix. The total raw production only adds to the madness of this. That would be the only bad thing and that is the vocals are buried in the mix too much. The music is fine and the thrash speedy riffs and tunes will take you back to yesteryear and remind of just how good the thrash scene was way back when. The band do slow it down to let you catch your breath at times too. As with all bands I either like or hate, it comes down to riffs and songwriting and this band have both and it works and now I'm a fan.
ASTRAL TOMB/Degradation of Human Consciousness (Blood Harvest Records)
2 long tunes and one almost 6 minutes of old school death metal that is almost doom-like in most parts and it to my ears was pretty boring. I like the demo like production and the low growling vocals, but the tunes are just not up to par. They just plod along with no direction and they would be better off writing shorter songs as the material is just too long and just drags. It was like one long tune that you couldn't wait to get to the finish line. Guys inject some speed at times or mid-paced stuff and cut down on the times and you would just crush it.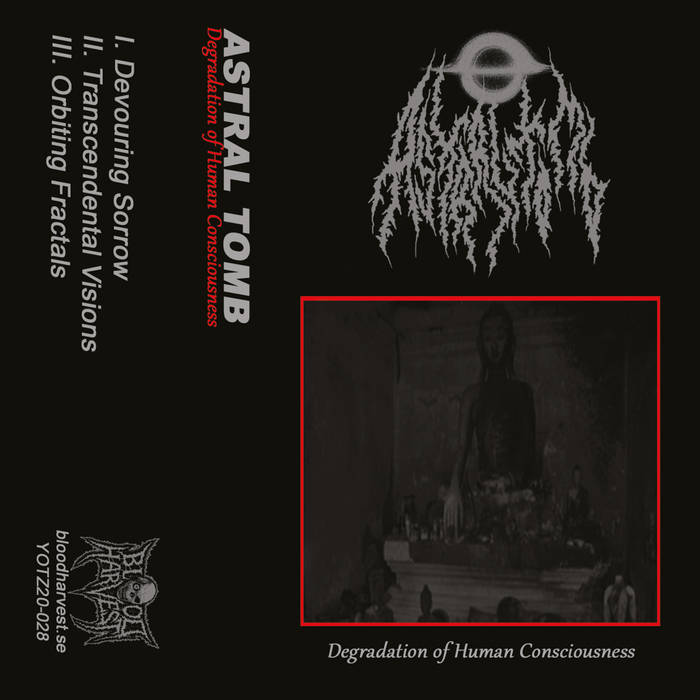 REVOLTING/The Shadow At The World's End (Transcending Obscurity Records)
This is Swedish dearth metal all the way and would not be far out of a book from early Entombed. I wouldn't call them a copycat band and far from that. This band just has a ton of feeling and speed that had me smiling. That guitar crunch sucks you in deep as well as the great vocals on this and production. Song structures and riffs from hell will have you smiling from ear to ear. Prime time balls to the wall death metal that crushes the weak.
NEXUL/Scythed Wings of Poisonous Decay (Iron Bonehead)
Just an insane slab of pure death metal with a raw as fuck production and a dirty guitar sound and vocals from hell. The production to me is a dirtier and rawer production of like the debut by Morbid Angel and even music-wise these guys sound like them at times, but not so much the vocals. The vocals are more a mix of death and black metal. The music is just an out of control slab of chaotic death metal that you better listen to in the dark haha. This band just creates a mood within their music and just sucks you in and never let's go. A pure ride to hell and back. This will bring you back to the early days of death metal too.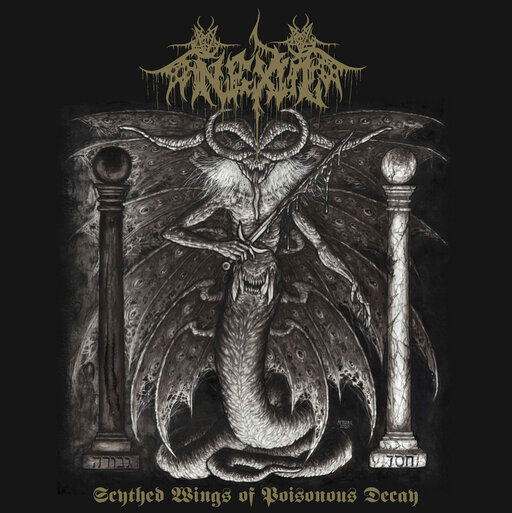 Night Prowler/No Escape (Dying Victims Productions)
Some tasteful heavy metal with slabs of power metal and even speed metal here and there along with some incredible vocals by the singer. A solid production is also here as well. The song structures are good and solid and are memorable too. The band has quite a bit of melody to them, but I don't give a shit as the songs are excellent and that singer just sucks you in with his power. A goodie.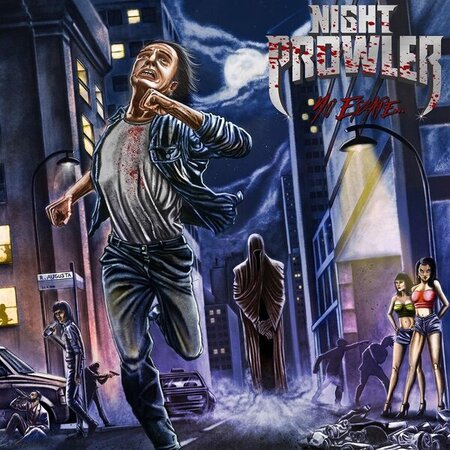 GRAVEDANCER/Ripping Metal (Hellprod Productions)
This is some old school black/thrash that sorry to say has been done to death and then some over the past few years. This is a one-man band and the only song I liked was a good cover of Venom's "Welcome to Hell". The other 4 tunes were just faceless slabs of black/thrash that goes nowhere fast. What this guy should do is look to find a band cause he does have a good voice, but this thing music-wise is as flat as a pancake.