Concerts attended:
22.05 Zagreb, Croatia / 24.05 Belgrade, Serbia / 7.06 Budapest, Hungary / 26.06 Paris, France / 10.07 Wiener Neustadt, Austria / 13.07 Sofia, Bulgaria
There came a point where I almost thought this tour will not be happening. I had some tickets bought way back in 2019, so when this new hybrid tour that mixed "Senjutsu" and "Legacy of the Beast" was announced I was stoked that the band really wanted to finish this project and go on with their future activities. Then again, with all the misfortunes that we had in the past two and a half years; I had the feeling that anything was possible and it might still get cancelled or postponed.
When the news that the band arrived in Split, Croatia to rehearse for 26 days before embarking on a tour, it was clear that as far as the band was concerned, this is happening no matter what.
Hence, it was on May 15th when I decided to take my plane back to Europe from BC, Canada (where I was on vacation).
Zagreb was the Maiden capital of the world for the next three days. Not only was it the kick-off standpoint of a large tour, but it also hosted fans from all around the world, with many activities and parties related to Iron Maiden. Paul Di'Anno did his first gig after a seven-year absence due to his illness, Chris Dale promoted his book "Inside the Skunkworks Machine". And the members of Iron Maiden were frequently seen in town, but also Rod Smallwood and all the Killer Crew.
On May 22nd, the day finally came, and no doubt about it we were all excited, this was their first concert in over two and a half years (the last one being October 15th 2019 in Santiago, Chile). Many questions arose among fans, like how will they sound, which songs will they play from their new album, will they be able to perform like two years ago, has this pause has been too much for them and so on…
Once inside the arena, I managed to find a nice spot in the second row in the middle section, right in front where Bruce is singing most of the songs, or the three amigos and Steve are playing "The Trooper" or "Hallowed Be Thy Name" one next to the other.
As the "Arena Zagreb" got filled with more and more fans (the gig was almost sold out!) their support band from Germany, Lord of the Lost came out on stage. I haven't listened to them ever before. I knew I was going to see them plenty of times this year, so I wasn't in a rush to make any conclusions,
although on a first impression it wasn't my cup of tea it made the time pass quicker.
For today, we wanted just one thing – Iron FOKKING Maiden!
As the guest band finished and the last preparations were being set up, the houselights went off, and the stage spotlights were alight on us, and the first notes of UFO's "Doctor, Doctor" could be heard loud and clear. Emotions are at their highest point, we're all singing and jumping to the tune, both sides (band and fans) preparing for a great time. The roadies were removing the black curtains from the stage and we were able to see a wonderful and impressive Japanese temple.
Light's goes off as the song ends, and we can hear some peculiar sounds, not easily describable, but we know it's the intro for the song to come, and the stage is plunged into darkness. Then Nicko McBrain can be seen waving to us from behind the kit (like he always does). A couple of more seconds, then *BAM */*BAM! BAM!*/*BAM!BAM!*/*BAM! BAM! BAM!* each hit with a flash of light to the top of the stage that displayed a Japanese bass drum lying on the upper platform, the band is already on stage by that point, and as soon as you see that – they all hit the first chords of their title track song from their last album and the entire stage is alight in a bluish colour. The crowd response is surreal, everyone is singing along, jumping and yelling "Hey! Hey!" rhythmically. It was also a first for Maiden to bring Eddie on stage right on the first song of a set, he looked great, it was the Samurai from the album artwork. The song is a little over eight minutes long but felt like it was no more than four or five.
The band doesn't let us take a breath as they go straight into the next song "Stratego" also from the new album, a song that is a lot more dynamic than the opener, the crowd is on fire and we were singing every word with Bruce and chanting the melodies in between. I knew once the song was finished that the band was far from being tired. It was obvious that after "Stratego" the next song would be their first single from "Senjutsu", "The Writing on the Wall" was very powerful, I loved the studio version, but live it's like a totally different track, the passion from the crowd gives to the song what it might've lacked.
The stage is once again plunged into darkness, leaving a crowd cheering for the songs to come with background samples of motorbikes, winds and explosions on the PA, the roadies were removing the Japanese temple. When they finished, lights were back onto the backdrop, a familiar sight for all of us who saw them back in 2018/2019, the cathedral was back. Nicko is giving the start with four hits on the hi-hat, and the entire stage is alight as the band hits a legendary track from their 1983 album "Piece of Mind" – "Revelations"!
It's so good to hear this classic again, even though I'll admit it has been played quite often in the history tours. Then it was time for Bruce and his speech which was about the past couple of years we've been experiencing and how we're all "Blood Brothers"! It was spot on, a song we needed all to hear, and so great to have it back in the set. It wasn't an unfamiliar sight to see people in tears, I was also one of them. Janick Gers killed that solo, it was beyond amazing, everyone was having their neighbour in arms and so on.
With these emotions, the band took us into their next song "Sign of the Cross" a classic from the Blaze Bayley era. I loved it in 2018 and was glad that they kept it for this new world tour. The cross which Bruce was holding was left alight at the end while the smoke engulfed the stage. "Flight of Icarus" was next. A real banger, I still consider this a rare song, they played it on all of the LotB dates, but before that, it wasn't played since 1986 and their "Somewhere on Tour" journey. The giant Icarus behind the stage is as always impressive to see.
This part of the concert was also clear to me that we are going back to the classics, especially the tunes that have been around forever, so the next tracks were "Fear of the Dark", "Hallowed be thy Name", "The Number of the Beast" and "Iron Maiden" with the gigantic Eddie behind the stage. Love them all, they are great to hear live, although I'm not listening to them so often at home, perhaps because I over-exaggerated in my childhood…
Then it was time for the encores. "The Trooper" was the first one with soldier Eddie having a sword- fight with Bruce, followed by another Blaze era classic "The Clansman" and then back to the roots with "Run to the Hills" with a pyro bang at the end! Surprisingly they say goodbye to all of us, "see you soon" and so on. Then I realized that they haven't played "Aces High" which was the highlight of this tour in '18/'19… Maiden has never done a second encore in their career as I can recall. And when this tour has been announced both the manager Rod Smallwood and Bruce Dickinson said that the "spitfire will be back". I thought maybe they abandoned the idea. Plus, it made no sense to me to play an opening track as a closer, even though they used it as an encore opener in '12-'14 on their Maiden England World Tour. But a closer? Never…
So, they indeed leave the stage, it all goes black again, and yes, you guessed it, Churchill's legendary speech was on the PA, and the first riffs of "Aces High" are blasting, and the band runs back onto the stage to finish an already amazing gig. Surprisingly Bruce was good, I mean, it's a tough track even for younger guys, let alone a man at 63 who survived throat cancer and COVID-19 in recent years.
This time, we know it's the last song, and as they leave us with Monty Python's "Always Look on the Bright Side of Life", we all feel happy, but also sad that it is over. But for me and many of us, this wasn't over, as I was going to see them again in two days' time.
Now, regarding the band, Steve Harris was relaxed from the moment he stepped on stage, running around, singing and applauding the crowd while the rest of the band especially the three amigos and Bruce felt kind of cautious. Dave Murray and Adrian Smith were kind of calm, not too much on the frontline. Bruce was obviously taking care of his voice, I suppose he has to, it's a long tour ahead. Nicko on the other hand was a beast, I don't know how, but I felt he gave more than he could, probably the adrenaline to be back on the road, it proves a lot for his love of Maiden.
Once in Belgrade, similar energy resonated in the town with fans walking around, sitting in bars and so on. No specific party was organized for the day before the concert, unfortunately. Hence most of us went to rest for the concert the day after which was set to be in the SOLD-OUT "Stark Arena".
I opted to see the gig from a different angle this time, as I was situated maybe fifteen meters from the centre point of the stage. As we know Maiden doesn't change songs from the show to show on the same tour, so for me, this one was a no surprise regarding the setlist.
The band's energy on this particular show was very similar to Zagreb, they were still a bit cautious with the amount of force they were delivering. Janick looked more in the mood, and Bruce was way more relaxed which at times made him do small mistakes, as in not being at times synchronized with the rest of the band, and forgetting to wave the Serbian flag on "The Trooper" (and also forgot to sing half the verse after the solo) as has become a tradition on this tour to shoot Eddie with the flag of the country in which they play. Hence Eddie was unharmed in Belgrade. The crowd's energy was very similar to in Zagreb, very loud, enthusiastic, jumping, singing etc…
All in all, a great concert! It is always special to watch your favourite band in your hometown.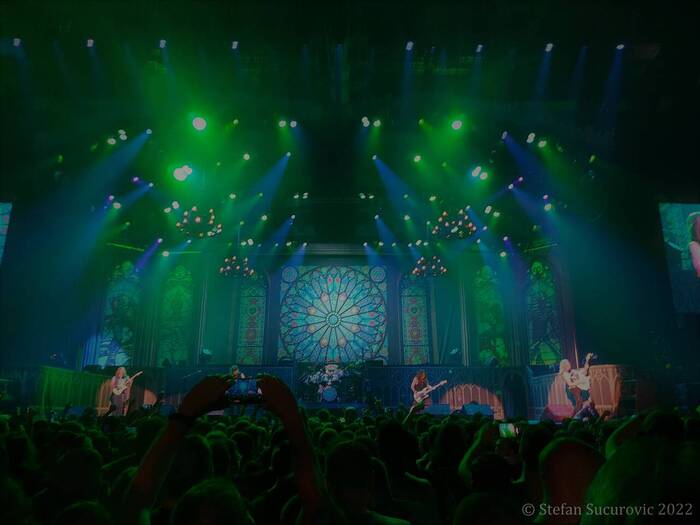 There was a small after-party in Belgrade where we went to have a drink and celebrate! My third concert on this tour was going to be in two weeks…
It was time to get back on the road, I was well rested and ready for more Maiden. We travelled from Belgrade, two vans full of Maiden maniacs from Serbia. Once in town, it was very hectic. Had a quick stroll through Budapest and went toward the stadium "Groupama Arena", once in front the band was having their soundcheck with "Revelations". This gig was promising and it was my second time being "First to the Barrier" this year (The first time in Zagreb). Another opening act was added along with Lord of the Lost, the British band Shinedown, which in my personal opinion was nothing special.
This concert was for me the best out of the six I've been to this year, the band was definitely back in the game, and all members relaxed. I don't know, I felt like watching "Rock in Rio" 2001 The crowd I must say (at least where I was situated in the front row where Jancik and Steve are the most part of the gig) was a bit calmer than I would like to, but everyone was enjoying themselves. A special moment was with "Sign of the Cross", I don't know, but it was ecstatic. Numerous eye contacts with the band made this gig somehow intimate. And I'd add that I really liked the stadium.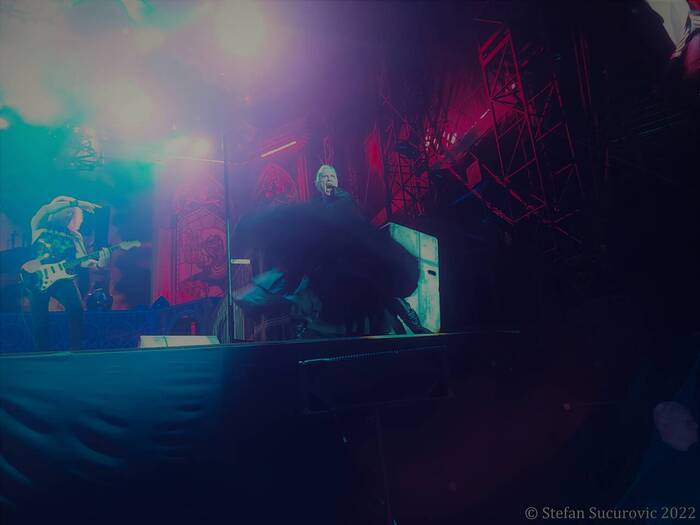 The next day we walked a bit in town and I went back to Belgrade, my fourth concert was on June 26 that, in the mid-time I had caught Covid, felt fine but was worried that I might miss the gig in Paris, which luckily, I didn't.
Paris for me is also my hometown, I was born there, and grew up, and it's where I first heard about Iron Maiden, but never watched them there. So, I had to be part of Iron Maiden's history in Paris. I booked my flights a while back and decided to use the opportunity to see also my friends and family over there. Kind of a little vacation, it wasn't a "hit & run" journey…
After a couple of days wandering in beautiful Paris, June 26th was already here. And it was time to take the train to "La Défense Arena", one of the biggest indoor arenas in Europe with a capacity of 40 thousand people. A huge concert for tonight no doubt, especially considering it was sold out.
By this point I got used to the opening act Lord of the Lost, and I have to admit it, they kinda grew on me, although I don't feel the urge to play their music at home or while driving, but if I ever have the opportunity to see them at a festival or something like that, I definitely would! Airbourne from Australia was also added as a special guest that day, unfortunately, the sound for their gig was beyond disappointing, and was it not for the band's attitude this concert would have been a disaster. They have established themselves a long time ago, so there were a lot of fans going nuts for them. The band really is 101% dedicated to what they do, and you can really tell that by just looking at the frontmen.
Usually, Iron Maiden gigs begin at 9:50 PM or 9 PM at the latest, but in Paris, they were already on stage at around 8 PM. Which was funny cause when the concert was over it was still daylight outside the arena.
The concert was on point, the French crowd is really, really wild! This was Maiden's 28th concert in Paris, Bruce called it their second home. By this point everything was tip-top, the Killer Crew is obviously used to remove the temple and they're really doing it quickly, which gives a bit more dynamic in this transition.
Bruce had again some sync issues with "Hallowed…" and "The Number…" where he exchanged a look with Steve. Never minding that, it was all in all a night to remember, I can't wait to get back to Paris, hopefully, next time in the legendary Bercy Arena.
I had a few more days in Paris where I could digest the Paris experience, and then I was flying back to Belgrade. I had again a two weeks gap before I did my last two gigs for this year.
The next five days were going to be spent on the road because my friends and I decided to do two "hit & run's", the first in Austria and the second in Bulgaria.
On July 10th early dawn, we were all already on our way to Wiener Neustadt, Austria. A little over an eight-hour drive from Belgrade. I have seen some pictures online of the venue but decided to close the tab and keep it as a surprise. We didn't have enough time to walk around the city, hence the driver left us near the "Stadium Open-Air". I was surprised to notice that it was not really a stadium as it was more of a football field with two small seating areas on the sides. And on top of that, it was situated a bit in the "middle of nowhere". No shops or markets in the area, just one road, and a small airport, which I think is a school for pilots. Oddly enough I haven't seen one in the air, but on the other hand, the sky was almost all the time filled with helicopters. The first one made me think if the event was filmed for a TV channel or something. I might sound harsh so far, but I liked the environment, it wasn't in a huge city, it felt really like a little festival. Before going into the concert area there was a space (quite large) where you could buy food, drinks, merch and so on. My friend and I had a problem with some invalid QR code tickets, so we had to improvise by buying new ones. We had twenty minutes where we were in a nutcracker. But as soon as it was solved, the adrenaline was doubled!
Both Lord of the Lost and Airbourne were set to open for Maiden just like in Paris. Both bands nailed it hard! Airbourne had a much, much better sound than in Paris. The "Stadium Open-Air" was quickly filled (I think to the maximum, I heard it was sold-out), it was nice to see again people from everywhere!
UFO's "Doctor, Doctor" was on the PA precisely at 9:50 PM, and as always it feels like it's the first time you're hearing this tune. Same emotions, same goosebumps – same everything! The adrenaline goes so high you feel like you will faint and the band is not yet even on stage.
It was a fun concert, it was a bit chilly so Dave and Adrian had their jacket's on for the first three songs (first time I'm seeing Dave with a jacket on stage!), Bruce had a tough time saying Wiener Neustadt (He tried once and failed), so he kept it simple with "Scream for me Austria!", Janick and Steve, as usual, running around, like they haven't aged a day! Nicko used the band breaks to have some fun with the crowd. The songs were as always perfect, my personal favourites from this gig were "The Clansman" and "Hallowed Be Thy Name".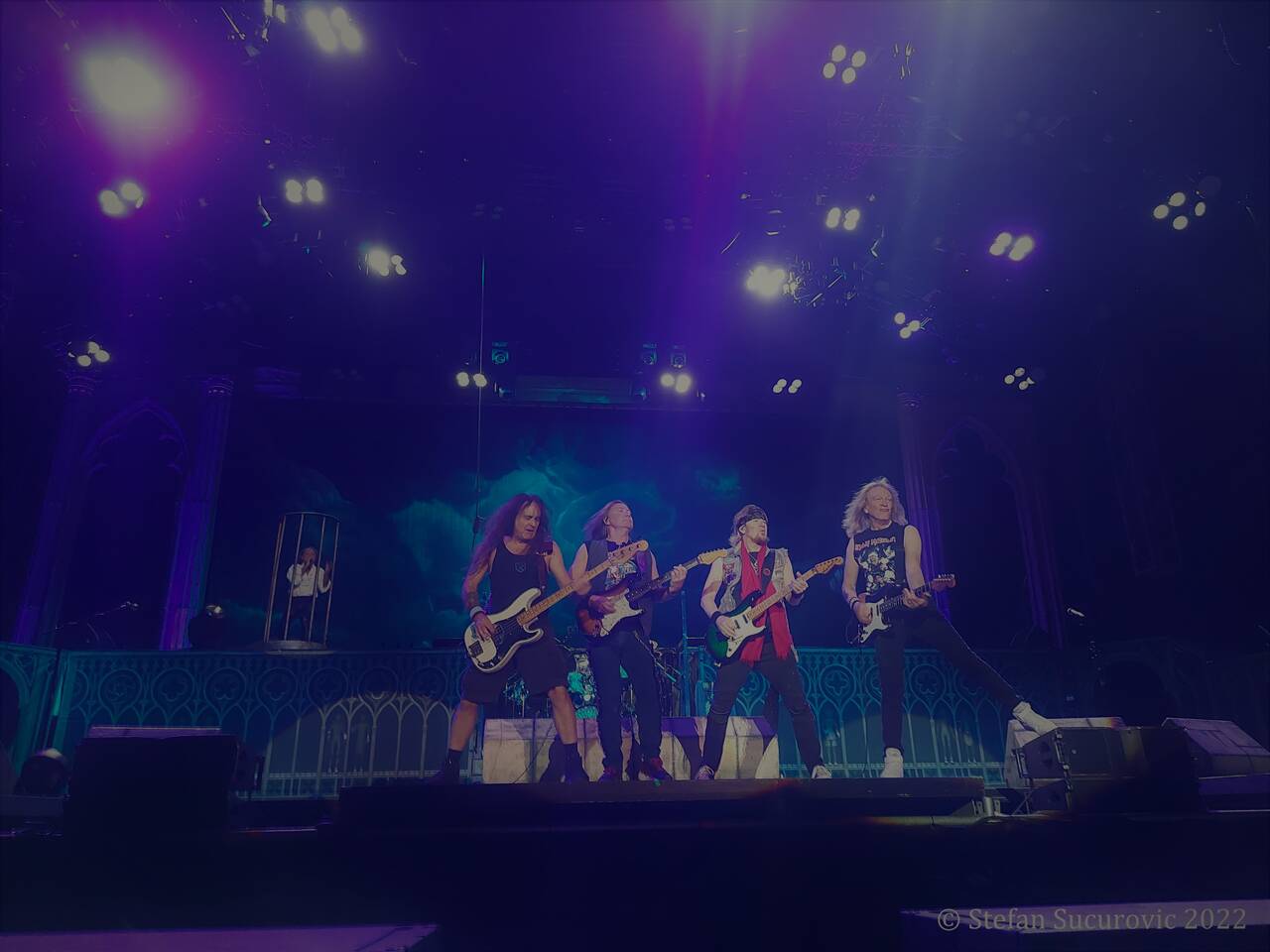 By the time you hear "Always Look on the Bright Side of Life" you keep asking yourself how an hour and fifty minutes pass so quickly… It was again a pleasure to witness these legends, but by this time I knew I had just one more gig left for 2022, and it was quite a bittersweet drive back to Serbia.
One day off spent mostly in bed after a sleepless night in a van was enough to catch some energy for my last journey on the "Legacy of the Beast World Tour 2022". Six hours on the road and over two hours of waiting at the Serbo-Bulgarian border was what it took us to arrive in Sofia. Again, no time to wander around, what we saw through the van windows was our sightseeing. As we approached the "Armeets Arena" we were greeted by a huge billboard promoting the concert. Once in front of the venue, a full-Maiden mania was going on, local fans in frenzy awaiting this legendary concert for months and months. I was a plus one to the "First to the Barrier" so we went in a bit earlier. Once inside, I was surprised that with the stage construction the arena looked quite smaller than I expected since it has a capacity of over 17 for concerts. But it was obviously an optical illusion or something like that because as soon as the arena got filled, it looked immense! Unfortunately, I couldn't be right at the barrier but had a centre second-row spot, which was not bad at all.
Lord of the Lost made a great gig, by this point the band members already recognized us as regulars. This time the gap between the opening band and Maiden was (at least to me) shorter than all the gigs I've attended this year. I also noticed that Lord of the Lost used Maiden monitors, which probably saved some time for the Killer Crew.
At 9:50 PM UFO's melody interrupted the chitchatting in the crowd, and the crowd's roar would've probably awakened the dead, what a pleasant loudness! Maiden doesn't come often in Bulgaria (this was their seventh time in the country), hence there was no surprise to the crowd's enthusiasm. This Maiden gig was splendid in all possible ways, the band was so much on the point that I'd dare to say it sounded almost like a studio recording. The crowd was nuts, shame this wasn't recorded for a DVD or something. "Revelations" was no doubt the highlight of this gig, the symbiosis between the band, the crowd, the lightning, the chanting and so on made this part of the concert very memorable.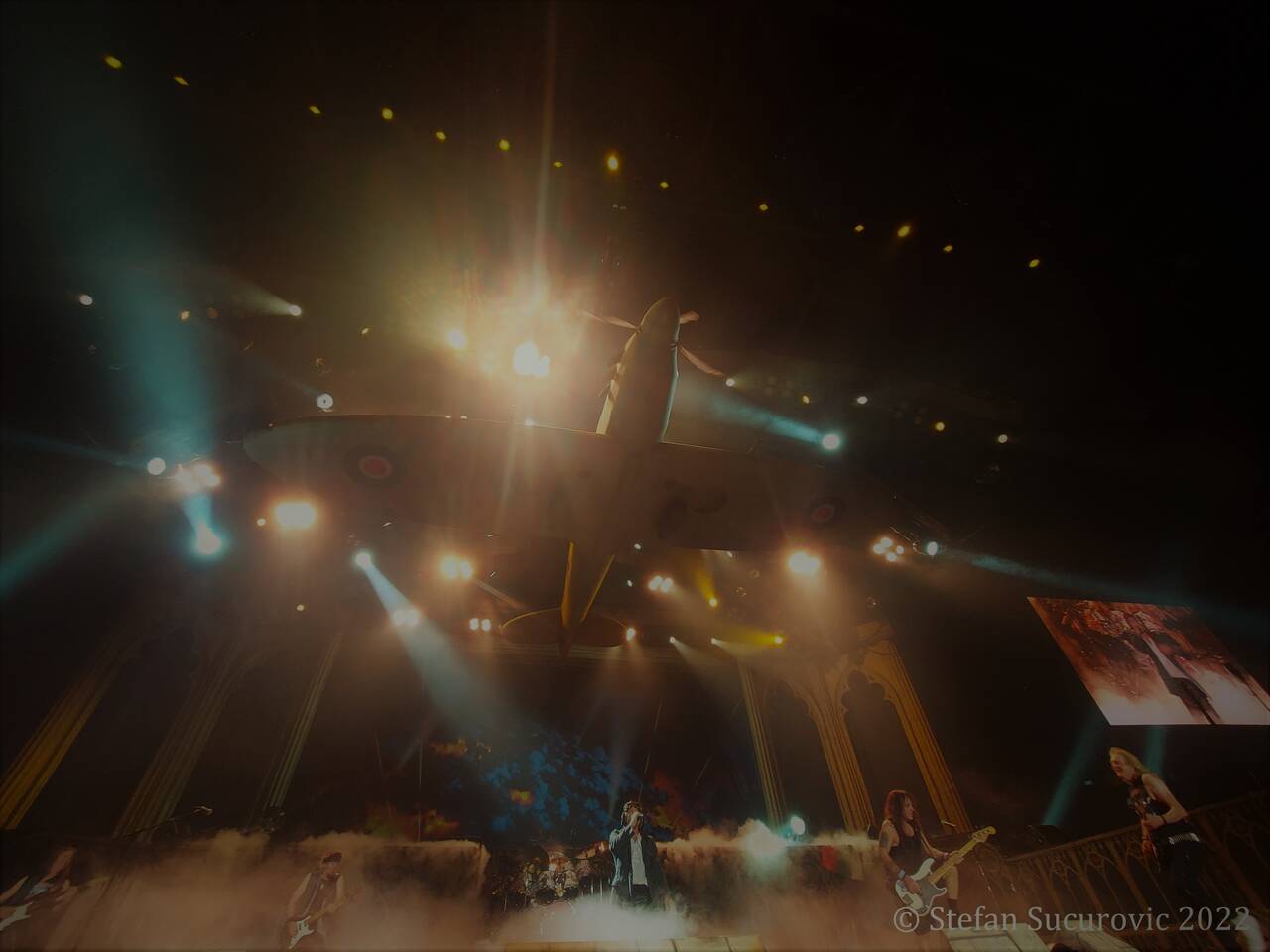 By the time I closed my eyes and reopened them (figuratively speaking) – the show was finished. I was speechless and felt oddly hyperactive and tired at the same time. It took me some time to process all these six gigs, and frankly many people keep asking me if it isn't boring after a few, and I'm here asking for more! Hopefully next year we'll get a new European tour with a brand new setlist. I'll definitely be there!
UP THE IRONS!