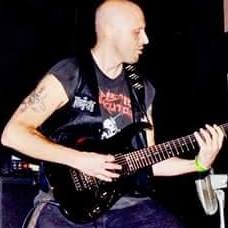 Gene,Angelcorpse are back after a long time and now you are focusing on live dates as much as we know.How are the gigs after a long time?How are fans and audiences' reaction to you?
Gene: We recently had our 1st new show at the NETHERLANDS DEATHFEST… it went over enormously well! I also enjoy the fact that we did not bother with some small "warm up" shows before diving into a larger metal fest event like this… it made us increase the stakes on ourselves in our delivery… i believe the event had almost 3000 in attendance daily, and the main large stage room and balcony was quite full while we played… so i'm sure it all bodes well for everything upcoming…
Probably you are one of the very first act which play blackened death metal in all scenes of all around the world and Usa…How did you form this sound and style musically when you start to perform in Angelcorpse?
Part of the sound of ANGELCORPSE comes from the balance of what both I and Pete always contributed to the whole of the material… being teens into the developing wilder and more aggressive sorts of metal that had been developing in the 80's into 90's we found much influence in varied types of bands… we were not simply trying to one up any one particular bands sound… so you can hear in all that material clear influences from SODOM, SLAYER, BATHORY, and into more over the top sounds of even CARCASS or MORBID ANGEL, or other varied things like even CELTIC FROST, and maybe a bit of very early 90's bands like BESTIAL WARLUST/etc… any idea that came across in a way of things we were into found some way into our material…
What projects you played in 90's before Angelcorpse ?Can you tell us how you start up mighty Angelcorpse?
When I was just out of high school there were some early demo projects that might have been a moderate influence on what was to come from me not too much later in ANGELCORPSE… nothing that ever survived long enough to do any gigs or more… At one point in 95' when things were in limbo looking for any new sort of project to start, a correspondence with Pete informed me his previous band had decided to stop (ORDER FROM CHAOS)… I hit him with the idea that I might move to his city and we attempt to build something new… by early 96' we made our 1st, and only, very rough demo on a four track cassette recorder and thing rolled along from there…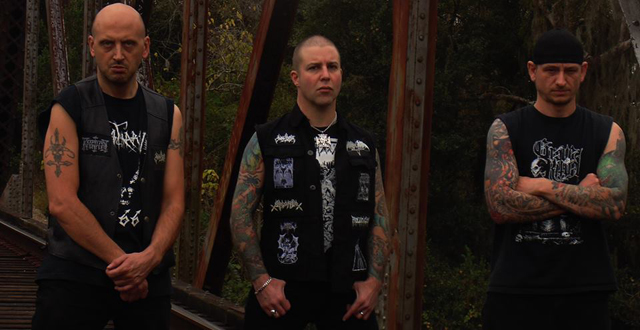 Why did you give up playing and recording Angelcorpse after ''Of Lucifer and lightening''? How was that album reacted?Had you have any chance to tour after it?
There was about 3 or so week tour in USA with WATAIN and NEGATIVE PLANE in 2007… in 2008 about a month in Europe with REVENGE and ARKHON INFAUSTUS… and back in USA about a week of shows on the West Coast with CEMETARY URN, and GOSPEL OF THE HORNS… the OLAL album had some differing reactions, many liked and some felt it might have been a bit of a departure from old sounds from the band… around 2009 Pete and I came to a sort of creative stalemate as to what it what that we wanted to pursue with the band for the future, at the end of an extended period of indecision we chose to let the band go away… we then both promptly began developing the new projects that would shortly follow …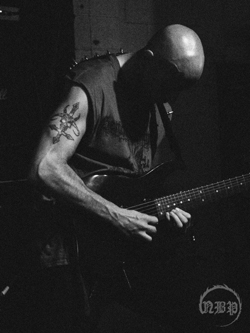 As a fan of Angelcorpse,I would like to hear a new record from you,and exactly I can say that many people want to hear it…Any plans you have?Or possibilities?Have record labels shown interests after you returned?
For sure there have been interests from some labels about the prospect of some new material from ANGELCORPSE… It is not an impossibility…for now Pete and I are wiser and perhaps a bit more settled in ways to work… the real trick to distinguish ANGELCORPSE material from our other active projects is that the material must be developed fully by both he and I, that way the variances of how we both work with material can have the most direct impact on the definition of ANGELCORPSE songs… if possible for he and I to do it right, we will need not sacrifice anything from our other current projects to make something like this real… we have talked at length about this… time will tell what may come…
What are live gigs scheduled in next?Where?
In May we have Mexico, Miami,Fl, and also MARYLAND DEATHFEST… in July we have some more USA shows starting with one in CHICAGO at METAL THREAT FEST… then back to Europe in August for PARTY SAN and BRUTAL ASSAULT fests, then back in USA in OCT for HELLS HEADBASH 3 and also CALIFORNIA DEATHFEST… also some other major stuff yet to be announced to take place before the end of year…
How did you form Perdition Temple?Actually all albums you recorded for Perdition Temple are very kick-ass records.How did fans reacted to them?Can you give some information for the fans who have no chance to hear Perdition Temple?
When ANGELCORPSE stopped in 2009, I immediately settled on a new band name to pursue my workings, a name that was more fitted to me individually… it was quite literally the next evolutionary step from ANGELCORPSE as a work that was almost entirely solely created and performed by me, with the exception of the drums performances… it is really only that difference that separated it from the joint creative process in ANGELCORPSE…in 2010 the debut album came out entitled "Edict of the Antichrist Elect", and more recently in 2015 the "The Tempter's Victorious" and "Sovereign of the Desolate" 7" e.p…. overall the material is somewhat more complex musically and lyrically marginally different in that i write the lyrics and some subjects take a bit of an altered slant than what might have been as readily identified as ANGELCORPSE stuff, but still obviously coming from the same sort of malefic temperance…
You splited up two times,one is after Inexorable album,second is ''Of lucifer…'' album…Would you tell us what happened back in times? What things happened in Inexorable tour in 1999?
In 99' into 2000 some non band events happened like vehicle accidents and some violent(non band) things happened that strained some things amongst members… in 2000 and even again in 2009 there came around the sort of creative stalemate that made continuing an extreme difficulty at those periods…
How was you contracted with Osmose records?How things have gone with Osmose?
We maintained the relations with OSMOSE, even during the times the band was inactive… and most recently they have done the great stuff with the LP re-issues of the old albums… so things have been fine..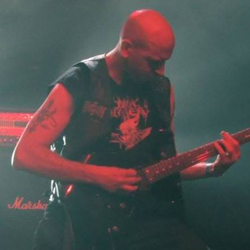 Both Helmkamp and you have side projects ,can you give some details and information for readers who have no heard them before?
The debut of PERDITION TEMPLE from 2010, "Edict of the Antichrist Elect" was released on OSMOSE, and some editions are still available of it… and the 2015 releases of "Sovereign of the Desolate" e.p. and "The Tempter's Victorious" were released by HELLS HEADBANGERS here in the USA..most all versions still have ready availability… I'd mentioned a bit above what all of that stuff is about stylistically…
Pete has had a few projects since 2010… There was the KERASPHORUS mcd and 12" single(2010 / 2011) which were released on NWN PROD, and soon to see re-release through OSMOSE/HHR… which was an excellent document of how many of his ideas operating more to his individual taste manifested in some grand recordings and songs… and now flash forward to 2016, he has his new project, ABHOMINE, which much further advances his unique take on warped and dark sounds…also to see release through OSMOSE/HHR…
What are the best purest metal sound and bands to you in past and now?What things can you tell us your favourite records?And what are the weakest and worst things in metal music history?
Some modern ones i've liked are GENOCIDE SHRINES, ADVERSARIAL, ASCENDED DEAD, MASTER OF CRUELTY, various things… for whatever reasons some bands just have a combination of sounds that appeal to me… Bands that give me a feeling of sounds that i'd evolved with or whatever… And of course bands i've mentioned of old that might have had some influence on what developed into ANGELCORPSE or other works… and of course very old music from 70's into 80's like SCORPIONS, JUDAS PRIEST, IRON MAIDEN, DEEP PURPLE, etc…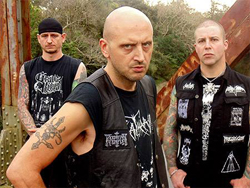 Do you have still that hate and rage against judeo christiantiy like past?Or you feel more reckless after all years?How do you define yourselves ideologically and spiritually after 20 years?
After many years around these ideas, i feel more disconnected directly to any form of "faith" or religious or even irreligious leanings… I find more interest in what extreme followers of any theology or belief system might erupt into… the reasons and motives and what "sells" these people into whatever it is they choose to become a pawn of… many of my lyrics in PERDITION TEMPLE delve into various facets and perspectives of what this can be all about… not to say that some of this form of subjects were ever completely foreign in even ANGELCORPSE…
Thanks a lot for you honest answers…I hope we will see you much more on stages and hear more records in future…Please tell the last words t ofans and our readers…Cheers…
We are enormously grateful to have followers and supporters of works we've done, and may yet do after these 20 years of mayhem and wild churning darkness!