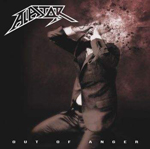 Metal Mind Productions – 2012 – Poland
ALASTOR are with some interruptions already since 1986 musically active. The Poles released at the end of 2012 "Out Of Anger" via Metal Mind Productions.
"Beaten" initially starts with t he title track very calm and solid. Thereby slowly grows a Thrash Metal guitar wall which ends in a drum thunderstorm. ALASTOR go here straight and without detours to work. Thereby the songs come across fresh and energetic and anything but dusty. Diversified riffs and a powerful drumming gives the production hardness and persistance without overlaying the other musical elements. The listener is literally carried away by the liberated energy! The multi-variant vocals from clean Thrash Metal vocals to growls is everything represented here and the corresponding background choirs give "Out Of Anger" additional sustainability and independence. Professional recorded you distinct dscern here that there were no beginner at work. Who likes TESTAMENT will love ALASTOR! But, better build your own opinion!!!