Reviews
AGRESSOR "Victim of Yourself"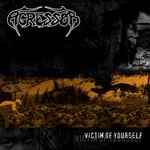 Dark Sun – 2006 – Brasil
When I received the band, I was hesitant, thinking about how I could criticize a thrash metal band. Because the last time I had listened to a thrash band it was about 5 years ago. I had forgotten the taste of thrash. Well, if it was not Agressor, what could we do 🙂 … I'd like to start with the front cover. The pictures and the lyrics inside the front and back covers are perfectly compatible.
The lyrics are old-style thrash metal lyrics; political, the misery of mankind, etc. English version of the lyrics is at the top, and the Portuguese is at the bottom.
In fact, Agressor is an old band. Founded in 1982 but, fell apart in 1991 after releasing two demo CDs. When the demo they re-released in 2001; "Kill Or Die (1988)" attracted interest, the band re-assembled and produced their first official album; "Victim Of
Yourself".
The sound of the album is as strong as an animal. Thrash bands generally prefer thin quitar tones and one can even make death metal if plays with this tone a little… I loved it! Bu the solos are typical old-school thrash metal tones 🙂 The production of the album is perfect.
The quality of the compositions is quite visible. Aggressive vocals are sometimes getting thinner; becoming like glam vocals (definitely not disgusting gay vocals!), which are very good.
It is so cool that the band is back on the track again. They are not toys, so don't you underestimate them… Their roots go back to legendry days of thrash metal. Although I didn't listen to their old recordings, they do not seem to be out of the thrash metal line.
9/10