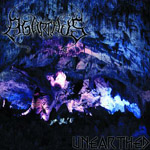 Self-released – 2012 – U.S.A.
The Americans AGARTHUS are still a relatively young band. Since 2011 musically active they put 2012 their first full-length cd which is called "Unearthed" on the dark Metal scene.
Here is celebrated Black Metal. Dark as midnight icy worlds of hate and misanthropy are musically implemented. Without any experiments and flourishes straight and genuine AGARTHUS let conflate melodic parts with hard, dark sounds into an independent mixture. Familiar and nevertheless boring reflect the all in all seven songs the end of humanity. Thereof is originated a soundtrack for the road to hell. The dark, emphatic growls give "Unearthed" the last thrill and make your blood run cold. The production is given additional dynamics by the change of tempi. I can only recommend AGARTHUS.