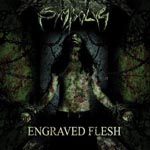 My Kingdom Music // Eagle Booking Live Promotion – 2008 – Italy
The Italian band SYMBOLIC has released wth "Engraved With Flesh" a further opus. Since 2003 musically active they now honour the Death Metal community with their latest cd.
And what does my ears hear here? Old School Death Metal. Riddled with some melodic loosening ups this results roughly speaking in the sound of SYMBOLIC. Therby the gents get quick down to the nitty-gritty! The all in all nine songs are all kept in the middle up to upper mid tempo area. "Engraved Flesh" receives motion by the variable use of tempi. The interspersed melodic riffs cater for additional loosening up and variety. Dark, aggressive growls give the production hardness and power. A very innovative symbiosis between power and melody originates. Very ambitious and technically impecable recorded I can only recommend "Engraved Flesh". Meanwhile the guys are working on new material. You sowith may be curious what the year 2013 will bring for SYMBOLYC!!!