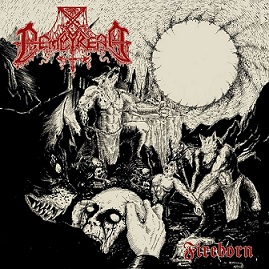 Cyclopean Eye Productions – 2018 – India
AEMPYREAN are from India. Since 2015 together as a band they put in August 2018 their cd "Fireborn" on the market. It is distributed by Cyclopean Eye Productions.
What can the listener expect here? A very interesting mix of Death Metal and Black Metal resounds off my loudspeakers. Severe and really fast the listener is immediately amidst in a musically roller coaster ride of a special kind. Savage riffs which are facilitate here melt with an expressive doublebass drumming to a forceful, extremely intense production which leaves no questions unanswered. Indeed the run-in solis relax the extremely harsh atmosphere a little bit. However, hardness and rapidity persist at any time. Furthermore, yet the very special vocals of B.R.. He growls and screams from song to song and surely leaves behind a lasting impression. The all in all five songs bribe by breathtaking rapidity as well as exuberant joy of playing. Who likes hard, extremely fast, dark Death Metal is here completely right. Check out "Fireborn" and judge for yourself!!!!
9/10