News
MERCYFUL FATE Bassçısı Timi Hansen Kanser İle Olan Savaşını Kaybetti / MERCYFUL FATE Bassist TIMI HANSEN Dies After Battle With Cancer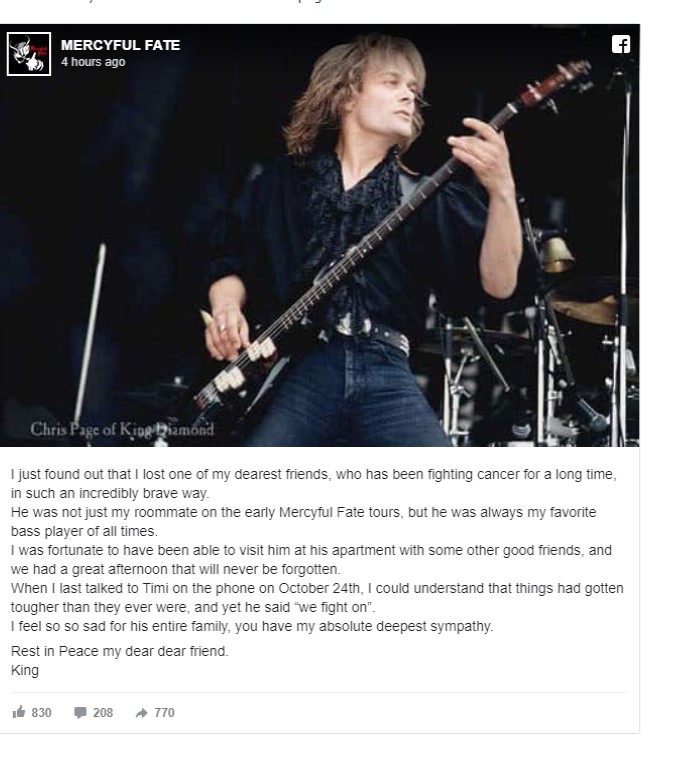 Ünlü Heavy Metal grubu Mercyful Fate'in bass gitaristi Timi Hansen uzun süren kanser mücadelesini maalesef kaybetti. Timi Hansen'in ölümü grup elemanları tarafından sosyal medya takipçilerine üstteki şekilde paylaşıldı.
Efsanevi vokalist King Diamond Timi'nin ölümü ile ilgili şöyle bir beyanatta bulundu : Uzun zamandır kardeşim Timi kanser ile çok cesurca mücadele ediyordu. O benim sadece Mercyful Fate turnelerinde oda arkadaşım değil bence dünya üzerindeki en iyi bass gitaristlerden biriydi. Diğer iyi arkadaşlarımız ile birlikte geçtiğimiz günlerlde onu ziyaret edip güzel vakit geçirmiştik. O günü asla unutmayacağım. En son 24 Ekim'de Timi ile telefonda konuştuk ve ben işlerin giderek ağır bir durum aldığını o görüşmede hissetmiştim fakat Timi her zamanki gibi savaşmaya devam edeceğini söyledi.
Tüm samimiyetimle söylüyorum, oldukça üzüntülüyüm, ailesine sabır diliyorum, umarım huzur içinde uyursun ,benim gerçek dostum .
ENGLISH BELOW :
MERCYFUL FATE bassist Timi Hansen has died after a long battle with cancer. His death was confirmed by his former bandmate, MERCYFUL FATE singer King Diamond.
King wrote in a Facebook message earlier today: "I just found out that I lost one of my dearest friends, who has been fighting cancer for a long time, in such an incredibly brave way. He was not just my roommate on the early MERCYFUL FATE tours, but he was always my favorite bass player of all times. I was fortunate to have been able to visit him at his apartment with some other good friends, and we had a great afternoon that will never be forgotten.
"When I last talked to Timi on the phone on October 24th, I could understand that things had gotten tougher than they ever were, and yet he said 'we fight on.'
"I feel so so sad for his entire family, you have my absolute deepest sympathy.
"Rest in Peace my dear dear friend."