Reviews
ABSENCE OF THE SACRED "Come Hither O Herald Of Death"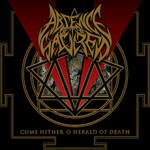 Sonic Blast Media – 2012 – Singapore
In recent years, I've listened some bands from Singapore. All of them were high quality bands. Absence of the Sacred is one of them. They formed in 2005 and released three full-length albums, one demo and one EP. Latest full-length "Come Hither O Herald Of Death" released via Sonic Blast Media from Singapore.
The band performed melodic/technical death metal. They have their own brutal sound. Fast and heavy drums are sounds like war. You can feel the violence and brutality with well written death metal riffs and brutal vocal.
By the way I noticed that the band worked with American drummer Kevin Talley (Dying Fetus, Misery Index etc.) for this album.
In conclusion I can recommend this album to the death metal fans.
9/10