Featured
Interviews
Solbrud Interview with Adrian and Troels
We are here with Adrian Utzon Dietz with guitars, Troels Pedersen with drums. They also both compose some of the songs for Solbrud.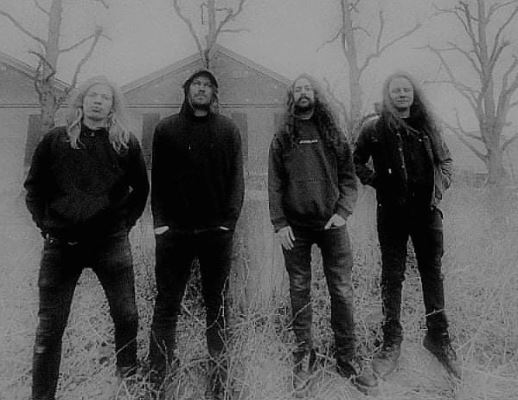 Hi, it's nice to have you guys here at Klubb Fredagsmangel tonight.
Adrian: Oh, it was a pleasure for us.
So, is this your first time at this club, in this city or in Sweden?
Adrian: It's our first time at this club, Klubb Fredagsmangel. It's a great evening, the atmosphere is very nice here, for sure. It's also our first time in Stockholm as Solbrud, and it's our third time in Sweden altogether. We played in Jönköping. It seems so hard to get into Sweden. I think my theory is, that if you have so many great bands by yourself, importing bands is kind of a second priority, maybe.
Troels: It's much easier to go to Germany but it's harder for Sweden, when you come from outside, based on our experience.
Adrian: Even Norway is easier, in our experience. We've been to Norway 4 times more than Sweden.
When did you release your first album and how many albums do you have so far?
Adrian: Our first album was released in 2012, and we have 3 studio albums out. The second one is from 2014, the 3rd one is from 2017 Then we have a live album. It was released about a year ago. And we've just completed the audio parts of our next album, which is going to be a double album.
So, our concept album is a double album, more than 90 minutes of new Solbum material. We are very eager to unleash upon the world. (Laughs)
How would you describe and classify the kind of music you make? What type and genre of music is that?
Troels: Black metal
Adrian: Yes, in short, it's black metal, if we have to classify it. But apart from that, if we have to elaborate on it, we also have elements of doom metal, like more heavy parts. We combine fast parts with very slow parts to have a sort of contrast. And also have contrast in very aggressive parts to more evocative, atmospherical, melodic parts to sort of have both dark sides but also light sides to music.
You described it perfectly. That's also what I've noticed. It slows down, almost stops, all of a sudden it picks up fast, and the rhythm changes. A lot of emotions are going on. You make people cry, including myself and I witnessed all that. That's incredible. How do you feel about that, like the reactions you get from the audience?
Troels: It's a great thing. Because that means what you're doing is working. To me, it's the best part. You write some music to make some emotions. You can see it works on people. You get the same feelings and the same emotions. It's just great to experience how you connect with people through music when you're on stage.
Yes, it's having interaction with them. When you feel the emotion, you reflect it and mirror it back.
Adrian: We've heard people talk about that specific reaction of crying. We hear that every now and then. We take it as a big, big compliment. I mean, some of the songs we played tonight, some of them are more than 10 years old. There is also an element of routine cross playing. We have these emotions in the back of our heads. For most of the songs, we often spend half a year or more writing just one song. They are long songs. We're glad and proud to hear that we hit something in our audience as a reaction.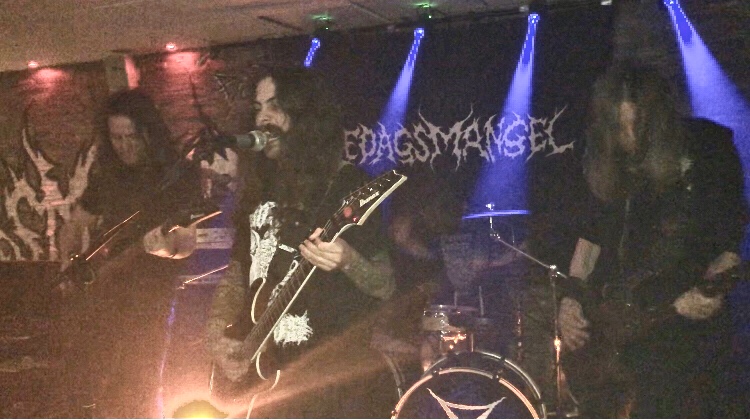 It's awesome. You're doing it. You've achieved that. So, are there any bands you look up to? Any band you were inspired by when you were growing up?
Adrian: We're inspired by the songs of the '90s. Just today, driving in the car for 8 hours, from my hometown up here, there were some classic albums playing on the car stereo. Ulver's Bergtatt comes to mind as an absolutely classic one. It's a very good example of a very well composed, very well produced the metal album. I think it had been inspirational for us in the old days.
Troels: We still like Gorgoroth, Immortal, Dimmu Borgir… all the old stuff from around 92 and 96 We also listen to new stuff.
Adrian: For modern stuff, I think the US has some interesting bands to listen to, which have more of a progressive, atmospheric touch to black metal. One of my all-time personal classics is Weakling's "Dead As Dreams" is an absolute masterpiece.
Yes, it was their only studio album, too bad they're not around now. So, what are your upcoming plans and future projects? Are any concerts coming up?
Troels: We're working on this final stuff. Our new album is done, artwork and stuff like that. Then we're going to release it and hopefully, we will have a lot of festivals again.
Adrian: We're happy about the world has opened again. This is just a short tour. Tomorrow we are going to the Inferno Festival to play. On our way home, we're also playing in Malmö. So, it's just a short tour for this Easter.
Esra: Inferno is big.
Troels: Yeah, it's pretty big, and it has a great stage. And we share the stage with metal gods like Kreator and Gorgoroth. Mayhem is playing there too.
Ok, cool. Well, thank you guys for being with us here tonight.