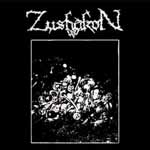 Sonic Blast Media – 2012 – Singapore
ZUSHAKON are already since 2006 intermittently musically on the road. They are from Singapore and published at the beginning of the year their same-named cd via Sonic Blast Media. This is a re-leased of the two releases "Chaospist" and "World Ablaze".
ZUSHAKON celebrate old school Black Metal at its best. Slowly constructing arcs of suspense which end up in a musical vulcano who can't be even blacker. Raw, partially halting riffs conjure an atmosphere of hopelessness and deep hate. Desperate musical worlds develop which contain sorrow and contempt within itselves. The conscious kept simple sound frameworks which make leeway now and then in the Thrash Metal area emphasise this impression. Very intense songs which remind of old MAYHEM and DARKTHRONE cds. The strong, but not overlaying drumming still does one last thing! The emphatic vocals which come in sometime snotty, bold then again dark emphasise the variability of the songs without thereby loosing sight of the actually common threat. Productional kept primordial ZUSHAKON offer with their cd a very successful Black Metal production from olden times to the listener. Listen to the cd by all means. It's worth it!!!