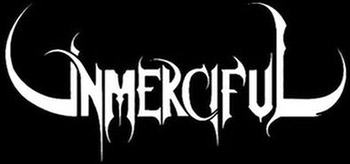 Hey Jeremy.How did you start Unmerciful?
Jeremy Turner: Actually, Clint Appelhanz and James King started Unmerciful around 2001. Clint started writing material that would later become Unmerciful directly after his departure from Origin in '98.
It is a little strange to ask firstly but what does Brutal Death Metal mean for you? How did you start that path?
Brutal death metal is most of what I listen to, it's what I feel, what I write. Growing up, I was always looking for faster, heavier, more aggressive music. Then I heard Suffocation for the 1st time in 2001, and it was all over.
How is life going on Unmerciful front?
The Unmerciful camp is busy writing material for the next album. We are in discussions with both a label and management at the moment. We are extremely hopeful that both of these work out for us very soon.
When was your last tour?How was it?
We did a small run of shows last summer, and made it out to the Bay Area Death Fest in San Francisco. That was a crazy show. There was about a thousand people packed into that place! Great times!
Have you started to write new songs? Should fans expect a new album?
Write now, we have 3 songs done, and plenty more ideas coming! We plan on finishing the writing, recording and releasing our new album by the end of this year or early next year.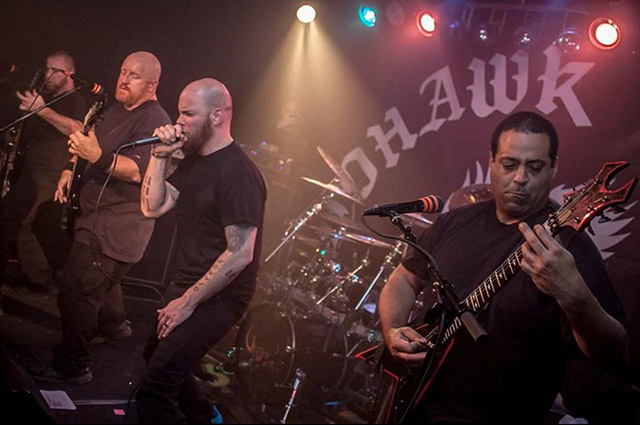 Can you tell us both best show and worst show of Unmerciful?What is the funniest thing happened to you on road or in a show?
I don't remember any bad shows that we have had as a band. As far as the worst experiences on the road, Unmerciful has had a few members with police Records, and had a very hard time getting into Canada for a tour. It took 4 or 5 tried at different entry points before being able to get in for a couple of shows. Then, the fees to get into the country were outrageous.
Even when shows have small turnouts, the people that are there go crazy during our set!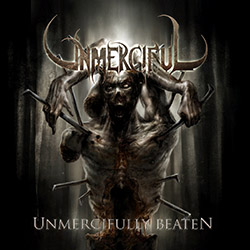 How were your demo days between 2004 and 2006?And can you tell us the story of Unmercifully Beaten and how you wrote it?
I joined Unmerciful in early 2004, and had a song to contribute (Mass Execution). Clint and James had already had most of the material written for that album when I joined. I then took a hiatus from Unmerciful to do the touring gig with Cannibal Corpse. When I came back, I rejoined, wrote Seething Darkness, and we recorded the album.
Jeremy, you also played in Origin before you formed Unmerciful and also played in Cannibal Corpse as live session.How did things happen?
Paul (Ryan) and I started Origin in '97. We recorded the demo (A Coming Into Existence) in June of '98. We signed with Relapse Records in '99, recorded our debut album and started touring pretty regularly in '00. We wrote III in '01, recorded it in early '02, and by the Spring of that year, I decided it was time for me to move on. I was having differences with everyone else in the band, and figured it was best if I left. I did one last tour with them (Nile, Arch Enemy, Hate Eternal and Origin). During that tour, I hung around with the Hate Eternal guys quite a bit. Erik (Rutan) and I got along very well.
Fast forward to '04, when Jack Owen left Cannibal Corpse. It just so happens that Erik and Alex (Webster) are best friends. My name got brought up on who would be good for a touring guitarist, and I got the call. 6 months and 90 shows later, I was a small part of the Cannibal Corpse legacy.
A long list of amazing musicians laid on the history of band.Why did so many people come and go?
There has been a long list…myself included! Haha! I think it's hard to find people that are like minded, that can devote time to making this music and touring, etc. you need to be able to get along personally with each other. Being in a band is very much a Brotherhood. If you don't have that, you're not going to last as a band.
What are the differences between your first amazing full lenght Unmercifully Beaten and last killer album Ravenous Impulse as lyrically and musically?
There are huge differences in my opinion between the 2 albums. I think both musically and lyrically, we matured between the 2 albums. The new members we had for Ravenous definitely showed in the musicianship. The lineup we have now is incredible. Clint has always been a master musician, and Justin Payne is one of the tightest guitar players I've been in a band with. Trynt Kelly is a blasting maniac! Kris Bolton is a great live frontman.
Bands' guitarists play both guitars and bass guitars in album recordings.By the way,how do you write songs as a band?
I play bass for Unmerciful, but I am still a guitarist at heart. I still write music on guitar. So we have 3 guitar players all contributing to the writing process.
Our next album will be much more complex. Our new material includes both guitars doing different parts, and the bass doing something different on top of that.
What are the bloodiest brutal albums for all time fave of yours?What bands and things influenced you the most as a person and musician?
I think the most influential death metal bands for me would be Suffocation and Immolation. I remember the 1st time I heard the Effigy of the Forgotten album, it was almost too heavy for me at that point! It was so incredible. Immolation is so dark and evil to me. That band is so unique in their sound. Almost every album Immolation has put out is a favorite of mine.
As far as albums, so many to choose from. Gorgasm, Deeds of Flesh, Disgorge (US), and the list could go on.
Do you play in any band project except Unmerciful nowadays?
I do not have any other projects besides Unmerciful.
And here comes the last one.What are the future plans of Unmerciful?
We plan on finishing the material for the next album, working with a new label, getting some management to help us get some touring, and get our music out to as many people as possible.
Please tell me the last words to finish this interview.
Thank you for the interview, and thank you for all of the fans we've had over the years. Be on the lookout for the new Unmerciful very soon! Horns up everyone!!
www.unmercifulmusic.com www.facebook.com/officialunmerciful