Reviews
SPEAKING TO THE DEAF "This Equipment Must be Hearted"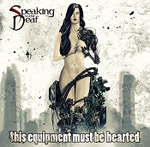 SG Records – 2012 – Italy
Speaking To The Deaf is an Italian band formed in 2008 and released its first full-length in 2012 via SG Records. As I read, they gave many TV interviews, broadcasted by national and regional televisions. At first glance, coverart looks like a gothic metal band album. Of course not.
The band plays melodic death metal/metalcore. Song compositions are usual, they did not take me away but listenable of course. Maybe main fans of this kind music like it more. You can hear Swedish melodic death effects a lot, also they used clean vocals but I like brutal vocals more.
As a result, I can clearly say that their music is more than metalcore, death metal side is heavier. I think they should work more on compositions for next album, it can be improvable. Metalcore fans, give an ear to them.
6/10