Reviews
SHAMBLESS "Menra Eneidalen"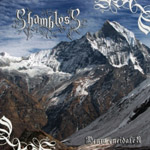 Stygian Crypt Productions – 2011 – Bulgaria
Great, a long time has passed since I listened a band from Bulgaria, especially like Shambless. The band formed in 1997 and this is their third album. It released via Discord Records in 2011 and re-released via Stygian Crypt Productions last year.
Shambless' style is interesting, generally you can hear folk tunes, also you can hear ambient influences, and sometimes black metal influences. In brief they have a mixed genre. I used to hear this kind sounds from Balkans and I like this unique style. The only inconvenience is that drum programming, some parts are much mechanic. Chorus vocals are very compatible with compositions and instrument tones.
Last of all, a different production for folk metal fans. Give an ear to Shambless.
8.5/10